Update 1.0.3.0: Everything got buff. Overall better. Nothing change in setup.
Miniguide?
I waste so much time in this build to customize improving total dmg output and raise defensive. It ends up a bit below my standard at first. So I don't want to write a full guide. But thanks for Ptirodaktill and Socrathustra who points out that Ravenous Earth isn't effective as a debuff skill. I finally make the build up to my standard again.
Introduction
Bone Strike = Bone Harvest + Shadow Strike as main dmg. Playstyle is just nuke those skill to your opponents.
There are 2 variations of the build. Offensive cheaper gear and Defensive one.
Setup compare sheet(Fully buff)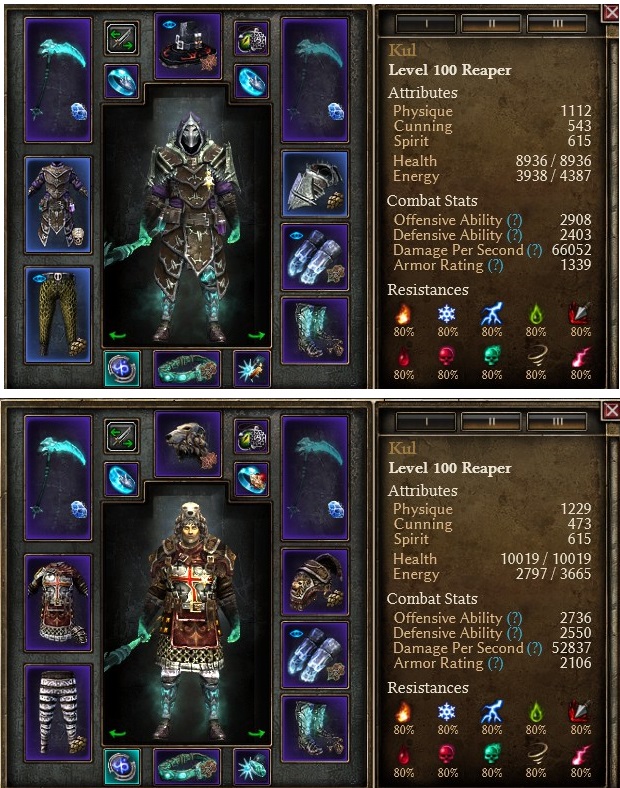 Top dmg is really high, but that doesn't mean it outperform other builds.

Grimtool Link & Gearing
Main soulrend provide us free all armor slot. I'll show you my choice.
Overall performance is good : high dmg, fast clear speed. very good AoE but somewhat squishy. Careful when fighting explosive/reflective mobs
It can easily clear bosses and mobs fast. It can handle madqueen and nemesis but not 100% safety if they spawn with good MIs and weapons.
Able to farm gladiator crucible with party. I didn't try solo yet but I doubt it is risky. Challenger may be better choice.
Mythical Silver Sentinel's is a very good epic set. Even with 2 pieces it gives so many resistance. With 3 pieces you'll get extra stackable cold RR. There're also dmg conversion to cold as well.
Defensive Setup : http://www.grimtools.com/calc/Q2zbWrd2
It is more stable and tankier than offensive. Safe enough to kill stuff. The performance is close to offensive setup, but dmg is a little bit lower. IMO this is better choice.
Able to farm gladiator crucible with party. I didn't try solo yet but I think it has a decent success rate.
I just put all non-set defensive legendaries together. Nothing more.
Skills
I use
Shadow Strike and Bone Harvest as my main dmg.

Ill Omen for Physical dmg reduction

Spectral Binding for OA and HP

Master of Death because it is only exclusive aura I could get full benefit

Mark of Torment because it can save my ass very well when doing bossfight

ABB to trigger Lethal Assault and get more dmg.

Veil of Shadow to get stackable RR from Night's Chill.

Pneumatic Burst to get some sort of instant health and resistance.
I don't take Ring of Steel and Circle of Slaughter because I have enough surrounding CC from the boots and Bone Harvest's terrifying.
Ravenous Earth is not effective debuff as it should. So I drop all entire lines.
Devotions [ul]
[li]Murmur, Mistress of Rumors : New constellation which can give us more -% cold resistance debuff(stackable RR)[/li]
[li]Viper : Amplier to our overall debuff on resistance reduction.[/li]
[li]Bard's Harp : Get some energy restoration and flat OA, DA[/li]
[li]Rhowan's Crown : flat RR [/li]
[li]Chariot of the Death : some instant HP and a decent amount of DA. It is also passively increase our OA too.[/li]
[/ul]
Videos
Defensive Setup vs Fabius 26 sec
I'm not recording Madqueen Rashalga fight because reaper don't have any advantage on her. I don't have very fast kill time on her(consider as <10 sec kill time). Need to kite her when she activate her vengeance aura.
PS. Thank you to Ptirodaktill and Socrathustra for helping me polish the build.

Attachment: Reaper_Strike_Sheet.jpg
Attachment: reaper_strike_maxdmg.jpg