Preface
So I just leveled a soldier mastery and really like it. Enough to satiate my longing for the expansion and the new oathkeeper mastery. I started with blademaster because I really like nightblade and want to try all combination of it.
Blademaster is an old mastery so the concept I presented in this thread has been done before. The first is belgothian pierce DW blademaster like fluff's. The second is warborn physical DW blademaster like JoV's. The builds are designed differently with 100% WPS. I just want to give my touch to it.
The First Build: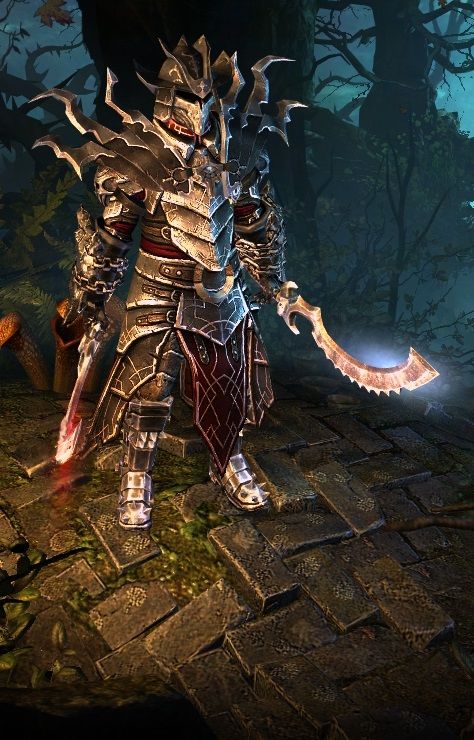 Big thanks to SuperFluff and Madlee for their belgothian build, good reference for this build
The Build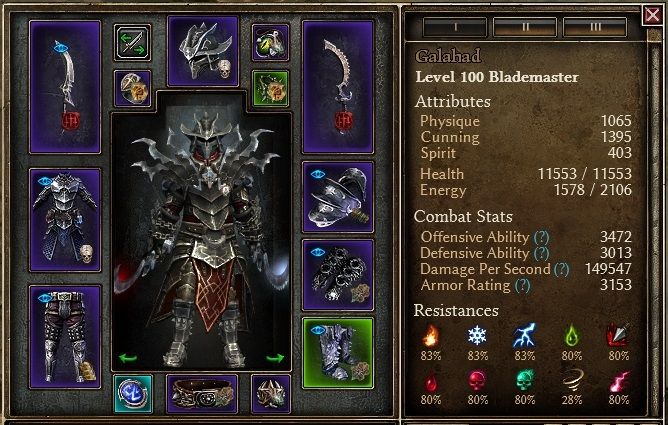 https://www.grimtools.com/calc/aZqvxOdN
with all permanent buff + Pneumatic Burst, Deadly Momentum, and Belgothian's Strikes charges.
DPS shown is Belgothian's Strikes
Build Feature
Dual-Wielding
Live up to his name, Crazy Slaughterer Machine
2 Circuit Breaker, mistakes forgiving
Enough defenses to kill everything in Crucible
Build Overview
I will be quick because fluff's belgo thread is really popular.
In this build, I use deadly momentum to magnify the pierce damage. This is the only feature in blademaster that make it more damaging than infiltrator. I will explain how to maintain DM 100% of the time in the gameplay section. With this focus, I use multiple item to give as much +skills to both masteries.
The other thing is I aim for 100% WPS, as it will all be magnify by belgo strikes, ensuring all attack done with both hands, and increase the damage tremendously. AoE is done by WPSes (belgo shears, whirling death), devo procs, and 248% WD of Ring of Steel.
For Defense: We have 3.1k armor + 100% armor absorp that will get even higher by pants proc, about 35% phys res, 27% & 22% dodge, Fumble, ghoul procs, turtle shell procs, and the almighty mark of divinity procs.
Equipment Choices
Craft all equipment at Arngrim for +% armor or +% physique.
Core Items:
Belgothian's Slaughter Set. put the sword at main hand
Gloves: Mythical Grasp of Unchained Might. Flat phys and important flat RR to RoS. More %WD to RoS is a nice touch
Ring 1: Bladetwister Signet. more pierce RR
Supporting Items:
Off Hand: Mythical Reaver's Claw. Plus to Soldier, good stats overall.
Pants: Mythical Chausses of Barbaros. Godly Pants Procs
Alternative Pants: Kubacabra's Chausses. should theoritically be better, but with this arrangement, barbaros pants yield more damage than +3 deadly momentum.
Belt: Mythical Reforged Chains of Oleron. Huge flat phys damage, +% pierce, +soldier
Boots: Stoneplate Greaves. to cover resistances, get any prefix/suffix you like. of Arcane Winds suffix is preferred for slow res
Ring 2: Ring with cutthroat's prefix. It increases the dps well. Any ring can do.
Amulet: Mythical Peerless Eye of Beronath. + all skills, good stats overall
Medal: Mythical Mark of Divinity. Important circuit breaker for this reckless blademaster. You can use the non-mythical for craftable, potentially more +%armor. I prefer this one because it has shorter cooldown
Relic: Mogdrogen's Ardor. Plus all skills and total speed, get %DA as completion bonus. Energy reg is tight tough, so if you have capped the attack speed without its ability, then don't activate it
Devotions
is quite similar with my belgothian reaper
Assassin's Mark > to Belgothian's Strikes
Blades of Wrath > to Belgothian's Shears
Living Shadow > to Execution
Blind Fury > to Markovian's Advantage
Ghoulish Hunger > to whatever permanent buff
Turtle Shell > to whatever permanent buff
Gameplay
Keybind:
LMB: Belgothian's Strikes
RMB: Cadence
Middle mouse button: Shadow Strike
Keyboard 1: Pneumatic Burst
Keyboard 2: Ring of Steel
Standard procedure:
The trick to maintain deadly momentum and full charge belgo strikes all the time is hold the belgo strikes button while every 2 second press cadence button for like 0.5 second. Thus:
Press 1 to activate pneumatic burst.
Shadow Strike in, than hold LMB while occasionally press RMB just like explained above.
Simple enough, right?

Build Performance
170 Crucible, screenshot with 4 buff:

Gameplay Video (Crucible 151-170)

Average clear time is about 9 minutes. The build can do 2.5 151+ cruci in a single buff, swiftly, and easily.
For +151, the only most dangerous enemy is Grava because of its fumble pool and reduced damage attack. Dodge its pool and let your attack do the rest. Always kill it first.
The second is reaper due to its savagery like attack. Facetank him first for killing. If you feel that it takes too long (usually like 3 or 4 second), then kite a bit for like 2 second, then take the rest of its life. Kill him second after grava.
For Alek, just need to dodge his meteor. You can facetank it, but it is not recommended as it has quite big burst damage.
For wave 169, I usually kill the second form of theodin first, then move on to anasteria to kill her (about 3-4 second), then kill theodin and the rest of his minion.
Other nemesis or bosses is easy peasy.