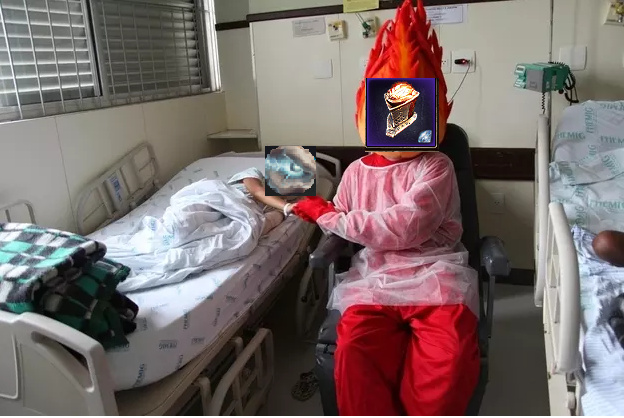 *Burn Ward welcoming all kinds of patients who got into a contact with super Hot Builds
Thanks to user @omnitrio
Foreword
This one was born when I was testing @dmt's Shieldbreaker (be sure to check it out if she decides to post it). But I have changed the focus from Blackwater Cocktail to Thermite Mines, changed a lot of gear and devotion map so the build became kind of my own.
The Build
*craft for Stun resist. Use second Ravager's Eye if your DA rolls from gear are too low.
Hot-burning Questions
Isn't Warpfire better? And what is this meme amulet?
Nope, Grim Fate is better on all fronts, especially when you focus on Thermite Mines. Azrakaa's Sands amulet is a great defensive option with cdr, since we don't have any useful Conduit options here
How consistent is that build? It looks a bit glassy
It's pretty consistent once you learn how to pilot it and watch your fail-safes cooldowns. Less tanky than Purifier casters with Censure tho
Gear/Skills/Devotions
Core of the build is Infernal Knight set. However we are adding huge damage support in a form of steroided mines with increased radius. Rings are for OA and Bat conversion. You can choose to use or skip a skill from Korvaak's relic. Devotions include all Fire powerhouse constellations + Bat/Ghoul/Solemn Watcher for tankiness.
Gameplay
In Crucible burn everything. Reposition with Vire's Might to proc Bat. On dangerous waves like 170 watch your Blast Shield/Prismatic Cooldowns. Once you procced Blast Shield and something else - stand your ground.
In Shattered Realm stick to 65-66. 75-76 is doable but requires laser-focused piloting and even then expect to die often.
Stats
General with Ascension up (up 65% of the time)
Magical with Ascension up
Defense with Ascension up
Videos
1.1.5.1 Crucible 150-170 5:13 run, 4+3 setup
1.1.5.1 Crucible 150-170 5:26 run, lucky double "armored" mutators"
1.1.5.1 Crucible 150-170 5:17 run, lucky "armored" mutator
SR 65-66 speedrun (good mutators)
Dying one thousand times at Shards 75-76
In Conclusion
This picture by @Kos9k