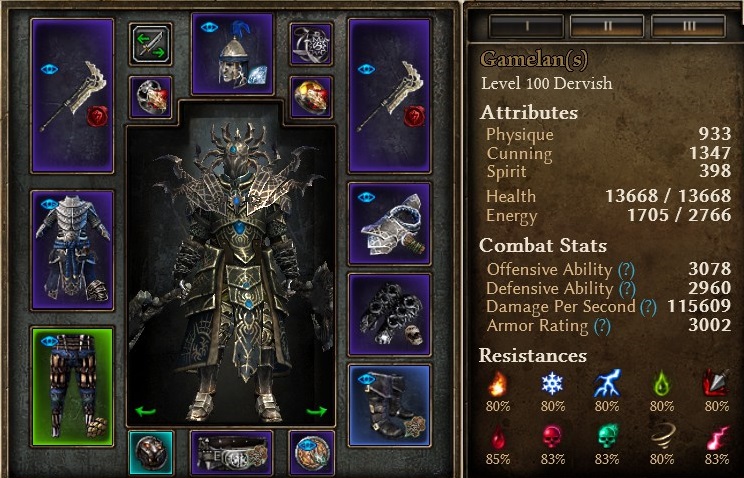 GRIMTOOLS
He Dreamt He Was Alone in an Empty Field
How does this work?

Unlike most of DW phys builds, this one works so well because converted physical damage ignores armor (example). This is the main idea of this dervish. And I'm not aware how -%total damage applies to player-scaled pets.
Surprisingly, character also deals decent damage, so it's more hybrid (?) build.
Gear explanation

Gear crafted for %Physique

2x Earthsplitter - core items, allows us to convert all pierce damage to physical. 100% convertion is required.
Black Matriarch - BiS for any physical build.
Ring of Sethris - optional here, I've taken it only for OA. Can be replaced with Menhirian
Will of the Blade - BiS, +3 to BS, +1 to NB, physical damage, %AS, flat pierce, granted skill.
3x Targo pieces - BiS, mainly because of conversions and +1 to both OK and NB. And the only set that supports physical dervish.
Grasp of Unchained Might - the best physical gloves. Flat RR for RoS is quite good.
Mark of Kalastor - great stats, plenty of OA, stun res. It's just good.
Deathstalker - mainly because of -% phys resistance and stats. And because there is no NB or OK phys relic.
Reaper Legguards - +3 to BS.
Gladiator's Distinction - S C A L E S.
Shattered Realm performance

I didn't expect it, but build can pass SR90 regullary and it's quite solid there. However, it's still semi-melle (yet, it escapes some of the problems). Several mutators are not welcome (-%hp, +phys resistance to mobs). And as always - Gargaban's second stage (I just love it). All other encounters can be solved simply by kitting.

Here are some videos of SR90

(death in this one is just perfect)


As for lower SR, no problems there (maybe Mad Queen is tough, never have encountered it).
Crucible performance

@mad_lee has recorded crucible run (3+1)

@Slev1n has made the best run (5.44)
Credits
@mad_lee for helping with the build.
@Slev1n for crucible run.