INTRODUCTION
The reason behind this build is to use fire resistance reduction on Olexra's Flash Freeze empowered by The Mageslayer set in combination with fire dual wield Eye of Reckoning. It is a funny gameplay of freezing enemies and then spinning around them. Other skills that are used are Judgment for reduction of DA on enemies, Guardians of Empyrion for resistance reduction and two movement skills - Dark Desires (from rune) for OA reduction on enemies and Vire's Might for escaping tough situations. Build aslo uses for defense Nullification and Mirror of Ereoctes.
I have other builds using OFF here, here, here, here, here, here and here. I also have other spinner builds here, here, here, here and here.
GRIMTOOLS https://www.grimtools.com/calc/0V0LydEV
Crafting bonuses on helm and belt are to stun resistance. To address the coming questions - component on the amulet is chosen because of movement speed.
image from the game with passive buffs only
image from the game with passive buffs + Ascension and Elemental Imbalance
I do not have the best rolled Alladrah's spellblades, so DPS can go higher.
OFFENSE
high DPS 210k - 260k
high critical damage - 88 % (106 % with Elemental Imbalance)
OK OA - base above 2900 OA and with Ascension close to 3100 OA
big DA reduction to enemies from Judgement -236 DA
OK attack speed - 178 %
high fire resistance reduction - up to 80 % without OFF and up to 193 % with OFF + Viper
damage from devotions - Solael's Witchblade, Ulzuin's Torch and Revenant
DEFENSE
OKish life close to 12000 HP
OK DA above 2900 DA
-180 OA shred to enemies from Dark Desires (skill from Rune)
OK lifesteal 18 %
freezing enemies using OFF
high disruption resistance using Eternal Band ring
OK CC resistances without Ascension (high CC resistances with Ascension)
reasonably overcapped resistances
OK physical resistance 23 %
OK armor - above 2000
% reduced damage to enemies from Soulfire
% damage absorption from Maiven's Sphere of Protection
flat damage absorption from Ascension
Bat + Ghoul
lifesteal from Kilrian's Flame
Prismatic Rage from component
Mirror of Ereoctes (saves the day when things go tough)
Nullification
SR, CRUCIBLE
This build does SR 65-66 easily. I fought with tough fire resistant bosses like Grava, Gargabol and Korvaak and they were OK if you play smart with them and went down relatively fast. The toughest boss for this character was very unexpected - The Steward. He hits extremely hard and can't be frozen - really surprised me how unusually hard he hit. I don't push my characters higher but it can go higher if you are a skilled player. I don't play Crucible so I don't have a time number for it.
image from SR 66 with Korvaak dying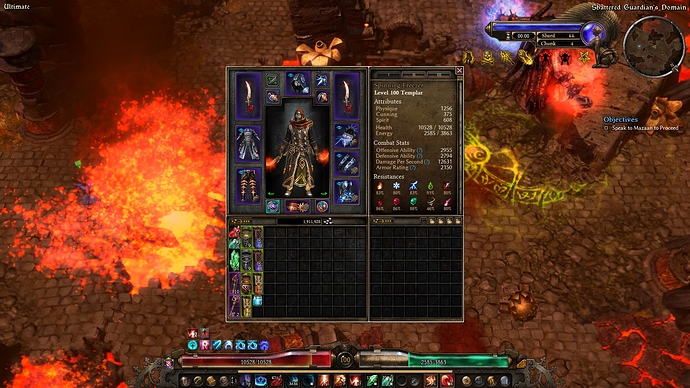 I have also made a thread for improving The Mageslayer set here.