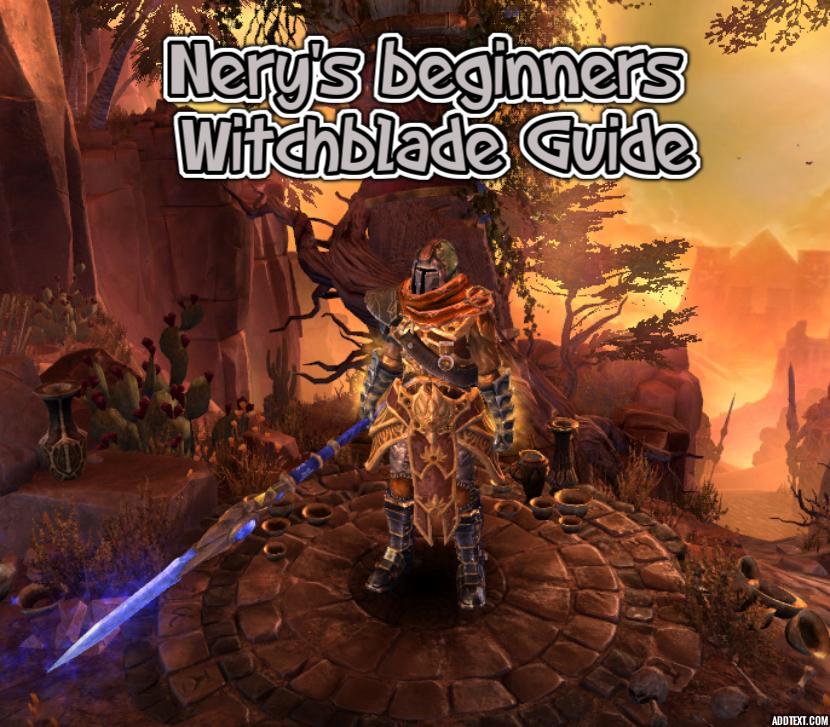 Introduction
Witchblade (Soldier + Occultist) is one of the class combos available since base game. It's not very versatile class but have few very good builds, one of them is 2H physical Blade Arc. 2H melee beginners guides are real rarity and there's demand for them. Also some players want to level Soldier based character with different skill and not Forcewave. So this guide will show you how to build Witchblade from the scratch. I will provide leveling tips, budget build with some explanation and also link the end game build, natural continuation of this build.
Pros and why is suited for first character?
Synergy from Soldier's class as main one for physical damage and Occultist being nice support, providing physical resistance reduction as well.
Easy to farm green items, that define the build like amulet, medal and of course the weapon.
Versatile gearing for end game.
Nice bit of stats from both classes, like OA, armor, attack speed, etc.
Number of resistances provided by both classes support skills, acid/poison, bleed, stun, slow and even physical.
Sense of progress leveling this build. During leveling monsters will gain power, so do you. After you take most devotions and start gearing up, you will have powerful leveling character.
What this build is not?
Need some time early on to gain some damage, which is common thing for melee builds.
Witchblade class doesn't have many possibilities. So if you don't like it or you are tired from it, your only other option is retal.
Physical damage don't have flashy effects
This is melee build, but you need to cast few spells and interrupt attack.
Need to mentioned, this is not an auto attack builds. Blade Arc can't trigger weapon pool skills like Zolhan.
Please post your character's progression in the comments below, any feedback is appreciated. Also you can ask questions or write me if you spot wrong GT links or mistakes, thanks!

Main Build
pic with permanent buffs. Sheet damage for Blade Arc
GRIM TOOLS

CLICK ME
Gameplay&Skills

Blade Arc - Our main damage dealer, should max both main skill and Laceration ASAP. It scales with attack speed and benefits both from flat and % damage.

Curse of Frailty - The other skill for RR. This skill is ticking every second, applying RR and chance to proc devotions. Main skill should be maxed, Vulnerability either should be blank or sit one at point.

Bloody Pox - Purely as procer skill. If/when Blade Arc is activating Assasin's mark devotion, isn't needed.

Blitz - Movement skill, 1 point both main node and Blindside. If you use Krieg gloves damage is converted to aeher, but it's not big loss.

Blood of Dreed - Our healing skill, also boosting OA. Aspect of Guardian have physical and acid resistances boosted. Good idea is to have 16/16 main skill and 12/12 secondary. With Soldier's belt you can convert flat acid to physical.

War Cry - Damage reduction from first node is really helpful defensively should go 12/12 eventually. Second node have some value, but I selected Scales, which also have flat resistance reduction.

Gameplay - hold your mouse key for attack with Blade Arc, debuff occasionally with Curse and Pox. Move with Blitz/movement rune. Keep Blood of Dreeg toggled all time.
Gear

The best set for this build is Bloodrager which will be massive boost to our defense and offense. Also is opening the opportunity to hybridizing physical damage with bleeding. I opt to use few pieces of Krieg, target farmable set. It's nice boost even is not mend for Blade Arc.

Weapon - I use Korvan Halbred, farmed from FG content area. Look for physical damage and attack speed. It SHOULD NOT have conversion from physical to other damage types. Best in slot is Gutsmasher with whooping +2 both classes.

Relic - Oleron. That's level 70 Soldier relic, with Bloodrage set you can go Deathstalker, both are good relics.

Belt - I use Soldier's green MI belt farmed in Udgenbog, act 5. Nice conversion, +1 Soldier class is good start but undeniably best item here is Gladiator's Belt

Rings - I use 1x Coven reputation ring and 1x Cronley ring. Black Matriarch is the best ring perhaps with it's - RR proc. Other one depends on what you need. Good rolled Cronley ring is a nice fit.

Amulet - I use Mogara's farmed from the Manticore boss in Jagged Waste. Bloodrager set have dedicated amulet, but if you don't have the set, Mogara is the best option.

Medal - Balthazar green medal farmed from the Cronley gang's member act 2. I like it a lot here. With Bloodrager set you can use Mark of Consumption

Armor - Bloodrager set is occupying these slots but if you don't have it you can use Kriegset pieces or faction gear as I used green Barrowholm faction shoulders for % damage and skill bonus to Laceration. Shoulders, you can use also legendary Titan Pauldrons or Benn'Jahr nemesis shoulders with Blade Arc bonus.

Gloves - I use Krieg set gloves. You can use any physical gloves with attack speed. Best in Slot are Unchained Might Gloves. with their sweet Blade Arc mod.

Helm - Either set one or Fettan's mask, which is guaranteed drop FG content area and will give you +1 both classes and slow resistances, which is important for melee character.

Movement rune - for leveling Bull's Rush is cheap charging rune. For end game the best option is perhaps Violent delight. It's coded like Vire's might and doesn't require a target, you can use it to both deal damage and escape dangers.

Green items are really nice options for leveling, they can really improve your character. For the purpose of beginner's perspective I selected green items for my budget build with only common (yellow) affixes.

Specific crafting bonuses are not that important for this build.
Devotions

Your first priority is to take Assassin's mark for 0 RR. Also I like here Ghoul/Scales combo for defense. Ulzaad and Azraaka are for physical damage, also Bull. Here's my route during leveling, if you start the main build directly you can direct route, without the needs of taking Candle for affinity.

Yellow crossroad affnity
Assasin's Mark, remove yellow
Red
Ghoul, assign it to permanent buff like Field Command, remove red
Blue
Bull, remove blue
Stag
Grenn
Scholar's Light
Kraken
Hammer
Purple
Ulzaad
Hawk, remove purple, green and Scholar's Light
Lion
Scales of Ulcana, remove Lion
Harvestman's Scythe
Azraaka
first node of Empty Throne

For devotion bindings, assign passive procs to permanent auras/buffs and not Menhir's Will.

I am not sure how good Pox can proc assassin on single enemy. If you fight bosses you can assign Blade Arc to assassin's mark and screw Bull. For Bloodrager set build you can see the end game build devotions map.
Attributes

Spirit, put points ONLY if you need them to wear jewels, otherwise no need. Physique to wear heavy armor and if your DA is low, all others should be dumped into cunning. Early leveling put most points in physique, then at level 30-40 split and then focus solely on cunning. At level 94-100 reset them with blue potion and invest most of points in cunning.
Permormance

campaign, you should beat most of enemies easily enough. You can farm dungeons, nemeses and totems with ease. Superbosses are not possible with this configuration.

Shattered realm, I completed shard 65 but without Gladiator belt defense isn't that impressive, that's the limit perhaps. I recommend farming 50th shard or so without full geared chracter.

Crucible, I tried 150-170 but it's hard to beat it on Gladiator. 100-130 or 100-150 is far better but build isn't a Crucible machine yet…
Leveling
I will show you how I leveled this character, it's not mandatory to follow it, but you can see which skill/stats to prioritize.
For the purpose of this guide I leveled self found only, without Lokarr set, which grants huge boost for XP. My preferred difficulty to start the game is normal. Also I tend to take devotions with procs first, to level them fairly early. Here also decided to push quickly Soldier's mastery bar and take Oleron's Rage, which can be little risky.
In GT links click on upper left corner to change difficulty.
1-10

Start with Soldier's mastery and push it to Blade Arc and start maxing it. After you pumped first few points put one point in the passive skills, Menhir's Will is your first priority. Start with Assassin's mark devotion and put it on Blade Arc.
10-20

GT - 20 - https://www.grimtools.com/calc/lNk5ym6V

At level 10 take Occultist mastery and max Curse of Frailty. Invest more points in Soldier's mastery bar and start pumping points in Field Command. One point in Blitz as well. You can craft this Axe with Angrim the blacksmith. Just remember any 2H weapon is good if it doesn't have physical to x conversion or armor piercing. Star using components, ectoplasm will help you with energy regen. Also start working on Ghoul's devotion.
20-40

Invest more points in Soldier's mastery maxing laceration and putting one point initially in Squad Tactics, Blindside and Soldier's passive skills. Between levels 35 and 40 you can reach end of Soldier's mastery bar and max Oleron. At this point you should have components in all of your gear and work on you resistances, OA and DA. Gear with physical resistance is also helpful but it's rarity. You can craft physical based relic or take the one from Roves's elder quest.
40-60

You should invest points in Occultist mastery bar up until Aspect of Guardian, that's the final stop. Put 1 point is Solael's Witchfire and Second Rite. Also I took War Cry and Break Morale at 1 points. Next start investing more points in Blood of Dreeg skill for better OA adn healing and Aspect of Guaridan. For better attack speed put points into Squad Tactics. Check also my GT's for the green items I use, like Fleshwarped casque and MI items in main build version, they can help you. You should have all/most resistances capped by now, also improve your components. I like especially Attuned Lodestone for leveling, also Mark of Illusions in rings.

Also check my video from level 50, I kill Loggy there and show you my gear and stats in-game.
60-80

GT - 70 - https://www.grimtools.com/calc/lV7YWmJN

GT - 80 - https://www.grimtools.com/calc/RVv5EmW2

You should reach/come close to devotion points limit, also skill points should look very similar to end game build. With revered factions, you can get nice augments, starting with Devil's Crossing and Survivor's Ingenuity in jewels. Also weapon augment with flat physical or trauma in weapon. Remember for 2H weapons, you need Potent version. From FG content farm for the weapon, I was lucky to get Superior of Alacrity, which is nice&cheap combination of affixes. Also you can craft Oleron's relic if you have the recipe. Also focus on gear with % physical damage. Gloves should boost your attack speed as well.
80+

Work on getting the factions to revered status, put armor augments and high level components. Your devotion map/skills should look similar to mine. I can add your character's GT links in here.
Factions selection

Common question is which factions to select. I would say here doesn't really matter. Barrowholm and Outcast as usual should be friendly.

I selected Death's Vigil and Dreeg for thematic purposes. All three Witchgod factions should be maxed, since we need something from all three of them.
Leveling tips, problems, FAQ

Stats priority is, first to cover your resistances. Then OA, which you need to crit and to trigger Assasin's markl. Both physical % damage and flat is really important stat. But since early levels gear doesn't boot it well, is important mostly in higher difficulties. Also build scales with attack speed. Next are stun and slow resistances. Physical resistance is also an important stat, luckily Aspect of the Guardian boost it.

2H weapon vs shield. Early on you might have better damage numbers with shield but with game progresses 2H will definitely outperform shield character.

Bosses/heroes are too slow? First few levels might be the case, later most of them will die quickly.

I have problem with specific boss? You should check what damage the boss deals. You probably missing resistance against it. Also is worth to try learning bosses mechanics and try avoid the most dangerous attacks, usually they are telegraphed and predictable. And also do you have enough life steal? For melee build is important for your survival.

When to start elite/ultimate. Since you have resistances penalties, -25% upper row on elite and further -25% on ultimate. So cover your resistances. I personally start elite at 65 and ultimate at 85.
End Game Build
That's our main goal - 2H Blade Arc build with Gutsmasher weapon and Bloodrager set by @mad_lee. If you have questions about it feel free to ask me or him.
You can also check compendium for other Withcblade guides.