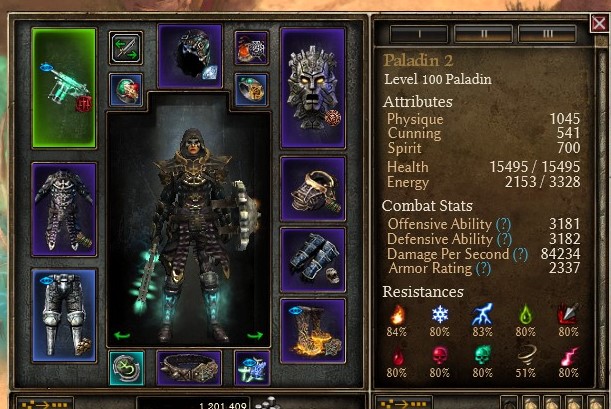 In game, permanent buffs, Word of Renewal, Inquisitor Seal, Consecration and Ascension
This build revolves around the new Rutnick Pistol introduced in patch 1.1.8.1. The Watcher of Erulan adds some much needed tankiness and a nice skill modifier to Smite on top of the modifiers from the Bonemonger set. The Magelord rings allows us to cap Inquisitor Seal and convert about half of the elemental damage from multiple sources to aether.
1.1.9.0 Update: This build got slightly buffed in the last update. Rutnick's gun got a flat damage bonus and Hydra got 10% attack speed now. Attack speed is now slightly overcapped meaning Shattered Reality affix on gun is less essential than before. Aura of Conviction bonus is now replaced by Death Sentence on boots, doesn't change much for us really.
1.1.9.0 Updated and optimised build: GRIMTOOLS
Thanks to @grey-maybe and @fordprefect for their suggestions. Reallocated some skill points and attributes.
Early version of the build displayed in some videos: Grimtools
Apparently grimtools does not display the physical resist buff on the shield properly: it only shows an increase to physical resist of 10% instead of 18%. Phys res in game sits at 64%.
Went back to kill Ravager to test the changes, I killed him a lot faster:
1.1.9.0 Ravager in 3:20 https://www.youtube.com/watch?v=WMmnq5h5Ws8&feature=youtu.be
Older videos
Ravager kill: https://www.youtube.com/watch?v=Hg14nzgnYrQ&feature=youtu.be
Avatar of Mogdrogen kill: https://www.youtube.com/watch?v=HrbgHCrxCmA&feature=youtu.be
SR 80 Boss Room: https://www.youtube.com/watch?v=30AHg4CkO20&feature=youtu.be
Crucible 161-170 (around 6 min): https://www.youtube.com/watch?v=wTQ1t5fml1M&feature=youtu.be
I tried Crucible twice with the update. Could hardly do under 10 minutes. SR performance is more or less the same.