Freezing welcome to everyone!
Today's build is evolved around Malkadarr's Dreadblade sword and its massive modifiers to Execution and Necrotic Edge. I thought that making a suggested Reaper with two of them might be an actually good idea. On paper it looked worse than on practice though, I must confess. Not great, just…doable. Well, I was wrong
. Anyway, here are the results.
1. Grimtools link
It was hard to balance all stats, some sacrifices were made for QoL instead of more damage. Even though the build has enough DR from Necromancer mastery, Yugol route appeared more stable than Leviathan. Still, build requires active gameplay to survive, not for lazy casuals like me
. Beware of Reflective aura on mobs! To get hit with your own Execution hurts much. Retaliation ones also can be dangerous.
2. In-game character stats


general stats, only passive buffs and Pheumatic Burst are active

magic stats

defense stats
3. Gear/Build explanation
There is a variant using SR set with more tankiness and better CC resists, but less damage and RR. Also, I wanted to make a successful build with Armor of the Eternal Night set finally (Morgoneth Death Knight with Cold Cadence and dual Dreadweavers was pretty squishy and miserable in terms of damage
).
Core items.
Weapons. Dual Malkadarr's Dreadblades. Huge modifiers to Execution (for single targets) and Necrotic Edge (for AoE). Reaper with them is truly terrifying . Look for Physical-to-Cold conversion prefix and %AS suffix ("Chilled…of Alacrity" is the worst possible).
Set. Armor of the Eternal Night. Good Cold set for Reapers, with RR and nice proc. Gloves should have %AS/%CS, its absence makes no sense. Really, what game designers thought back then?
Medal. Dreadchill Mark. More great modifiers to Necrotic Edge and some for Bone Harvest, %Cold Damage, %AS, even Night's Chill skillpoints. It is created for the build, literally.
Mandatory items.
Ring 1. Lifegiver Signet. Big chunk of Health, Lifesteal, points to Soul Harvest and Necrotic Edge, DA, nice proc.
Ring 2. Deathguard Sigil. Even more points for Soul Harvest and more importantly - it allows to hardcap our monstrous Execution. Overall good Acid/Cold ring, proc is more AoE, nothing wrong with that.
Belt. Gargoyle Waistguard. +1 to Nightblade, Vitality-to-Cold conversion for Soul Harvest and Harbinger of Souls. Look for Pierce, Elemental, Acid Resistances and OA/DA.
Relic. Nidalla's Outbreak. +1 to Nightblade, %Cold Damage, DA, Aether Resistance, wonderful proc. Just take it, nothing will probably beat it .
Boots. Amatok's Step. Good Cold boots with %Health, DA, Physical and Slow Resistances. Proc is another AoE - why not?
Can be changed.
Pants. Dreeg-Sect Legguards. MI slot with innate %Stun Res and %OA. You can change them with anything if you get Stun res on other MIs.
Amulet. Kaisan's Burning Eye. I had this amulet with pretty good affixes, so I decided to use it. Kaisan's Eldritch Eye can be better for CC resistances. Or any Cold amulet with +1 to Nightblade at least to hardcap Execution. Keep in mind that my amulet has Necromancer's prefix with +2 to Soul Harvest, which is no longer available in game after 1.2.0.0 patch.
About Resistance Reduction. Total amount is ~104% (-35% from Night's Chill modifier of Veil of Shadow, -22% from modified Ill Omen, -23% from Murmur constellation and flat 24 from Revenant constellation) plus 20% from Viper constellation. This is enough against most enemies. Yes, Kuba and Fabius are pretty resistant, but doable nonetheless.
4. Gameplay
Always keep Pneumatic Burst, Soul Harvest, Lethal Assault buffs on yourself and Ill Omen on enemies. Ring of Steel to freeze/apply Fumble attacks debuff. Amatok's Breath/Shadow Strike for damage and mobility. Mark of Torment in dire situations, Blade Barrier when you can't leech from an enemy or to prevent especially crushing blow (always keep it ready when fighting Fabius and use it simultaneously with him). Rest of the time Beronath everything, Execution and Necrotic Edge will obliterate enemies
.
5. Videos
Mad Queen.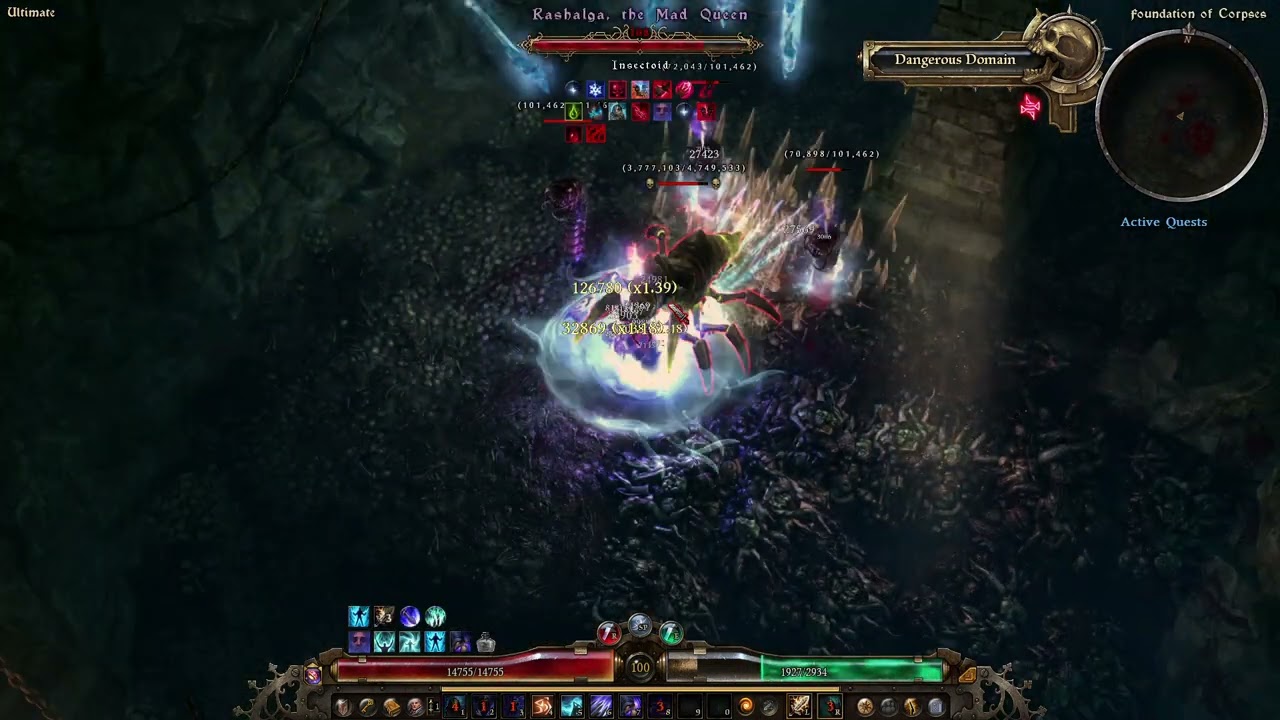 Kra'Vall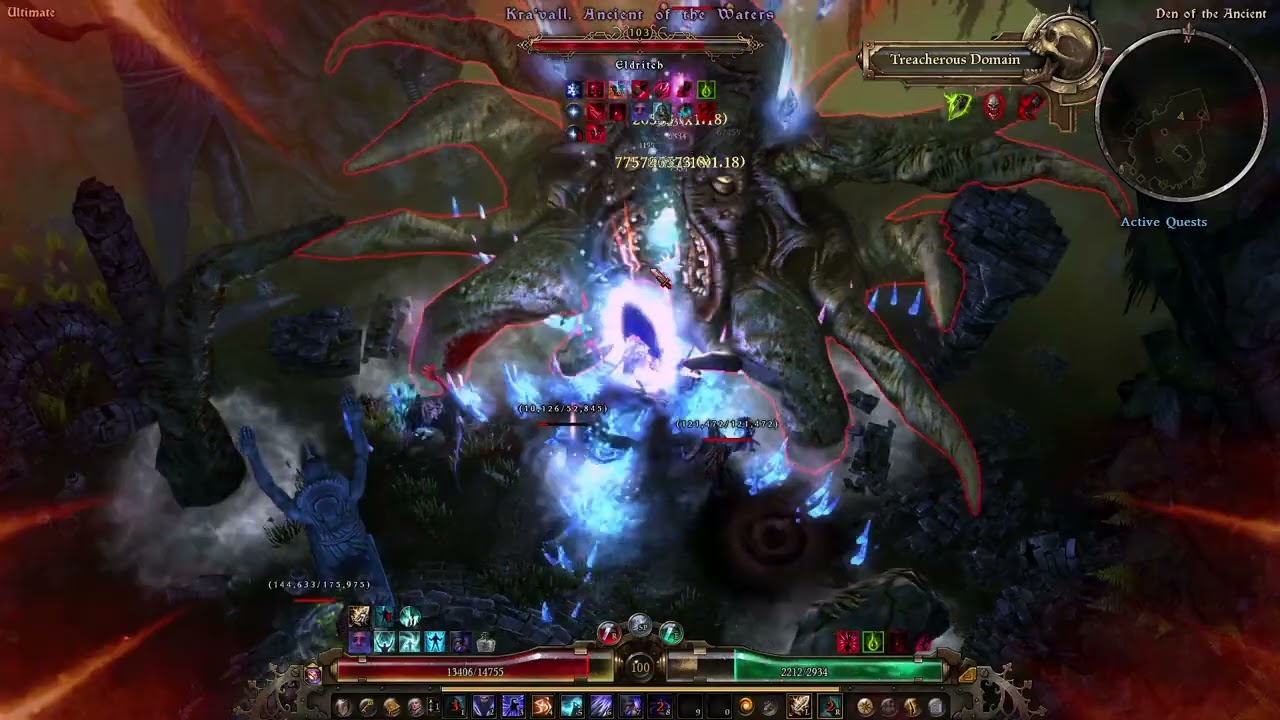 Lokarr.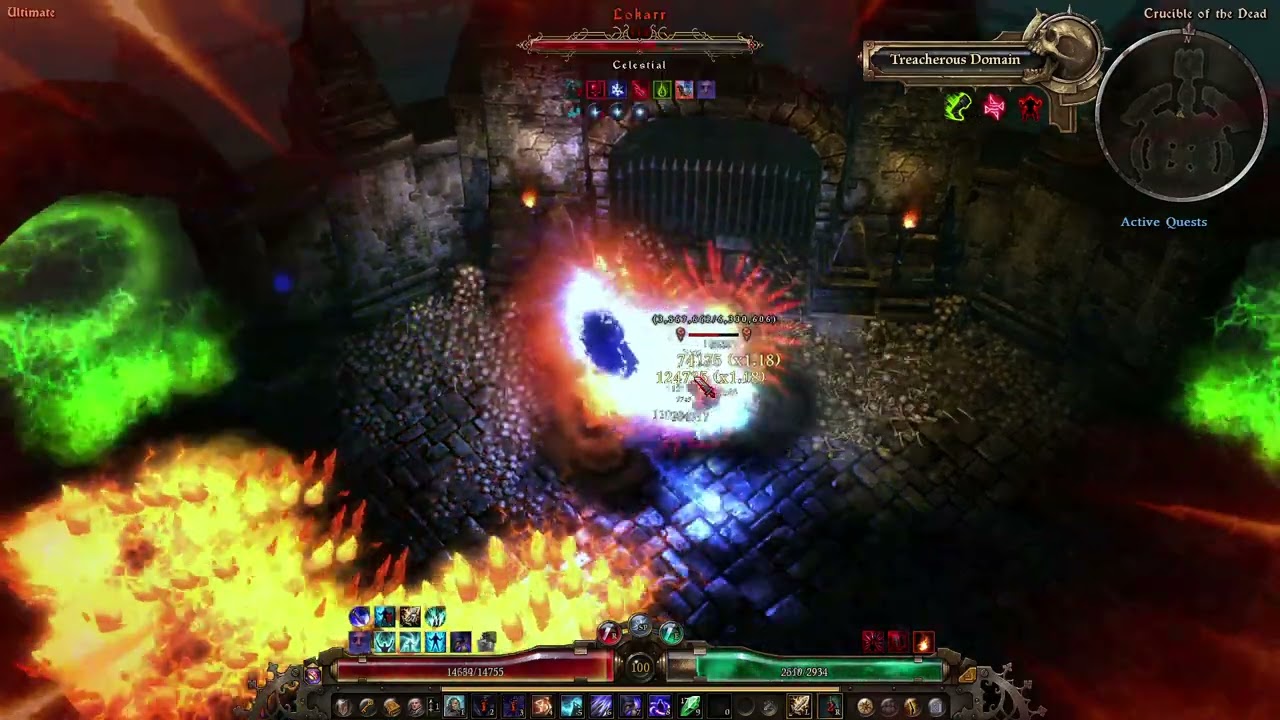 Morgoneth.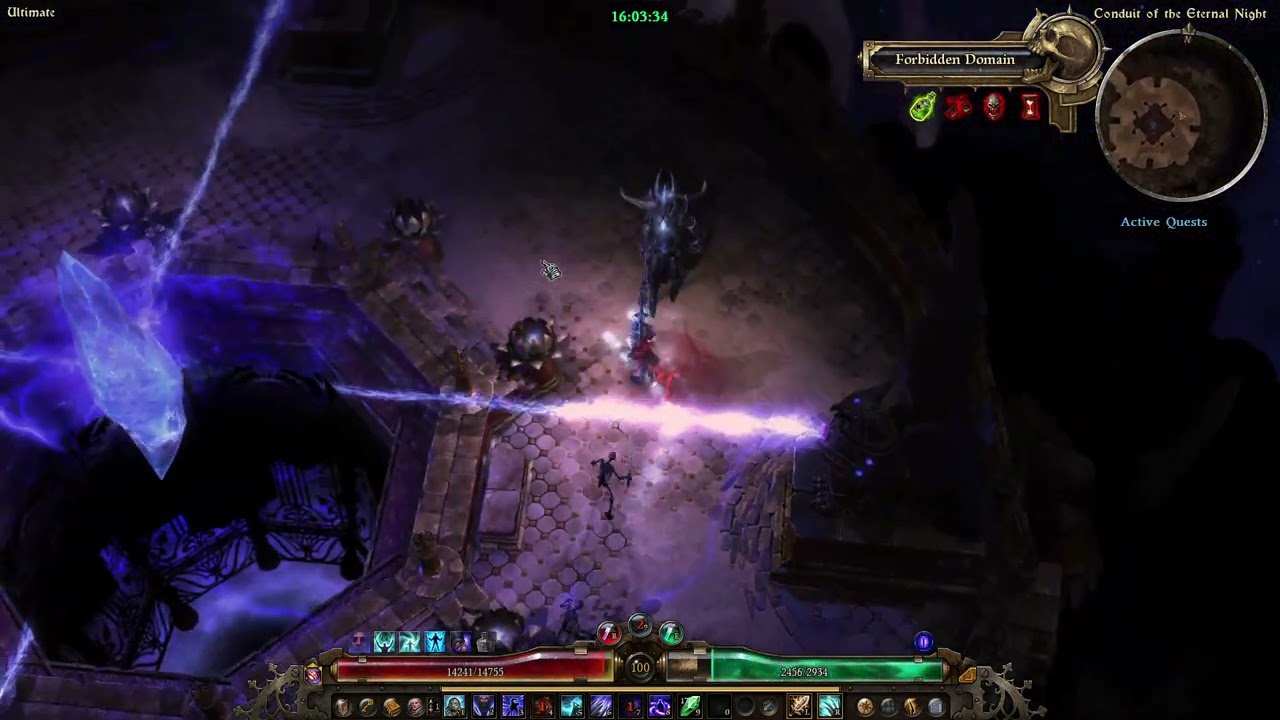 SR 75 full.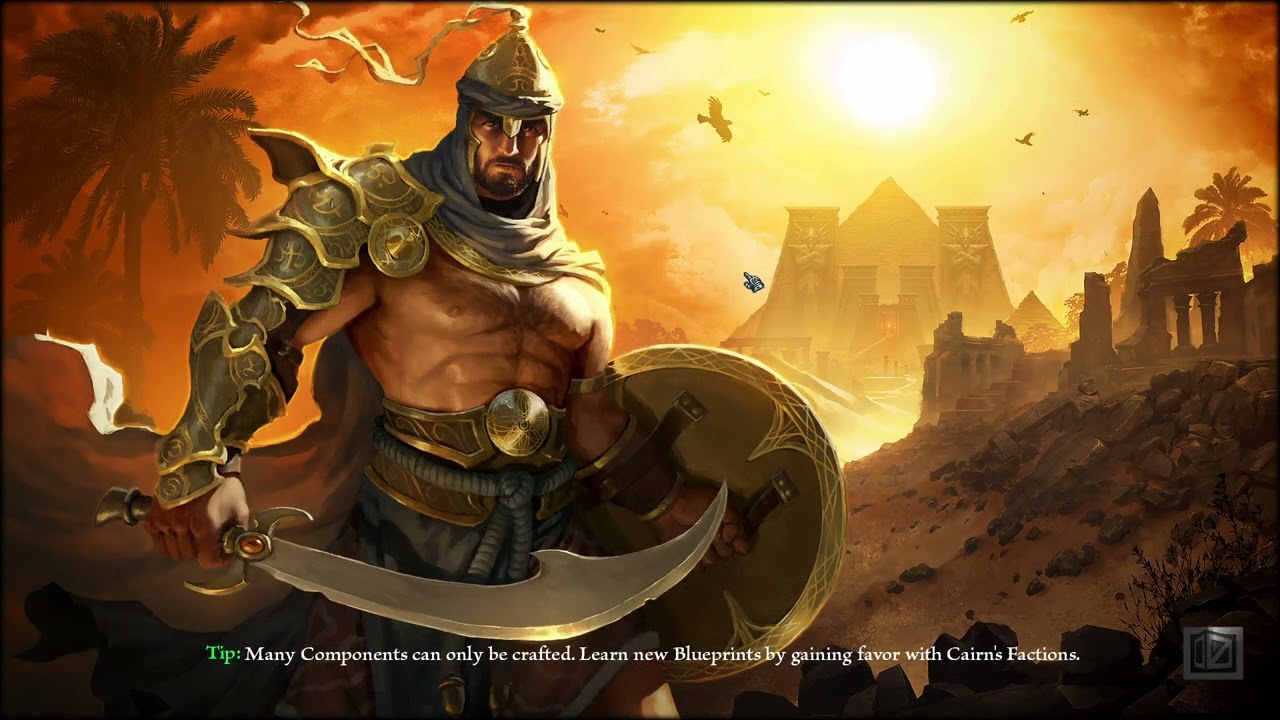 Avatar of Mogdrogen (old video) (potions are in the video, full facetank, used one Fire+Lightning augment. No healpots (I think) and clusters).
Ravager of Flesh (potions are in the video, garbage piloting, occasional healpots, no Aether Clusters
).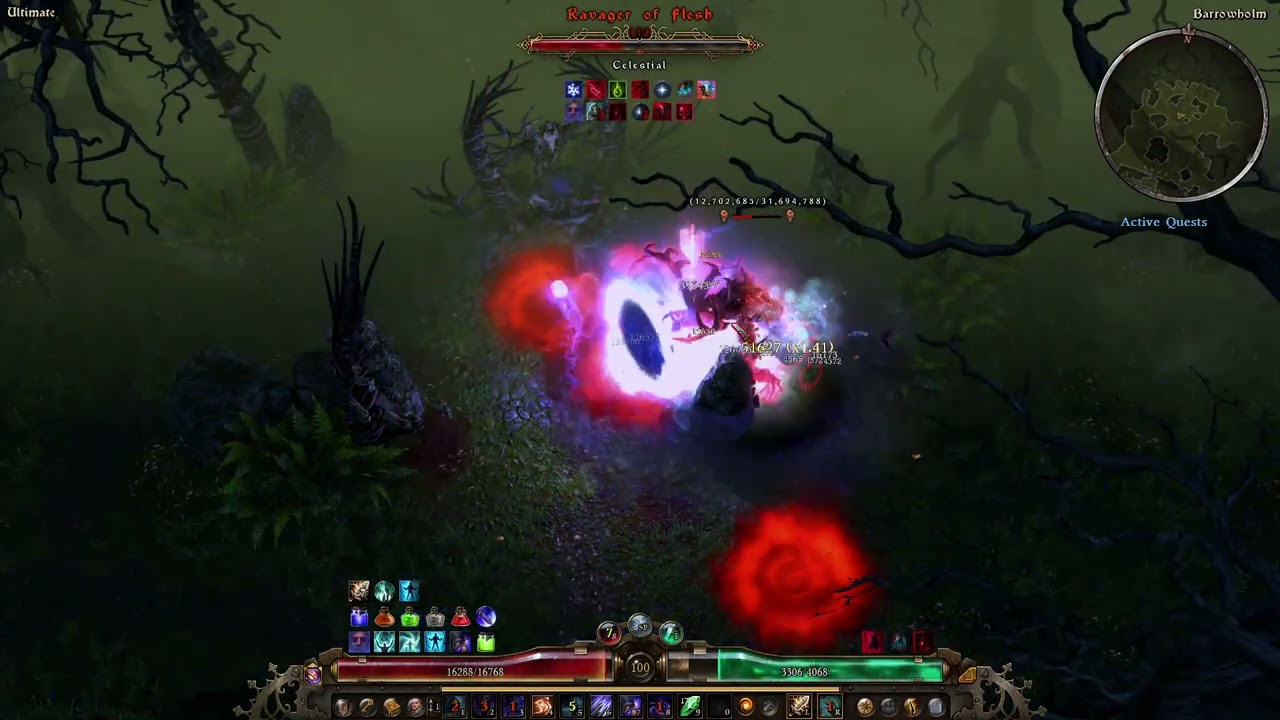 Conclusions? Build is good, its somewhat squshy nature is compensated by damage and defensive abilities. Can be made even better for sure. For me, this variant is definitely playable
. Look forward to improve it more!
Thanks for reading, any feedback is welcome. Have a good time!