Hello everyone!
It is time to try Elementalist this time. But, with sort of a challenge.
My opinion - Fire/Lightning Damage types are pretty bad in GD. They have poor numbers, weak survivability, worst Nemeses, even despicable Mogdrogen uses Lightning (which is downright
). But spells look great, must admit. And we have two clunky abilities that often lead to disaster rather than benefit thanks to their mechanic - Thermite Mines, Wind Devil. Now, mix everything. What do you get? Right, Cyclone Elementalist
. Looks stylish with all effects and whirlwinds. Performance? It… depends on what content you want to beat with it. Sometimes the build obliterates everything on screen, and then runs like scared chiken from one target
. I know, it is hybrid, do not expect much, however…
Anyway, stop complaining. Let's combust the storm!
1. Grimtools link.
Ultos
+Ulzuin
path brings destruction from the sky and looks stylish - that is what I wanted
. Because of Blackwater Cocktail modifiers we can omit flat RR and DR devotions. And, for sustain purposes, nerfed Giant on top. The problem is that the build does poorly against fat single targets, low %Damage on Stormfire skill is not enough for life-leech. So kiting is our key to survival. Facetank when it is reasonable, disengage when needed.
2. In-game character stats.


general stats, only passive buffs are active (Damage Per Second for Stormfire)

magic stats

defense stats
3. Gear/Build explanation.
The main Damage part of this build comes from Wind Devils (especially Maelstorm) and mighty procs. Gear was chosen accordingly. Not everything is maxed as I wanted unfortunately
.
Core items.
Set. The Cyclone. Finally, a set that makes Wind Devils usable . One click - and four hurricanes of total annihilation with prolonged lifespan are ready to be unleashed at enemies. No bad conversion, no dubious restrictions - the set looks gorgeous. Thermite Mines part is okay, not like Infernal Knight analog, but workable.
Mandatory items.
Weapon. Warpfire. +1 to both masteries, Fire RR proc. Wish it has some Fire damage as a base though . At first I used good-rolled Segarius' Sacred Blade, it also fits the theme, but Warpfire won.
Amulet. Thread of Mortality. +1 to both masteries, %Phys Res, life-leech, even Health regen. Proc is nothing without conversion (to make it somewhat usable we can use Chains of Brandis, but doing it just for one mediocre proc is not a fair trade, in my opinion).
Ring 1. Gollus' Ring. +3 to VF and Mogdrogen's Pact, always comes with Health Regen. Look for Stun res, OA/DA, Fire/Lightning/Elemental Damage, Aether/Poison res mostly. My advice - farm it in SR .
Chest. Fateweaver's Raiment. Overall good slot for Aether/Elemental casters with great aura. Some points to Stormcaller's Pact do not hurt.
Pants. Stormcage Legguards. BiS for Retal Electrocute Mortar Trap/Stun Jacks Elementalists (has anyone built it? ). For our build they provide crucial points to Maelstorm and Raging Tempest, OA/DA is obviously nice. Proc just exists.
Relic. Ulzuin's Pyroclasm. Everything you need in one item - respective Damage types, %CS, dual-damage proc. Designed for our build for sure.
Belt. Chains of Ordas. Aether-to-Fire conversion (for Warpfire and Widow Constellation, not much, but something), +1 to Demolitionist, %Stun res. Same requirements as Gollus' Ring (but it drops frequently from respective mob).
Boots. Stormbearers. Fire/Lightning Damage, DA, %Phys res, +3 to Maelstorm - most important. Proc also just exists, another portion of damage does not hurt.
Can be changed.
Ring 2. Time-Flux Band. Big boost to our Damage, %Slow Res, useful proc. Craftable. Any Elemental ring with %Slow Res (like "Consecrated" prefix) fits as well.
Gloves. Cindertouch. Fire/Lightning Damage, OA, points to VF and Wind Devil. Proc does not stack with Cyclone Effigy . Craftable Wyrmbone Handguards are an alternative (if you do not mind 24/16 Wind Devil).
Craft with whatever you want - %Slow Res, DA, Armor, Physique etc. And my Thread of Mortality has additional 8 OA (from Celestial Blacksmith), just got lucky.
About Resistance Reduction. Total amount is ~143% for Fire (-15% from Warpfire proc, -40% from Thermite Mines, -35% from Wind Devil modifier, -23% from Solael's Witchblade constellation proc and flat 30 from Blackwater Cocktail modifier) and ~140% for Lightning (-40% from Thermite Mines, -35% from Wind Devil modifier, -35% from Widow constellation proc and flat 30 from Blackwater Cocktail modifier) plus 20% from Ultos constellation proc, so it can vary. Looks amazing but Grava and Iron Maiden say otherwise
. Learn to kite them. Fabius is also nasty (who would have thought?).
4. Gameplay.
Uptime Wind Devils, throw Blackwater Cocktails and Thermite Mines under enemies, spam Stormfires. Be ready for some lags, especially in SR
. Rahn's Might for movement. Nothing more to add.
5. Videos.
Near-sighted Avatar of Mogdrogen, that, despite being a caster, tries melee range
. Potions are in the video, no Aether Clusters, occasional healing pots.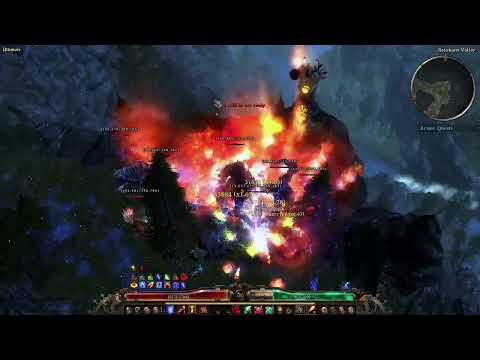 Kra'Vall.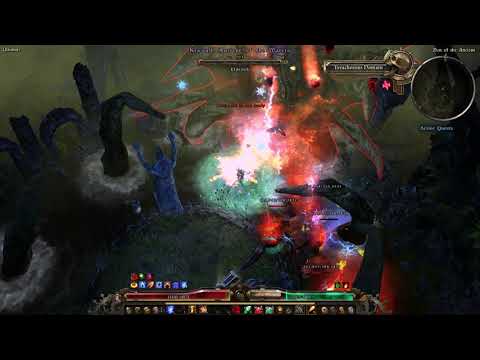 Lokarr.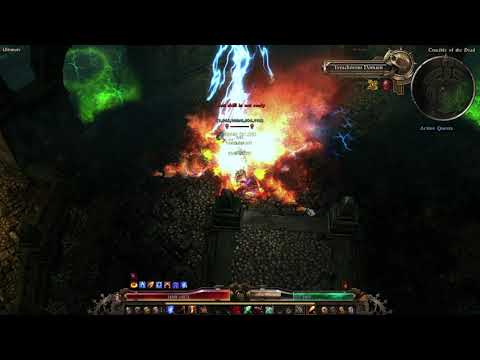 Mad Queen (kite her red aura).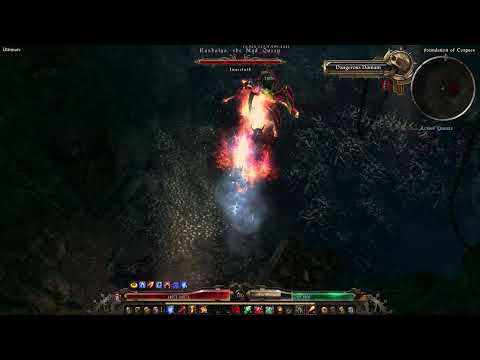 Morgoneth.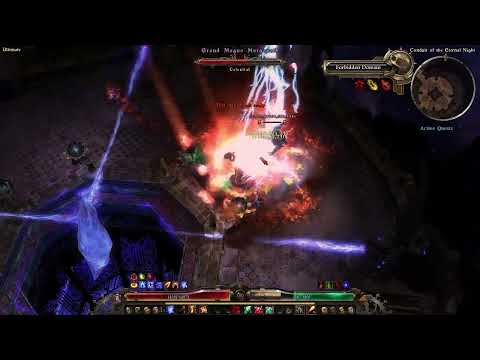 SR 75 full (with Grava, bad kiting).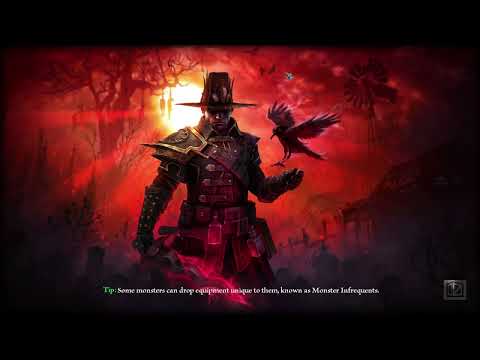 So, the topic build is great in AoE department, not so against single targets and has survival problems (the situation will be slightly better in 1.1.9.6). Elementalist as a class is pretty niche, to play its RR skills without Cyclone is just horrendous. But fun nonetheless. Something between "meme" and "actual build". For me it is enough. What about you?
Write your feedback/comments, as usual, every one of them is highly appreciated.
Thanks for reading and have a nice day!