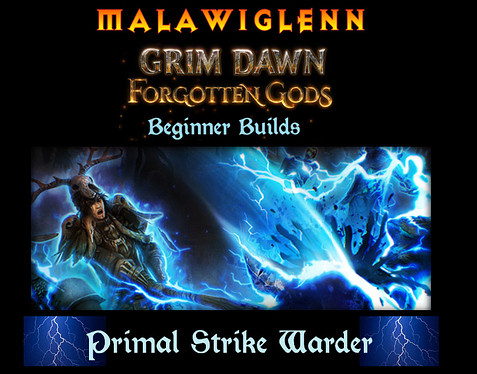 For a full guide, download this pdf-file from my Google-Drive:
Primal strike / Savagery 2H Warder (pdf)
For updates to the guide, see below.
This forum post will be used to post updates about the guide, variations of builds, tips and tricks etc.
GrimTools-link to basic builds:
My personal favorite of these two basic builds is the Primal Strike focused, but is slightly more wonky to play with.
Version for 1.1.4.0 patch:
https://www.grimtools.com/calc/RZRQy1BV (Primal Strike version)
Teaser video: https://www.youtube.com/watch?v=qYgK8Nweb3o (Primal strike version)
Alternative Devotion Route: with Revenant for attack speed, more life steal and flat resistance reduction (instead of Rhowans Crown): https://www.grimtools.com/calc/d2j8XvnZ for the Primal Strike version of the build - of course this works also with Savagery version.
Vindicator version of the Primal strike build:
https://www.grimtools.com/calc/pZrDg9k2
I did not change anything else than skill points. Inquisitor have free aether and chaos resistance.
You need more OA on Vindicator, to activate Deadly aim consistently.
Elementalist version of the Primal strike build:
https://www.grimtools.com/calc/4ZD69712
You need a bit more DA compared to Warder and Vindicator.
Updates
1.1.3.0 patch
Primal strike transmuter will lower the weapon damage on Primal Strike a bit more, but the ultimate ranks in PS will increase weapon damage so its basically no change in dps.
Kraken devotion got -50% damage (like 2% less damage all in all) but gained +4% physical resists - which is dope!
1.1.4.0 patch
The MI belt Chains of Brandis got +1 to Shaman and also Vitality damage converted to Lightning. This means that it could be good to invest a bit more into the Wendigo Totem modifier for flat vitality damage (and life steal) - that flat vitality damage will, partially, get converted to lightning which is what this build is all about.

Here you can find more of my Beginner Friendly builds
collection of malawiglenn's beginner friendly builds
- - - - I NEED HELP - - - -
click to read

I would really like to help all of you in your progress and to answer all possible questions you might have - but I will not have that much time with that unfortunately (I can a handful of PM's on a daily basis with questions). I feel the guides are detailed enough. If my guides are not enough: use google and search for your question, read other guides (like more general guides on game mechanics) see below.

I also have a full time job, partner, and other hobbies (like I also play this game at least 10h/week).

You can for instance ask questions here (official Grim Dawn discord - link ) Grim Dawn on Discord and I am sure people will help you.

You can also ask questions here in this thread: you need to specify what build/guide you are following and so on so that I and others can help you as good as possible.

From the guides-section on this forum:
A how-to on getting loot efficiently on solo play + advice on levelling
Farming Routes/Farming Guides Compilation
Devotions: A how-to on maximizing them
How to - Move your saves from Steam cloud to Grim Dawn's default location.
Tips I Wish I Knew Before Playing
Advanced Mechanics good guide about basic game mechanics but still not changed to fit the new forum's formatting.