Physics is basically a ton of math and Norway is close enough to Sweden.
Checkmate non glenn believers.
Has @Ulvar1 returned in some way ?
I know of at least 1 build using Desecrator covenant by @Willnoword so the OP could be updated to include it.
If not, wouldn't it make sense for a new thread to be posted ?
There are only 5 eligible sets with no builds yet. This could be a great resource for beginners.
(Perdition, Mogdrogen's peace, Callidor's defense, Dreadwalker, and Baldir)
Dreadwalker Oppressor.
A bit dated and should be reworked but should give a rough idea.
Build has also been tested and worked back then.
Avg. of 5 mins in CR fyi.
No, he has been missing since then.
Ok, reworked it as said.
Will be put to test as well.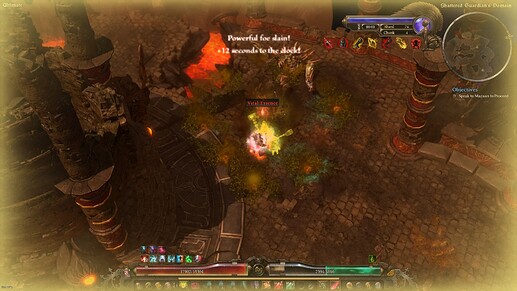 Dreadwalker Oppressor has been reworked and after some issues at 1st (mainly lack of OA) it is now up & running again.
75-76 has been fine, just watch out for large packs of champs that could overwhelm you.
Singletarget feels a bit low at times but that is DE being DE.
Nice. Beautifully optimized.
So perdition and Mogdrogen's peace are the only ones left (add Callidor too if an untested build doesn't cut it in your mind)
We can't really add anything to the OP since Ulvar1 isn't around anymore, but it would be cool to have links at least in the thread for all of them.
@Skelemental want to tackle Mogdrogen's set ?

I'll make something retal with the perdition set
There is a Perdition set Sentinel made by @RektbyProtoss [HC] Grim Dawn Build Highlight - Perdition Sentinel, acid retaliation on a low budget - YouTube. No build topic here though, why?
Nice.
Funny, I was theorycrafting that perdition build, and where I was at is very similar to what he did
No default attack for sustain? DEE or RF? Looks similar otherwise, I agree
.
Oh, and I found this Mogdrogen's Peace Pet Hybrid build here [1.1.9.1] Beginner's Hybrid Pet Warder - The Mogdrogen Cleaver - Blue Set - SR75. With some tweaks may be still viable.
You can ask
to give you the power over the OP.
I've tested / theorycrafted / started various 4p Perdition (-
) builds but no full set ones.
Yeah, well it was a work in progress about 15 minutes in

Nice
Challenge accepted!
I've played with that set before, but with the Nature's Regalia in existence, never seriously… should be fun! Now, which type of damage shall I do…
If you ask me I'm always gonna say bleeding, so maybe go with what you feel like doing
Not sure where you added it, perhaps to the forum
---
The Actually Added Builds to Not Really The Final Form of The Epic Compendium of Epic Set Builds:
Made a Callidor's Defense fire based purifier that I wanna test later.
Hopefully it'll be good enough.
Finished the Callidor's Defense toon and clearing 75-76 was fairly smooth for the most part.
I'm saying most part cuz on shard 76 I once ran into double magis in the boss room and these needed kiting.
Aside from that didn't run into any trouble.
A big beefy blast shield with behemoth, bat, WoR, nade fumble/impaired aim & turtle keep us alive.
Not much to add to this rly.