Meet, the Blade of Aether - 2h melee battle mage on aether cadence
Grim tools
Battle Mage - https://www.grimtools.com/calc/w26wYPxV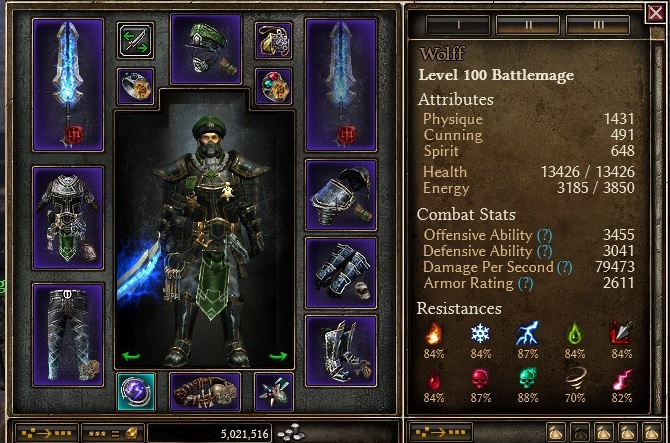 Screenshot with Maiven's Sphere, Fighting Spirit and Prowess active
Pros:
No green items in gear setup
No problems to complete campaign content except some super bosses
Saves: Mirror of Ereoctes and Menhir's Will
Nullification - useful skill in many situations
Cons:
No skill disraption resist
Not so effective (killing time) against strong Aetherials
Can't beat Avatar of Mog, Lokkar and Ravager on Ultimate
Gameplay (campaign)
You can faceroll most campaign stuff. Use blitz to burst into the crowd if there are no enemies with shotgun. Use AoE skills (Krieg's Wrath and CT/Blitz) to apply RR against mobs. Cadence and other procs will do the remain part.
The default physical resistence and ADctH are not high - only 12%, but Ghoulish Hunger and Giant's blood procs (plus Driad blessing in deffensive setup) will make the gamepaly more comfortable in many situations.
Gear setup
Krieg's Armament set
BiS for melee aether builds, especially for Battle Mage build:
Grants +1 to all skills in Soldier and Arcanist mastery
Grants 12% physical resistence in average
Grants flat health boost
Higher armor and DA rating
Good skill with RR that can be used instead of Manticore proc and save 5 devotion points for us
Amulet
Mythical Avenger of Cairn - grants us resistences, flat OA and DA, and +1 to all skills in Soldier needed to max Cadence. The alternative can be Conduit of Warring Whispers with appropriate suffixes and prefixes.
Rings
Mythical Band of Eternal Haunt - BiS for this build taking into account lack of aether RR sources.
Mythical Albrecht's Duality - BiS if you would like to get more flat aether damage from Fabric of Reality and Dying God. Otherwise you can try another variants like (Mythical) Screams of the Aether, Allagast's Stormgem and etc.
Weapon
Mythical Temporal Arcblade - BiS and the only choice for Battle Mage build. Wrathmourne is good while leveling up to 75 lvl, but is useless since mythical version does not grant "to all skils in" bonus.
Belt
Mythical Cord of Violent Decay - BiS if you need to cover the gap in resistences or would like to max CT damage. Other alternatives could be Mythical Soulweave Gridle, Mythical Phantom-Thread Gridle and Mythical Reforged Chains of Oleron.
Medal
Badge of Mastery - grants +5 to Cadence, OA and total damage boost and is BiS for the build.
Pants
Mythical Wrathborne Legwraps - BiS: boosts aether damage, grants additional flat aether damage (+2 to RP), boosts % OA and grants flat DA bonus. Alsjohas a nice proc with crowd control effect.
Relic
Agrivix's Malice - BiS for the build. It grants useful proc for melee aether builds and boosts our damage against aetherials.
Devotions setup
Must have devotions:
Kraken - the best constellation to boost damage for 2H builds.

Widow - grants proc to reduce not only aether resistence, but also enemie's OA.

Spear of the Heavens - in addition to resistences, aether damage boost and OA boost, the constellation grants nice proc with good damage low CD in 1 second ( 0.7-0.8 second with CDR from Arcblade).
Highly recommended devotions:
Solemn Watcher - the constellation is not only valuable for resistences & solid DA boost, but more important it grants % reflected damage reduction.

Ghoul - the proc Ghoulish Hunger can be considered as good save for melee builds: it grants solid bonuses for ADctH and physical resistence.

Dying God - invest at least 4 points to boost OA; if you have good HP regeneration - invest more points to get Hungring Void proc; invest 7 points into the constellation if you use Albrecht's Duality ring to get more flat aether damage.
Alternative build variants
Description: More "agressive" setup focused on damage - with full Dying God constellation and maxed Blitz instead of CT.
Credits: Thanks to mad_lee for the idea.
https://www.grimtools.com/calc/RZR4DLK2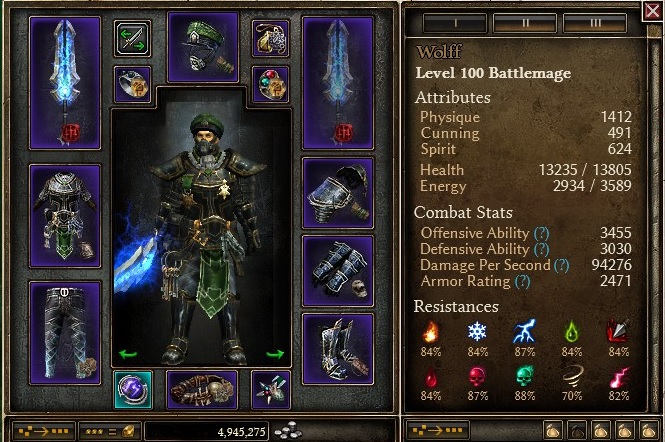 Screenshot with Whirling Blades off and Maiven's Sphere, Fighting Spirit, Prowess, Deadly Momentum and Hungering Void active
In closing
Special thanks to Veretragna for help with Krieg's set pieces.