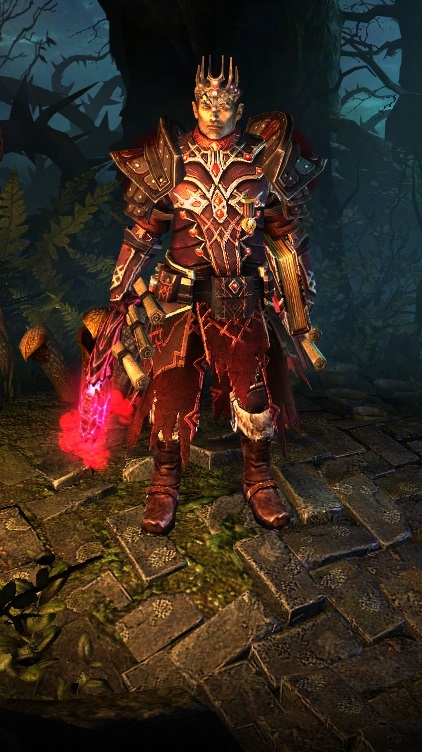 The Build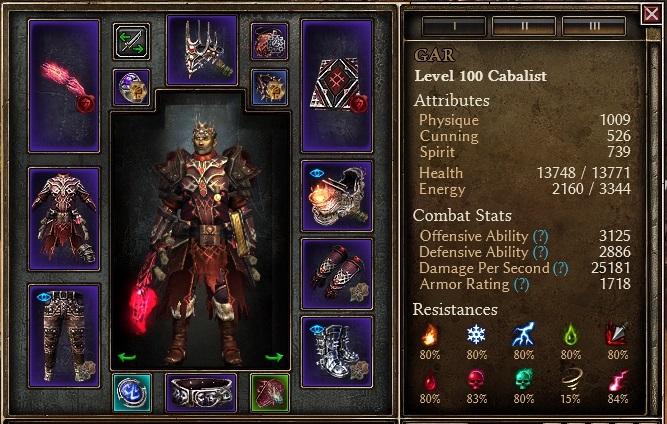 https://www.grimtools.com/calc/mN4qWwB2
with all permanent buff + Blood of Dreeg, Soul Harvest, and Hungering Void.
DPS shown is bone harvest.
Build Feature
Crazy lifesteal, almost immortal build
Easy to play, need focus only in double AoM nemesis wave
not a spellbinder, need to time MoT right :rolleyes:
Build Overview
Cabalist is my first character and Valguur's Hunger set is the first set I have worked on. You can check the first version of the build here:

I miss this character and decided to revisit this with my current accumulated experience and make it an easy Crucible clearer.
Main damage dealer is 2 sec CD sigil of consumption with 8 second duration and almost pure vitality. Supplemental damage is done by overcapped bone harvest, overcapped siphon souls, and multitude of procs from equipment and devotions. The build also support 11% ADCTH, ensuring you to also leech from weapon-based skill.
For Defense: Obviously the more damage we dealt, the more we heal. SoC, siphon souls, bone harvest, flame torrent, twin fangs, wendigo's mark, all heal you. The build also got about 3.3k DA due to DA debuff. When things got hairy, you can always count on 4.4 sec MoT.
Equipment Choices
Craft all equipment at Arngrim for +% armor or +% physique. Try to get as much conversion as possible in gargabol gun, lifeblaze mantle, and valguur's chest
Core Items:
Valguur's Hunger Set
Main Hand: Corruption of Gargabol. I love this gun and have been thinking to use it in valguur cabalist build. The gun converting up to 54% Fire to Vitality, plus to necro, additional RR to Ill Omen, and decent procs. Overall a perfect fit for this build
Alternative Main Hand: Decree of malmouth is nice so you don't need to invest more in cunning. You can also use Claw of Hagaraz with one-pointer call of the grave.
Shoulder: Mythical Lifeblaze Mantle. is only used for converting up to 30% fire to vitality. If you don't use gargabol gun, use something else. Bloodfury spaulders or benn'jahr's pauldron are nice also.
Alternative Shoulder: If you don't use gargabol gun, use Bloodfury spaulders or benn'jahr's pauldron or any shoulders you like.
Amulet: Reaver's Hunger. More damage to bone harvest and sick modifier for sigil of consumption. Plus to Necro, craftable, and really good stats.
Medal: Rylok Mark. More damage to sigil of consumption. Get any prefix suffix you like. Generic stalwart of readiness or stalwart of protection is nice.
Supporting Items:
Belt: Mythical Girdle of Stolen Dreams. The best belt for Vitality build
Pants: Really Great Pants. Use mainly for massive plus to cunning and spirit, also craftable.
Alternative Pants: If you don't use gargabol gun, you may want to use Grava'Thul's Leggings for more RR. Use one that has many resist.
Boots: Mythical Boneshatter Treads. I love this boots. I use it in every occasions.


Rings: Mythical Cursebearer & Mythical Signet of the Fallen. The ring slots are used for more RR.
Relic: Mogdrogen's Ardor For more plus skills. Get +%DA as completion bonus
Devotions
Offensive vitality build setup with many procs. I don't use TD because I'm bad with skill rotations, especially on many active skill like this build. If you are good at it, feel free to drop wendigo and bat/fiend for it. You can bind it to one-pointer reap spirit and invest more at mark of torment for longer duration.
Flame Torrent > to Ravenous Earth
Twin Fangs > to Curse of Frailty
Wendigo's Mark > to Sigil of Consumption
Will of Rattosh > to Bloody Pox
Hungering Void > to Bone Harvest
Gameplay
Keybind:
LMB: Bone Harvest
RMB: Sigil of Consumption
Mouse scroll up: Bloody Pox
Mouse scroll down: Curse of Frailty
Middle mouse button: Ill Omen
Keyboard 1: Ravenous Earth
Keyboard 2: Mark of Torment
Keyboard 3: Siphon Souls
Keyboard 4: Blood of Dreeg
Standard procedure:
Press to activate Blood of Dreeg. Ensure it to always be active and/or save it for heal
Scroll up and down and press to activate CoF, Bloody Pox, and Ill Omen, triggering multiple Will of Rattosh and Twin Fangs
Cast Ravenous Earth into the center of the herd to trigger multiple flame torrent
Cast Bone Harvest to trigger soul harvest
Make sure soul harvest and ravenous earth always active.
Cast sigil of consumption continuously. Stack it for more single-target damage or spread it for AoE.
Cast MoT for a charged reaper or on any strong boss wave.
Build Performance
For 170 Crucible, video with 4 buff:

8:50 Clear-times. Should be faster if there is no enemy stuck on their spawn point. Will try to record another video later.
As always, reaper is the most dangerous. Cast MoT When you have facetank him until he's in 1/3 health. It's not that hard though because it died quite fast. Facing two reapers is almost the same, but position yourself in near spawn point so they have a harder time to ganged you up.
Other nemesis is easy-peasy.
Afterword
That is all, hope you can enjoy the build.