Update pre-FG: Adjusted to the new patch, incorporating some MadLee's previous suggestion.
The Build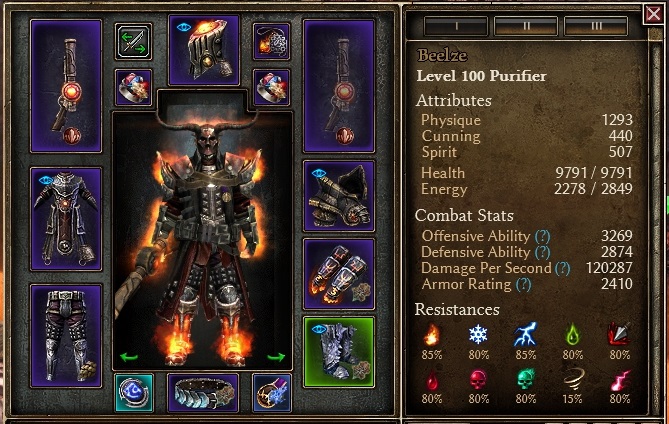 https://www.grimtools.com/calc/d2jwvzlV
with all permanent buff + Word of Renewal, Deadly Aim, and Standing on Inquisitor Seal.
DPS shown is Fire Strike.
Build Feature
Ultimate Crucible clear speed
16 sec Dummy kill
Contain Inquisitor
Doesn't contain Thermite Mines
Simple and not clunky
Build Overview
I take back what I said that purifier can only use justicar set or light's guardian for no-rune build. Now I tried to explore Ulzuin's Infernal Avatar set in this recent new patch. The set is mildly buffed in 1.0.7.0: increased fire strike WD by +24% (from 18%), better resist on chest, and increased electrocute damage and its duration. This set should already be good before in 1.0.6.1, but now it is INSANE.
The set is full blown offensive with nice touch in defensive. What makes the set really good is procs from the full completion bonus is really really crazy. It's mechanics is like more damaging version of flame torrent, but as an item procs, it can be triggered by our damaging aura, which will procs crazily in crucible.
As the set suggested, the build is then designed as fire strike shotgunner. Current set up has around 180% Attack speed with all permanent buff, supported by 60% Inquisitor's WPS. Supplemental damage are provided by flame torrent and meteor shower devo procs.
Defense is good: We have a good 2.4k armor (only 92% absorb though) due to all crafting bonus, decent 20% phys res, 18/12 inquisitor seal + 15/12 damage reduction from aura of censure, fumble & impaired aim from flashbang, ghoul procs, decent effective DA, crazy lifesteal from all procs + fire strike.
UPDATE 1.1.0.1 Pre-FG:
Ulzuin's set got buff on its proc and really good 50% chaos to fire global conversion as a full set bonus.
In addition, the build now use 2x Mythical Reign of Ice and Fire on ring slot to replace the now useless elemental balance rings. Freshly buffed with ADCTH on procs, really good defensively and offensively.
Other small changes is bloody crystal as ring components and seal of the void on weapon component for additional WPS.
Equipment Choices
Craft all equipment at Arngrim and try to get +% armor as completion bonus.
Core Items:
Ulzuin's Infernal Avatar Set
Rings: 2x Mythical Reign of Ice and Fire. Godly procs, craftable, similar bonus to elemental balance ring but without flat damage.
Gloves: Mythical gauntlets of Ignaffar. Just for converting pierce to fire which we have a lot.
Relic: Ignaffar's Combustion Perfect fit for this build, get +1 to aura of censure as completion bonus
Supporting Items:
Pants: Mythical Chausses of Barbaros. One of the best pants for auto-attacker. Crazy set of status and godly procs.
Boots: Stoneplate Greaves. Just to cover resist. "of arcane winds" is preferred for slow res.
Belt: Mythical Scales of Beronath. JOffensive based inquisitor belt that also gives a nice defensive stats.
Medal: Luminari Commendation. Converting pierce to elemental which we have a lot, also giving bonus to inquisitor seal tree.
Devotions
Offensive fire-based 2handed-range auto-attack build.
Eldritch Fire > to Storm Spread
Elemental Storm > to Inquisitor Seal
Flame Torrent > to Fire Strike
Meteor Shower > to Chilling Rounds
Ghoulish Hunger > to Whatever permanent buff
Gameplay
Keybind:
LMB: Fire Strike
RMB: Point to Move
Keyboard 1: Flashbang
Keyboard 2: Inquisitor Seal
Keyboard 3: Word of Renewal
Standard procedure:
Press to activate Word of Renewal. Ensure it to always be active and/or save it for heal
Cast Inquisitor seal below you
Cast flashbang to enemy hordes. Cast it at least every 3 seconds.
Shot your enemy with fire strike Point-Blankly in the face
Round your enemy and Position yourself well so the WPS and all procs can shotgun them all at once.
Build Performance
For 170 Crucible, video with 4 buff without banner:

7:00 Clear-times!! My current best record!
The clear times will go around 7:00 to 7:30. Ranged build is not as consistent as melee because it doesn't have mobility skills and you will need to shot your enemy point blank anyway.
There is no dangerous enemy. Grava is easy because its fumble/impaired pool cannot stop our procs from leeching him. Reaper dies in seconds. Kill kuba last, it will be almost dead when you start hit him anyway because of the build excellent AoE. Just don't facetank Alek's meteor and kill enemy as fast as you can.
UPDATE 1.1.0.1 Pre-FG:
For 170 Crucible, video with 4 buff without banner:

7:35 clear times. This is current average clear time without banner, still can easily and consistently do 3 times crucible clear without banner.
A bit slower from before due to less flat damage from ring and devotion. Current build is definitely more tanky and comfortable though, because of the new rings. Now I consider to use that in my korba build also…

The only annoying nemesis combo is Grava+Kuba. Their fumble/impaired aim + heal pool can be quite dangerous. You still need to focus on grava first while dodging its fumble/impaired aim pool.
Afterword
Hope you guys can enjoy the build.