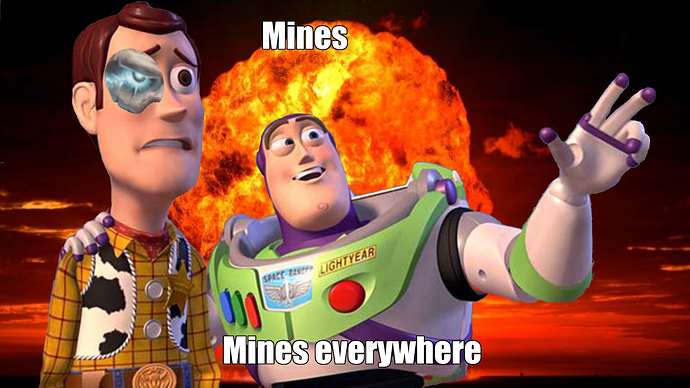 Foreword

That my first build on this forum. My English is not very good. But I hope you understand what I'm trying to tell. I love Demo , I love mines and I very happy for their rework. That rework did mines a GREAT skill for damage and RR.

With permanent buffs and Deadly Aim
About build
—Offense—
—3.3k OA—
—163 RR for lightning—
—FULL fire to lightning conversion—
—224 DA shred—
—2.4k % lightning damage with all procs—
—Defence—
—2.8k DA—
—200 OA shred—
—15% Incoming damage reduction—
—Blast shield—
—Inquisitor seal—
—23% phys res—
—2k armor—
Cruicible
Thanks Anton Wojciechowski ( I hope I translated correctly) from
Safarel Discord Community
for this run. Great job Comrade !

Shattered Realm


I have a very bad computer, which prevents me from recording videos when I play. Therefore, I only have a screenshot. This build is comfortable enough to farm 65-66 shards. 75-76 Harder , but if you have an above the average piloting-skill that build can farm it.

A lot of thanks for help all

Safarel Discord Community