Are You Ready To BOX ???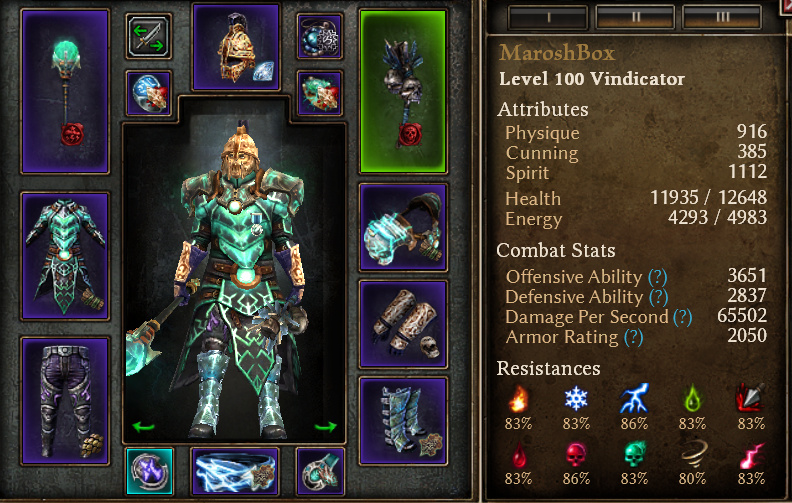 (with Deadly Aim)
No changes in 1.1.5.0. Performance only slightly worse: 5:14 with Shattered mutator and retarded nem combos. Can't beat the Box.
GT https://www.grimtools.com/calc/lNkOgKBN (crafted with one slow res and the rest physique)
Crucible 5:01 https://youtu.be/obclx2OwSe0 (5:20 average)
Shattered Roquefort 75 https://youtu.be/nmJqpeeOvXM
(both vids done before I realized I hadn't changed the helmet component, was Sacred Plating by mistake)
What to say?
Build as straightforward as it gets. Allagast's Storm Box oupie. 2pc LD for some more Box love and the Totems. Off-hand and Amulet for 4 Totems with 100% uptime. Pants and medal debatable but I'm an oa whore so this is what it is. Chain Lightning over Stormfire because aether matters (1400% with 68rr), and Allagast weapon converts CL's cold. Alternative options would include Aetherbolt Pendant (number one competitor for the conduit on vindi totem builds), Stormcage pants, Korvaak medal or Gildiam Arcanum medal. Not tested because my hands are shaking when oa goes below 3k.
I didn't have time for a solid grind but by my feel it can do maybe 4:50 max in my hands. Maybe better than the Cyclone elementalist in the hands of the best. Speedrunning this is VERY skill-dependent, and I have little experience with Allagast boxing.
Feedback more than welcome.
For beginners: Build is g5 (has an impossible green) but it can be easily played with any affixes. %elemental and %lightning are best stats. It's a kiting caster so you can't facetank everything. You get most damage when you do facetank everything so you wanna do that when you can but you gotta know exactly when to disengage. Mash the summons (especially the Devils as you'll only have 3 with 100% uptime if you don't lag with it), hit-the-mole with the Box, hold LMB to squeeze in some Chain Lightnings.
Questions more than welcome.
Thanks for reading.