SWIPER NO SWIPING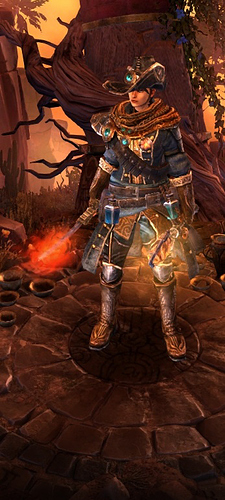 The Build


https://www.grimtools.com/calc/q2Mno9QV
With all permanent buff.
DPS shown is stormfire.
Build Feature

Upside:

Insane Cruci clear speed
Using farmable set
Full spellcaster gameplay
Super massive AoE

Downside:

Set is not as easy to drop as dark one
Mortar trap projectiles cannot go through arches
A little bit pianist.
Build Overview

Freshly come from levelling, here comes the vanquisher!

Vanquisher is not a spectacular set. Decent stats, decent CT modifier, and CT has been nerfed hard. However, as demolitionist and arcanist have become proper, sorcerer can take the set to the new height!

The build is a fire caster utilizing untransmuted CT with little CD from Vanquisher, also BWC and mortar trap as another main source of damage. The build got a 42% CDR to quicken all the skills, defense, and heal proc. Simple concept, so many variations to go through. I believe I have adjusted it to my best ability with this build though.

Defense is good and has so many layers, 4.5 sec Giant's blood downtime, Good health regen, 13.3 sec Mirror of Ereoctes, ghoul procs, Good life leech, 7 sec CD blast shield, permanent phoenix fire, softcap arcane will, and nullification. Use nullification generously for both offense and defense.
Equipment Choices

Try to get maximum CDR at offhand, conversion, and Craft 3 equipments for slow res and the res to stun res.

Core Items:
The Vanquisher Set
Main Hand: Mythical Warpfire [No way around it, we need more Fire RR, also skill bonus is crucial.]
Gloves: Mythical Dawnshard Grip. [for More mortar]
Medal: Mythical Mark of Calamitous Desire. [Mortar trap enabler, Very good stats, relevant skill bonus!]

Supporting Items:
Off-Hand: Mythical Aldanar's Vanity [Very good stats, give plus to both mastery, give random flat CDR which is nice.]
Pants: Mythical Arcane Harmony Leggings. [Good defensive pants with huge spirit and crucial skill disrupt resistance]
Boots: Mythical Footpads of the Gray Magi. [Good defensive boots with relevant skill bonus for sorcerer]
Belt: Mythical Phantom-Thread Girdle. [Just the best in slot for this build]
Rings: 2x Mythical Reign of Ice and Fire [Very good stats and leeching proc that relevant to warpfire conversion]
Relic: Eternity. [Quicken your defensive procs and ability, make the run much smoother, get +Star pact as completion bonus]

Movement Rune: Use whatever you like. I use rune of Astral Rifts at the moment.
Devotions

*All Fire Procs and Devo *

Flame Torrent > to Blackwater Cocktail
Fissure > to Thermite Mine
Eldritch Fire > to Callidor's Tempest
Phoenix Fire > to Stormfire
Meteor Shower > to Mortar Trap
Giant's Blood > to whatever permanent buff
Ghoulish Hunger > to whatever permanent buff
Gameplay

Keybind:
LMB: Stormfire
RMB: Point to move
Mouse Scroll Up/Down: Flashbang
Keyboard 1: Movement Rune
Keyboard 2: Nullification
Keyboard 3: Callidor's Tempest
Keyboard 4: Blackwater Cocktail
Keyboard 5: Thermite Mine
Keyboard 6: Mirror of Ereoctes
Keyboard 7: Mortar Trap

Standard procedure:
Summon Mortar Trap, always have 3 active
Movement rune in/out.
Summon 6 thermite mines below enemies
Hold stormfire button while mashing CT and BWC button

Ensure you are always in mortar trap range while engaging enemies, otherwise summon a new one near you.
Use Nullification generously for offense and defense, particulary for shielded enemy, clustered heroes, madqueen red aura, any hero mage, and nemesis.

Cast Mirror of Ereoctes when you are surrounded by multiple nemesis or when giant's blood is in cooldown.

Kite if necessary.
Build Performance

Crucible:
For 170 Crucible, video with 4 buff without banner (video with iron maiden):


6:30 clear time. Yes, this is a NO BANNER run.

Meeting iron maiden more than once make the clear time longer. She can't kill you though.
Longest run is 7:00 in that case.

Shattered Realm:
Will be check later, too lazy to climb higher shards
Closing quote from señor @x1x1x1x2