Introduction
So what builds I don't do often? I don't like chaos damage type and can't play ranged, so my new build is both ranged and chaos
Also Harbinger is mono class Occultist set and chaos damage type is supported basically only by Occultist. so why not play Demo+Inquisitor here and bypass Occultist?
Build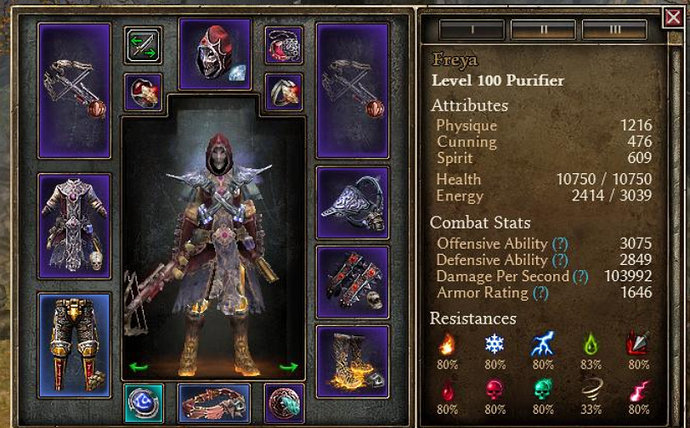 now with Dying God, Abomination and Deadly Aim
GRIM TOOLS

https://www.grimtools.com/calc/lNkOXeRN
How's this working?
Well for starters Purifier is the best class for ranged because of the interaction between projectile based attacks from Fire Strike and Inquisitor WPS skills and also massive damage from the set… Also CDR is crucial cause it gives more up time to DG and Abomination devotion procs. Also dual RR source, build can deal damage.
But despite that is really glassy, it's surprise for chaos build and I tried it first with Revenant but without Ghoul and nope, Ghoul is better. Outside of Crucible you'll need extra flat RR though.
Gear:
First of all set is very good, but +skills are lacking and build is really points hungry beast. Some other crucial or not choices:
Relic - Ignaffar for extra RR.

Medal - Mandatory to convert fire to chaos damage from FS.

Rings - Entropic Coil for stats+Voidheart to complete 100% conversion to FS and also RR proc.

Amulet - This could be changed but I like the damage reduction proc, build needs it.

Shoulders - That's their "sweet spot''. Brimstone bonus and WPS skill.

Legs for stun resistance and health and Boots for slow.
Craft item with stun res.
Performance
Crucible tailored build for the new meta 4 buffs + 3 level Stormcaller beacons. Build don't have high clear rate but not that bad. Also I play little bit kamikaze style, so maybe I am doing it wrong. Usual times are around 6:10 - 6:35 but here's lucky run of 5:53!