Introduction
Recently some of the exotic conduits were buffed(thanks Z), so I scouted them in order to find something I can play and liked the idea for fire/burn Doom Bolt build. DB have only one skill node, so it's easy to max it, plus Conduit+medal convert 100% of chaos and vitality to fire. So next…
Build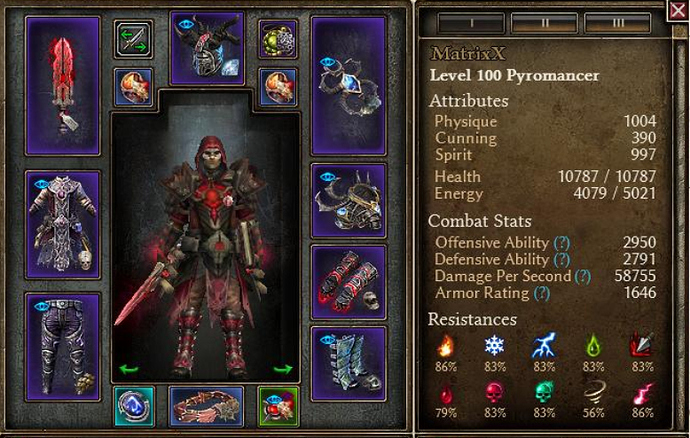 perma buffs only, sheet DPS for Doom Bolt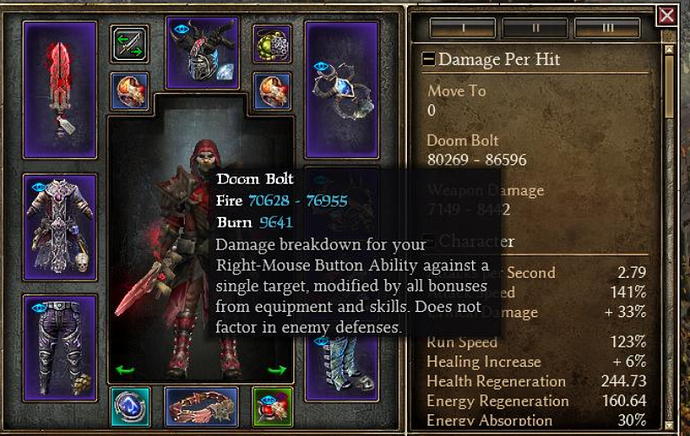 damage spreadsheet for Doom Bolt
GRIM TOOLS

https://www.grimtools.com/calc/0V0beX9N
Gear:
The gear is mix between DB items and classical fire Demo. Doom Bolt is powered by the mods from Conduit, MI medal and Gloves(very important for CD).
Grim Fate+Cyclone boost the Termite Mines, now they deal damage and also provides good amounts of RR. Boots are fro stun and pants for slow. Rings gives me BWC bonus and nice resistances. Relic is wildcard, I choose Eternity for the proc.
Devotions:
Magi+Meteors for the fire show, decided to skip flat RR source, since BWC provides it. Ghoul+Bat is standard, also Phoenix and Turtle.
Defense:
Interesting fact is that I don't use any skills with weapon damage and thus no life steal. Build is glassy, actually Pyro is inherently glassy class. So I use many sources of damage absorb - Blast Shield, Possession, Boots proc, Prismatic Diamond, Turtle and Phoenix. Also Giant's Blood on Blast Shield, Ghoul and Bat. And still burst damage is quite dangerous. And build is susceptible against some opponents/combos.
Performance
Clear rate isn't good in 150/170, sometimes is frustrating to play great and die against 169/170. Mad Queen is also really hard.
Times are OK, AoE damage is exceptional but single target is mediocre. My average times are around 6:40 perhaps, video from my fastest try - 6:14!