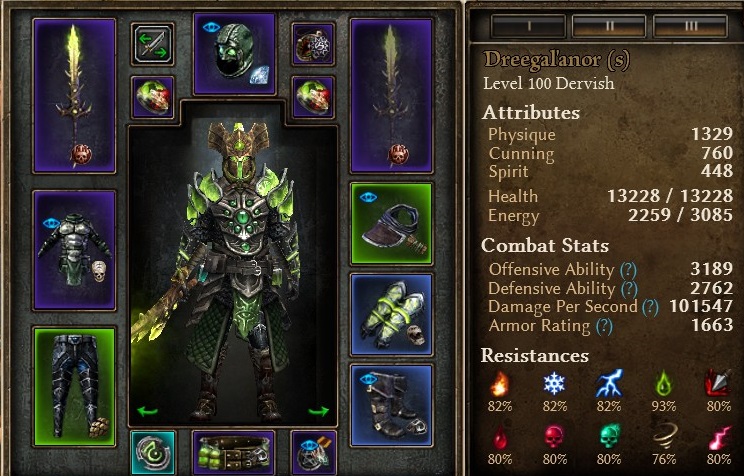 GRIMTOOLS
I've been wanting to update this build for a long time and the time has come.
About

Well, basically - it's a typical caster, but with ABB (and not-the-highest %cs, because weapon supports retal), so it's not the most comfortable one. Then, build rely on scales, instead of ghoul, so it's less stable, but still tanky. And the last thing - biting blades should be thrown smartly, so they'll return to you and deal extra damage.
Gear explanation

Gear crafted for %phys and stun res

Dreegal'anore - core item, allows to convert all elem damage to acid, has a wonderful mod for Judgement, +2 to NB, phys resistance and OA. The only bad thing - no %speed whatsoever. Instead, it supports retal and RTA. Which is a bit nonsensical imo.
2x pieces of Venomblade - the helm is BiS for any acid dervish, convertions are great, as well as the stats.
Vilescorns - they've got buffed in the recent patch, so now are a perfect choise for acid caster.
Mark of the Forbidden - BiS most of acid builds.
Meditation - the best acid relic in the game, when you have 100% conversion to acid.
Pestilience of Dreeg - very good offensive amulet and it's craftable.
Grava's Legguards&Zantarian's Shoulderguard - BiS in terms of provided skill bonuses. And purple/blue acid shoulders are just bad. The rare affixes on those are compulsory.
2x Shuroth rings and belt - 100% vitality to acid, which also allows to use S C A L E S.
Shattered Realm performance

SR90 full run, pretty hard.


SR75-76 is just brainless faceroll.

Crucible performance

The average run in my hands is about 5.15-5.20. The build is clearly not immortal, unlike phys templar, for example. Yet, it's really fast, thanks to the new agro system and tremendous damage.

That's how it performs in my hands (5.14 real time)


And here's @mad_lee's run (4.47 real time)

Credits
@banana_peel for advise on MI items.