Introduction
After some break of not posting end game builds, time to return.
This build isn't the strongest one for sure but it's cool concept, which isn't very popular. It's fire FoI Purifier using Mageslayer set and focused on converting lightning and cold damage into fire. Also Fire Flames sounds thematically right.
Build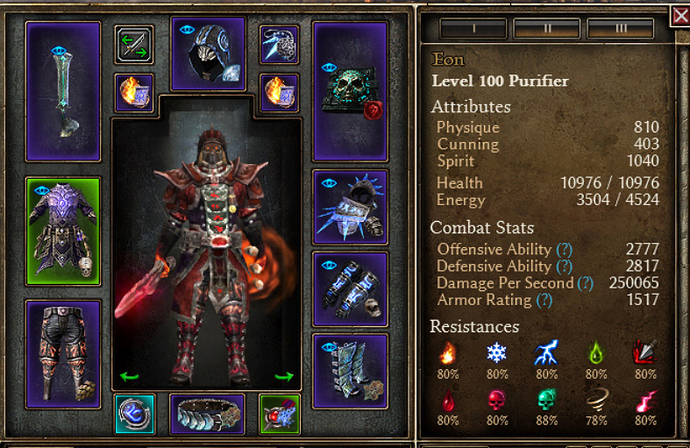 permanent buffs only, standing on Inquisitor Seal. DPS for FoI.
GRIM TOOLS

https://www.grimtools.com/calc/wV1rd8zZ
Why Purifier?
Demo is natural fit for fire caster, also granting me cast speed boost. Mage Hunter with Olexra Flash Freeze or even Infiltrator are also options.
Gear:
Core gear is Mageslayer set and items for conversion. Warpfire for cold one, also chest for lightning and rings for mixed cold/lightning conversion to fire. With good rolls you can get full cold to fire and almost 100% lightning to fire.
Other items/augments needs to cover the energy consumption of FoI, which is really energy hungry skill. Medals is also the MI one with attack damage converted to health to FoI.
Head is crafted with % slow.
Devotions:
Went for converted Seekers+Torch combo. Also Ghoul and Bat for defense, Elemental Storm for flat RR. My issue with this map is the lack of extra defense/damage absorb. Stuff like Phoenix or Turtle would've been helpful.
Performance
Build is kinda squishy, especially against burst damage. Key is to kite if you're in trouble. This is perhaps the only kiting channeling skill build in the world
But 50% of FoI damage is burn and kiting is needed rarely, mostly against Mad Queen and Anasteria.
Times are around 5:35 on average, my best one is 5:16, video: