Introduction
My first ever Forgotten Gods content builds was fire Virtue Shieldbreaker. And it was my first SR farming build. After that both Virtue set and Aegis were nerfed and were really bad for long period. After serious buffs, time to present my new Aegis build.
Why Sentinel? Sentinel have nice flat damage sources for conversion, heal, OA and physical resistance even. I've played before SB and Templar. Even Warlord will be option, mind lot slower. And of course Paladin for extra bulkiness. But Sentinel is fine option. I saw @banana_peel did non set Aegis Sentinel with MI shield, credit to him. So Virtue Sentinel…
Build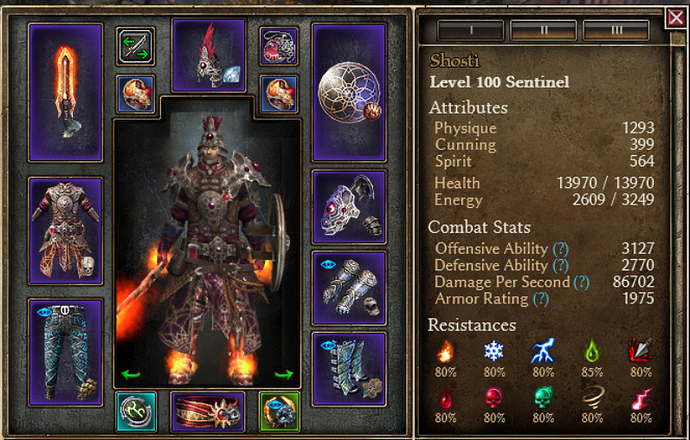 pic with permanent buffs, Ascension and Absolution. DPS for Aegis
damage breakdown for Aegis of Menhir fully buffed
GRIM TOOLS

https://www.grimtools.com/calc/qNYWK1XV
Gear:
Key is full Virtue set, which is mono Oathkeeper class set, boosting Aegis skill. Weapon and medal also have nice mods to the skill. Absolution relic is basically made for Aegis builds. Rings gives me full vitality conversion (with weapon) and also allows me to go 3x Guaridans. Belt for extra +1 Oathkeeper and conversion helps with Blood of Dreeg flat damage. Pants and boots are up for personal taste, mind OA/DA are problematic, so both items are nice fit.
One problem of gearing is the shortage of overcaped resistances and medal giving innate acid doesn't help either.
Devotions:
Caster oriented, Magi+Torch for fire damage. Also Scales for passive healing and flat RR. I took Ghoul and Turtle for defense as well. In SR you can sub Fiend with Bat for extra healing.
Performance
In Crucible build is safe and fun to play. Some enemies might burst you, so some caution is needed. Iron Maiden is definitely the slowest Nemesis to be killed. Times around 5:15 on average, video from my fastest run of 4:56!
In SR 75/76 should be possible for farming, but I still wouldn't push my luck against multiple Nemesis in boss chunks.
Here's video from full 76th Shard. Mad Queen is really nasty opponent in SR, had to kite her