pretty scary
Introduction
So Elementalist is class, which people tends to forget it even exist. It's usually pretty squishy class, pure piano, since your both RR skills are rather inconvenient casts and so on. But one build is pretty impressive. Cyclone boosts exactly the RR skills, so they cover more ground and do some nasty damage. And I've decided to add some cool procs and full fire to lightning conversion. End result is pretty impressive actually.
Credit to @ya1 and @Shoot2033 for previous Cyclone Elementalist iterations.
Build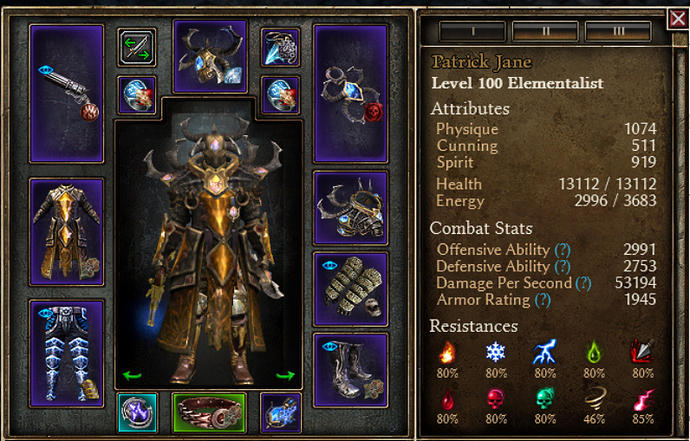 pic with permanent buffs, DPS for Stromfire
GRIM TOOLS

https://www.grimtools.com/calc/M2gm7jOZ
Gear:
Key items are full Cyclone set, Barrelsmith Salvo for fire to lightning conversion and mod to Canister Bomb and chest/amulet to complete the fire to lightning conversion. Other gear I used is for % lightning damage and proper skill bonuses.

Belt is Shaman MI one with vitality to lightning conversion.

Boots are Grey Magi, I need that move speed and also physical resistance proc on CD.

Craft items with %physique, since DA is low.
Devotions:
I've tested few different combinations of devotions for this build. My initial thought was more defensive map, I tried via healing or damage absorb but best way is to actually stack many damage procs with WD, you clear faster and you heal through them as well.
Also Ghoul and Bat for defense. Flat RR, I've used Elemental Storm for that, so I can get highest possible RR modifier, also another proc for damage.
Performance
My original idea is to create Crucible monster and job well done! Build melts everything in configuration 3 buffs + 4 banners and it's quite fun. Valdaran is actually slowest enemy to be killed and can be dangerous in Nemesis waves, also Kaisan is nasty for this build.
Times are really fast, my average is 4:35 or so, video from my quickest run (more risky playing) of staggering 4:13!
In SR build is completely different animal though, struggles with consistent 75/75 farming and you need time to deploy your totems.devils, so it's not that strong there. For SR I suggest more defensive approach. Video from SR 75.