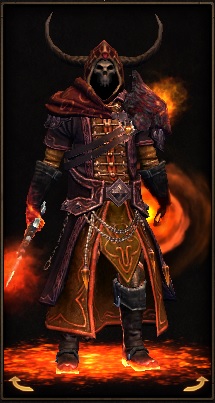 It all started with me trying to make a theme based (tons of meteors) sorcerer build around the pyran set, blazeseer set & the mythical herald of the apocalypse amulet.
Sadly it became clear very quickly that the usual devo approach (magi, torch) was not so great… The build lacked proper hp recovery, a decend hp pool (was barely able to get over 10k) and proper damage reduction. I could've taken BWC but that resulted in the build starving for skillpoints.
So back to the drawing board it was for a few days & after some more testings I decided to ditch the idea of going for tons of meteors. (even tho I wasn't very pleased with that thought at first)
Since all attempts at trying to make this toon sustain with things like bat, wendigo, scales and the likes failed, I went with regen instead and the change was worth it!

A build that I thought was doomed to fail (was very close to droping the idea of using pyran + blazeseer together, but where would be the fun in that?!) thankfully turned out to finally be sturdy while still providing respectable damage.
Here are the results of a long struggle that paid off:
Callagadra:
Ravager of Minds:
Avatar of Mogdrogen:
Crate of Entertainment:
Bourbon Clones:
Lokarr:
Shattered Realm:
Crucible:
What you CAN expect from this build:
A character that is able to beat EVERYTHING the game can throw at you if you are willing to read what it can't do.
What you CAN NOT expect from this build:
It doing your taxes for you, jokes aside… you can't expect it to be immortal even with the good life regen it provides, meaning you have to pilot it well! Pay attention to debuffs / enemy buffs so you know when to use Nullification, make good use of your Mirror when surrounded or in a pinch - it synergizes well with Light of Empyrion! Good positioning is required too! Your devastation is VERY important! It is damage & most of your RR at once! So dont just spam place it willy-nilly without paying attention.
Use of your Flashbang! It gives Dryad heal, great DA shred & fumble + impaired aim.
Spam Stormfire when skills are on cooldown + it also procs Phoenix!
In short: You can't expect it to easily faceroll the entire game for you.
I think that's it, hope I didn't forget anything.
As is tradition, if you have any feedback, questions, suggestions or constructive criticism ur welcome to post it bellow!
Cheers, Mergo!