In order to become a Demon Hunter, you first must become a Demon.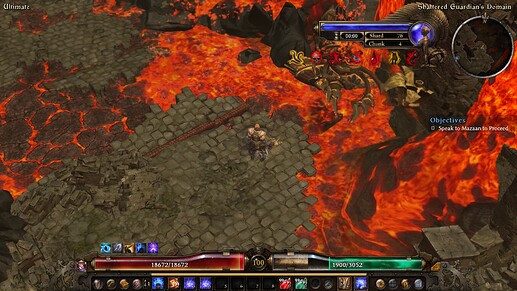 I'll keep this short. I initially had much higher expectations for this build, but after playing it in SR a fair amount (no videos, sorry), I was rather disappointed in the damage output. Single target is meh, and AoE is only slightly better. At least it's fairly sturdy, what with 18k health, 30% phys res, and 35% ADTCH. SR performance is reliable, if boring. Watch out for Kaisan and Fabius, they can be real bitches. Thanks to all our damage against Chthonics, Benny and Grava are pushovers. I didn't bother trying any Celestials, I'm sure Moggy and Ravager of Flesh could be doable with adjustments.
Gear is fairly straightforward, I tried to stack as much flat pierce while maxxing Deadly Momentum, hence the gloves and medal. Judicator rings fit well here, giving nice damage reduction and flat rr. Proc is nice in shards as well. Belt is for at least some ele>pierce conversion, and flat pierce.
In conclusion, I'm glad this build is at least ok. It was actually my first build that I planned and built all myself, so at least there's that. And it's fun to just murder Chthonics. I wish Goredrinker set supported Cadence and Soldier side better (maybe something like %wd to Zolhan's - could be neat), only having 20/26 Cadence is pretty sad tbh. And why the fire>pierce and not ele>pierce instead? Anyhow, thanks for reading!
Edit: finally got the GT up lmao.