Deadeye is one of four Realm Knights designed to be playable as a solo build, or to specifically complement the Realm Knights team for deep SR.
---
Summary
Deadeye is a high damage 2handed ranged build that brings a tonne of extra survivability to any who might find themselves lucky to be traveling alongside. Max rank Inquisitor Seals, 51% phys resistance, 17k HP, 3400 DA and 12% lifesteal on a high powered weapon all provide this character with quality of life as she blows chunks through the masses with splintering projectiles.
For some extra fun, she brings Eye of Korvaak devotion assigned to Thermite Mines, which nicely trap enemies over them in a petrified state. This is great for managing large pulls of enemies, and for keeping them debuffed by the thermite mines. This build is fun and forgiving!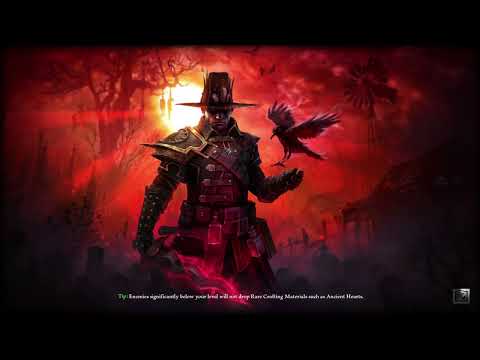 ---
Team Benefits
In multiplayer, Deadeye provides these team-wide benefits and noteworthy debuffs:
OA, DA and Crit Damage
+250 +8% DA
+11% Crit Damage
+246 +8% OA
Damage
+44 Aether Damage
+57% All Damage
+218% All Retaliation Damage
+74% Burn Damage
+100% Chaos Damage
+74% Electrocute Damage
+13 +50% Elemental Damage
+25 +74% Fire Damage
+273% Internal Trauma Damage
+74% Lightning Damage
+96 +273% Physical Damage
+223% Pierce Damage
+42 Piercing Damage
Healing and Health
+1140 Health
+180 +125% Health Regen
+1550 +32% Health Restored
Defensive Buffs
+430 Damage Absorption
+30% Aether Resistance
+30% Chaos Resistance
+22% Physical Resistance
Speed Buffs
+18% Movement Speed
Debuffs
130 Reduced Target's DA
-95 + 130 Reduced Target's OA
+18% Reduced Target's All Damage
-110% Aether Resistance
-65% Chaos Resistance
-35% Lightning Resistance
-30% Pierce Resistance
Enjoy~