I've been toying with AAR for few hours now, basically lightning/cold AAR with 6 "Sky Fragment" gear-skills, having 170k DPS, hitting for, on average, 60k per tick and thought about making a thread, which will be continuously updated, just about this one particular skill in order to help balancing it at least a little bit.
Albrecht's Aether Rays is capped at level 26, Disintegration is level 22, and skill modifiers look like this (and devotion that it uses):

As for the skill itself, it's most likely the slowest skill ever to exist in my builds. Hand of Ultos helps in clearing stuff, bosses die fairly quickly by that, but that's not the point.
In act 1, this skill is incredibly good and clears everything really fast.
In act 2, it loses about 20 - 40% of the clear speed, depending on monsters - skeletons gave it the 40%.
Act 3+: —
The upsides of FoI and DE are the AoE they have, DE has not too much of it, because it can affect just few enemies, while FoI is completely AoE. Both skill have their own downsides anyway.
If AAR had a bit of AoE, my build would clear twice as fast as it does now. It surely does need AoE, because when I remove Hand of Ultos from it, this skill feels bad/terrible (depending on what you're fighting). As this skill is an Aether + Lightning skill, I'd be good to remove the DoT from Disintegration and add % to proc a cascade AAR (one tick of damage) to few enemies, dealing the same damage as the whole AAR, or the base damage of Disintegration. This would help the skill drastically in clearing stuff, however, it would not help in boss fights.
Killing nemesis monsters (right now, Kuba on Elite, Fabius and Moosilauke) is kinda long. You do deal damage, but you also have to kite a tad, so you're losing some DPS. It takes about 1 minute to kill any of these (Kuba took under a minute, as it was only Elite), Moosilauke actually took a little longer, maybe even 2 minutes, even though I reduced his elemental by about 77% (or more like at least 77). Tons of RR would solve that issue, I don't really think the skill needs any more damage (with my build). The base skill, sure, if you want to use it, get items that buff it.
TL;DR: AAR, as for act 1 and 2, needs AoE. Removing DoT from Disintegration and replacing that with a chance of proccing a chain lightning with the same damage as whole AAR/only Disintegration would be a great idea. Damage is fine if you item-buff it.
As for now that's all. This thread will be continuously updated for the next… maybe months.
TODO:
Finish the game xD
[li]Chaos AAR (skill modifiers + Blood Orb of Ch'thon + ~30% aether to chaos: )[/li]
Aether AAR (no build yet)
Maybe another way of elemental AAR (unlikely)
UPDATE 11.11:
Damage test:

I know the video is kinda fucked, but that's because my PC is a super superior gaming PC for 100k$, well, you can even see that in the video. My recording program also kinda sped it up, idk why.
I've also considered not to do the chaos build, as counting only flat base damage (no DoTs involved), the chaos version has little over 300 less damage than the lightning/cold one, has less crit damage (even when fully buffed), and about half of energy cost reduction value. Aether AAR (lol) looks promising, as it has only about 100 less base damage and the same energy cost reduction as the lightning/cold one. Basically, pretty damn identical, but less crit damage again (40% difference). At this point, fully buffed chaos version would outperform aether with no issues. About 750 damage vs. about 950 damage and about 152% crit damage vs. 125%, 18% WD vs. 0% WD. We could kinda argue the damages would be similar anyways. But the case is that lightning/cold AAR is way freaking better than any other. Why I picked to compare base damage (without DoT) and crit damage is because these values determine the most in any build. I could've added % damage to that, but this might vary in every build you see/make, and therefore one can hit for 150k and the other can hit for 145k, even though they have the same modifiers to the particular skill. Kind of the same applies to RR.
Some more details:
Lightning/cold AAR can actually benefit mostly from all the modifiers, and I didn't even pick the Ulzuin's medal that gives additional 30 fire and 260 burn damage, which would convert to cold and frostburn - instead I picked Badge of Mastery with 7% armor and +5 to Maiven's. My sheet DPS is 170k, second page shows 31k damage in AAR, max crit, as you can or cannot see is 189k, although, I think I've even hit 258k that didn't register, or it was 25.8k "merged" with another damage value. I could've had about 178k sheet DPS if I picked the Ulzuin's medal. So in order to achieve 170k sheet DPS and 189k crit, I had to get 1052 mixed base damage, which then converted to cold and lightning and an average of 170% crit damage. Although, I think I could even hit 200k with it, because I've hit 185k with 12/12 Elemental Balance.
I've also had a elemental FoI (Mageslayer) and chaos FoI, both feel very shi… I mean… uh… at least you can clear some monsters when you lose 50% HP. I just wanted to compare these, and I've realized that ~180 casting speed vs. 200% doesn't really affect the skill that much, or more like these skills, as I'm talking about all these holding-button skills. I've also realized that if you have 200% casting speed, these skills hit twice a second, which is not that great tbh. At this point, there's also no difference between 175 and 200 casting speed, as these milliseconds affect the damage once every 10 seconds, where only then you'd realize you lost ~25% damage. The major pros about AAR is the cost of the skill, which can drop to what you saw in the video. I think it costs ~43 energy per second at this point. I could not achieve that with DE or FoI, and this made me dislike these the most (although, DE is super fun as you can drain life from enemies and be immortal if there is trash around).
TL;DR:
I don't want to make chaos or aether build anymore since their base damage is way lower than the lightning/cold ones, even the crit damage and RR are way lower. Oh and there's a damage test video in the first lines.
Thread will be still continuously updated btw. Please no hate and have a happy, cool, and wonderful day.
Patch 1.0.7.1:
Small damage update:
Eternity Relic: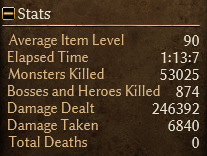 Iskandra's Balance Relic: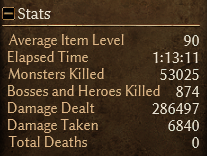 The damage dealt by AAR increased by ~51% after patch 1.0.7.0(1).
I'll still be updating this thread if I'll find time to play and if I'll want to play a game… any game… which hasn't been happening for 1 month now.
Updating the update: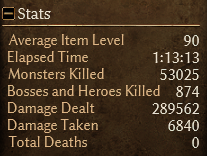 I give up, lol: