Welcome back to our final alpha mastery reveal. This update will wrap up the Occultist. If you have missed the first part, you can read it here.
If you missed our Soldier and Demolitionist updates, you can read them here:
The Occultist Mastery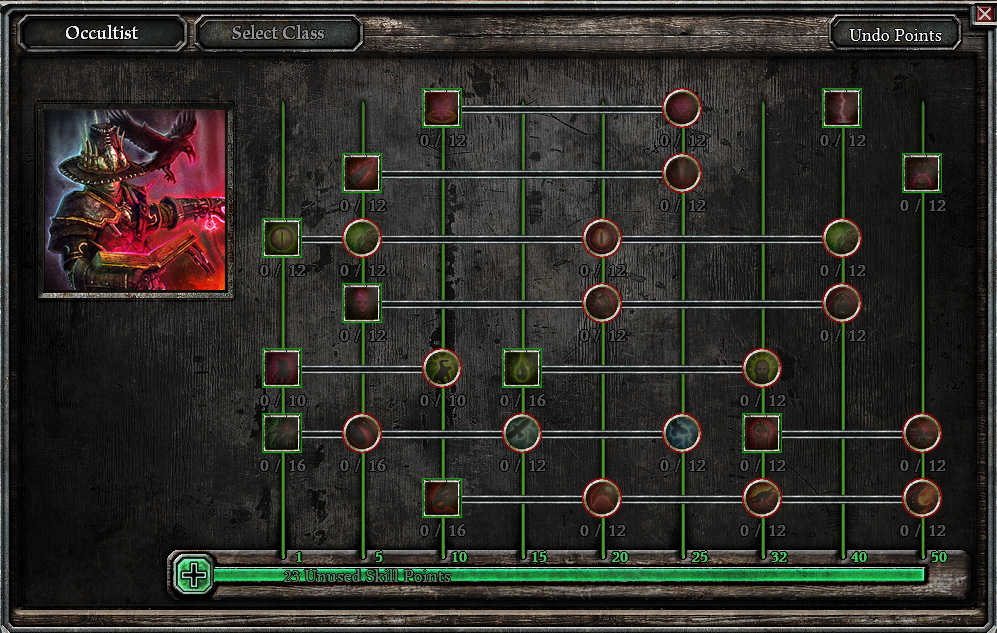 Two weeks ago, we introduced you to low level skills available to masters of the eldritch arts. Now we will show you some of the supreme power available to committed Occultists.

Blood of Dreeg
"A binding with the great guardian confers some of Dreeg's regenerative ability, while wounds inflicted by enemies will spray caustic blood as though inflicted upon Dreeg himself."
Blood of Dreeg is a duration buff which bestows some of the witch god's essence upon you. With this power flowing through your veins, wounds will heal faster and blood drawn by enemies will burn them with acid. The modifier for this skill bestows additional defenses and pierce retaliation to resemble the quilled flesh of Dreeg himself.

Bonds of Bysmiel
"Strengthens the bonds of control with your minions causing them to fight with greater vigor and determination."
Bonds of Bysmiel is a toggled buff which strengthens the material presence of your summoned minions, increasing their health and regeneration. The modifier for this skill drives your minions into a frenzy, increasing their damage and attack speed.

Doom Bolt
"A bolt of entropic power tears through the fabric of reality to inflict massive damage on any foe it strikes."
Doom Bolt is a focused manifestation of eldritch powers, dealing heavy chaos and vitality damage wherever it strikes. When taking out single foe quickly is your goal, a single Doom Bolt can devastate an enemy champion.

Possession
"You allow your body to act as a mortal vessel for the witch god Solael. The great one temporarily inhabits your flesh, bestowing upon you formidable physical prowess."
Possession is the ultimate mark of dedication to the eldritch gods. By allowing yourself to act as a conduit for the powers of Solael, you will temporarily become an overwhelming force of eldritch reckoning.
Building your Occultist:
Players have been busy in Alpha experimenting with our masteries. Here are some variations of what they have come up with:
Sigil of Consumption AoE madness:

Hellhound master:

A walking zoo:

And there you have it! These are the masteries currently available to everyone that purchased a Patron copy or above. Come back on 07/22/13 for our next Misadventure!
Attachment: Blood of Dreeg.jpg
Attachment: Bonds of Bysmiel.jpg
Attachment: Doombolt.jpg
Attachment: Occultist Mastery.jpg
Attachment: Possession.jpg