All the information contained in this thread has been made moot.
I hope you update this after 50 years, I would love to know how it is working long term. It sounds promising

please explore further. also, maybe you know, maybe you don't know, you can also build a field right under the cows, but the cows will eat this field a little (about 80-100 units of products), but maybe thanks to this, you can optimize these 9 fields even better?
So you're saying try placing the grazing, then the field?
You can place the herding area first and set it. Cows will begin grazing. Then create a farm on top. While the farm is being cleared and tilled the cows will be fertilising the farm. Once the farm is fully tilled there will be no fodder for the cows so then you need to move them on.
Let me reiterate, you're doing 8 fields around the cow barn, with 5 in use, 2 lying fallow, one with cows on it? I might try to duplicate this setup in my settlement to test it further.
Does clover count as grazeable? Or no? If not, it really should be.
Did you find an auto plant for the arborist? Or did I miss something you are trying to show?
Ah, yes, that is nice.
It looks like my current highest is 52, but I haven't really sat down and figured out the perfect arrangement.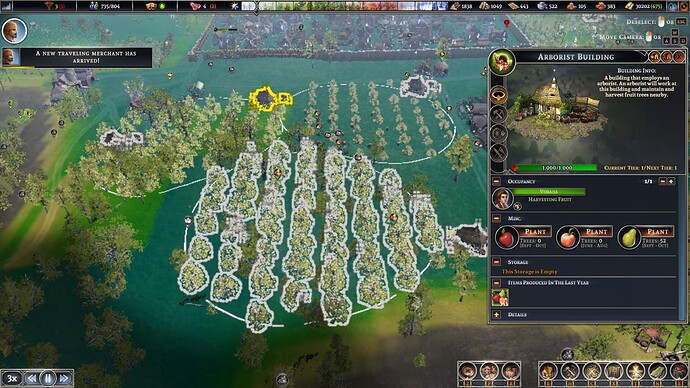 I'm impressed, the analysis you're taking to this is really amazing. I really enjoyed reading this, and now I'm definitely going to go try this. I might also (if I feel nerdy enough) try to see how the efficiency of this field system compares to the efficiency of my clover rotation (which for me, has all my fields 95%-100% fertility at all times and feeds 300+ people with the equivalent of 3 10x10 fields). Prooooobably not gonna do that though, too much math and checking crop yields every few months.
But if I can get a field system like this going as an experiment in addition to my normal fields, I'll finally be comfortable expanding my population above 500.
Quick question: when you set the cows to pasture on a field, do you have to delete the field first, or can it stay there (but fallow)? If the field is staying there, would deleting it skip the 2-3 years fallow step?
I am really looking forward to trying this set up on my next village… even bookmarked the thread! Excellent work!
Thank you Celebrindan!
Will definitely be trying this crop rotation/idea on my next play through
Have you tried planting additional trees outside the auras? It seems to me the arborist is collecting from those as well, at least those nearby.
Love the experiment!
If I understood this correctly, in this setup you have 8 fields of 10x10, five of which are actually in use. At any time, one field lies fallow for three years, while two fields become pastures (because the refertilizing takes longer than getting the fodder quality up). 6 years of grazing brought the fertility back up from 66% to 85%, but with a full herd it should go a bit faster/higher. Correct?
How many farmers is that? It seems to me you could have fewer farmers for those 5 active fields than if they also have to till a new field (in two years?) in between planting and harvesting. Or in other words, you have enough farmers assigned to deal with 8 fields, right?
Considering the effect of applied compost, I don't see how this setup can be optimal. If it takes 9 years of no harvest from the additional fields and assigned farmers to gain about +20% fertility, that seems very ineffecient to me. In order to do this at this scale, you use fields of 10x10, each granting 98 tiles to harvest. If instead you replaced 3 fields each with one 12x24 field for 286 tiles, you'd get about +10% fertility for the equivalent of 3 of your fields instead of just one from a single load of compost.
Let's say you get 3 loads of compost ready in those 9 years (very conservative considering the amount of food produced). You're essentially decreasing its effect from 9 10x10 fields to 3 10x10 fields getting the boost by the reduction from max. size. That alone would mean a net loss in fertility gained compared to the 2 fields with +20% from the grazing rotation and 3 fields getting +10% each from the compost.
You would also lose out on 3 fields to harvest, and lower harvest on some of the remaining fields - because you're letting their fertility drop to 66% before it gets replaced by a newly re-fertilized field. All while using as much space as 3 fields of 12x24 and I assume just as many workers, too, right?
Plus, you could also just let your cows graze on the fields if growing grain or root veggies, exchanging some of the harvest for an additional boost in fertility. You don't need to use clover for 0 harvest, when you can get the same (or better even?) from peas/beans with a slightly reduced harvest. And all of that with less micro from the player.
Am I getting your numbers wrong? Or is such a setup not strictly worse than 3 bigger fields in their place?
Ps.: All of those numbers do not apply to the less fertile maps.
Once you get the cycle going in earnest, I'd be interested to see how the food yield of your system compares to the clover/compost system.
Edit: I could possibly help contribute data on the clover/compost system.
Why did you increase the time a field lies fallow to 4 years? Does the slightly higher fodder bonus (from 96% after three years to 100% after 4, right?) do anything at all? A little bit more milk? It didn't look in your previous test like starting graving at 96% fodder to drop below 90% fodder over those 6 years.