Basically the title. Here is the weapon Mythical Dreadweaver - Items - Grim Dawn Item Database . But why right?
This is my build Oppressor, Level 100 (GD 1.1.9.4) - Grim Dawn Build Calculator , it's pretty meme but one thing bothers me besides the performance. I can't get %100 cold Bone Harvest… How?
Build has %60 global vit>cold but I presume the %50 vit>cold modifier from weapon and global conversion doesn't work additively. My global conversion converts the %60 something of the other %50 that doesn't covered by Dreadweaver mod.(or is it a bug?)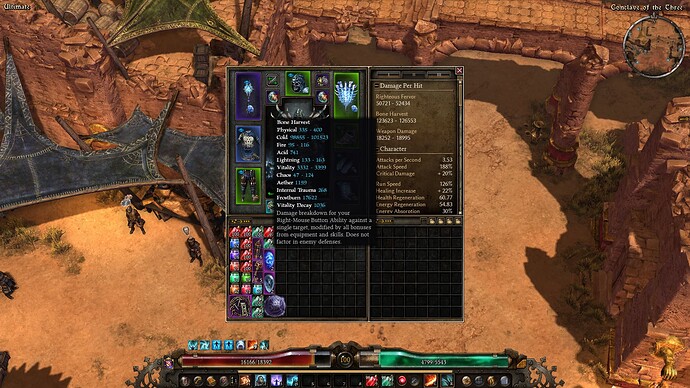 It's not much but it will surely help since we all know 1H BH isn't something great and S&B builds also can use some love… So please either change Chillblood's mod to %100 vit>cold or just swap Dreadweaver's values. Since Flat pierce is only only obtainable with Nightblade and DW using fits the Reaper more than S&B setup.
PS: Chillblood's flat RR proc is so unreliable, I had to give up from Amatok's skill and take Elemental Storm. Changing it with some DA shred will be much more useful. Or increase it's damage and add lifesteal.
---
Thanks for reading, please don't hesitate to share your opinion on the matter.