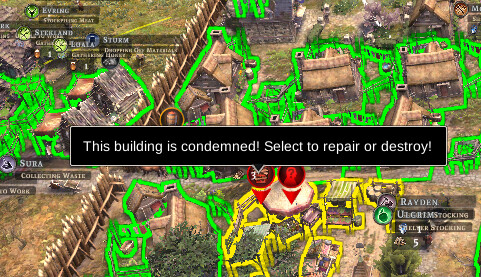 I can't select it. The interface is greyed out with a THIS BUILDING IS CONDEMNED text and no options.
I have always been able to select them and just move/rotate it and they will rebuild it in place is what I have found. You may also want to assign more laborer/builders to avoid this.
What you say is true and works… but that might qualify as a work around. When you select it, there is no option to "Repair" specifically.
True, I just assumed it was a feature they would eventually get around to adding, since they already put the text in.
Nyah, in this case I had plenty builders but no wood for them to use.
Either way, there should probably be a repair/delete option!
Is there any actual guidance on how to repair these buildings though? Do you need laborers or builders or both? I have the materials necessary and my laborers are orange because I have so many builders (which seems to auto populate to max no matter what's going on now since .75b). At one point today, a season changed and literally 10% of my buildings collapsed, 15-20% condemned, and tons needed repair, out of no where. Does anyone know what we actually need to fix this? It sucked having nearly a 1/3 of my town destroyed/unusable with no warning or even a way to correct the problem.
Try saving and reloading the new save (not 'continue', load it). I had it that tons of houses insta-repaired after that.
Apart from that, yes you need free workers (a lot) and the stuff to repair - and in time they will fix everything.
Good luck
Free builders or free laborers?
This topic was automatically closed 60 days after the last reply. New replies are no longer allowed.