Update 1.0.3.0 : Not much change, Finally make it to berserker and semi-caster variations.
This is more likely a miniguide, but I didn't write on the title because it is waiting for future content update to be finish.
Introduction
Deathguard set is an exotic set for reaper focus in acid dmg. Even half of nightblade skills have poison&acid but both classes have low support on it. Also the items across necromancer and nightblade too. Mostly acid&poison bonus support occultist.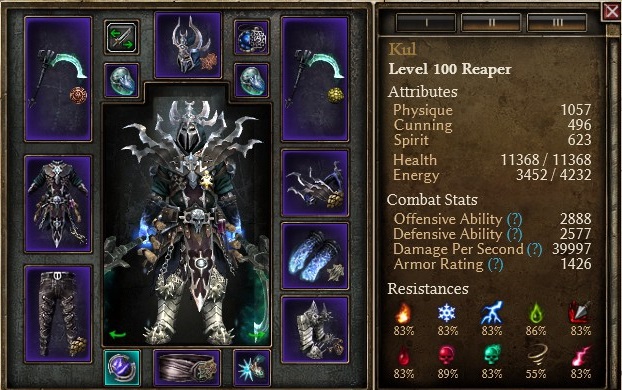 Grimtool Link & Gearing
Acid berserker setup : http://www.grimtools.com/calc/8NK47wQ2
It's like blademaster wannabe + dot dmg. Overall performance is good. Easily clear campaign : high dps, everything fast like you're The Flash.
Durability is in the same as witch hunter(a bit squishy) but have more ADCtH than regen.
It can easily clear bosses and mobs fast. You can choose how they'd died, by your rapid slash or rotting to death. It can handle all main campaign progress. Able to farm gladiator crucible with party as a main dmg
Thanks for every comments. Regarding from TomoDak and KoalaeiO suggestions, I've come up with this setup. I think it's more versatile and can handle more situations.
AoE semi-caster Setup : http://www.grimtools.com/calc/4NOQDoeV
This is an alternative setup. Focusing in AoE handle and not to risk yourself too much. Mostly design for crucible.
Alternative Gears
Full Deathguard and Conduit of Night Whispers with BiS roll like I use is a must. I knew they're pretty expensive, but I have to admit them. 1 ring should be Deahtguard Sigil. Why not made 5 piece set with ring then give more set buff, Crate? Others you can switch to whatever you want.
My suggestion
Helm : Cowl of the Venomblade (if you'd like to convert more cold->acid)
Amulet : Peerless Eye of Beronath
Other ring : Lifegiver Signet
Weapon : Venomlash, Basilisk Claw, Pandemic, Plaguebearer of Dreeg, Madqueen's Claw, Misery
Pants : Kubacabra's Chausses, Grava'Thul's Legguards, Solael-Sect Legguards with good affixes or else
Hands : - (This build need attack and cast speed. I don't think Viperfang gives what I need.)
Belt : - (Anything that can fix your resistance. Currently + all skills belt are useless to the build)
Boots : Any crafted boots with good affixes or else.
Medal : Mark of Lethal Intends, Mark of the Forbidden, Ikrix Scale with good affixes
Relic : Belgothian's Carnage, Malediction, Nidalla's Outbreak
Weapon's Component : Seal of Resonance, Seal of Blades
Medal's Component : Tainted Heart
Weapon Augment : I choose Outcast Venom for flat acid dmg as I go on high speed auto attack. You can choose others or Essence of Ch'thon for extra amp. RR.
Skills
Bone Harvest as my main dmg and trash clearing.

Ill Omen for Physical dmg reduction *if you have more points, you may get Ravenous Earth and Decay.

Spectral Binding for OA and HP

Master of Death because it is only exclusive aura I could get full benefit

Mark of Torment because it can save my ass very well when doing bossfight

Shadow Strike for Mobility and apply NJE poison

ABB to trigger Lethal Assault and get more dmg.

Ring of Steel to get Fumble debuff from Circle of Slaughter.

Veil of Shadow to get stackable RR from Night's Chill.

Pneumatic Burst to get some sort of instant health and resistance.

Blade Barrier as a panic button
*note : on AoE setup. I use Ravenous Earth as an dmg source and debuff.
WPS (100% from Total 100%)
20% - Execution* : Max because our skill modifier make this WPS damn crazy
20% - Belgothian's Shear : Very good to pick. 12X% both hand weapons dmg
20% - Amarasta's Quick cut/Whirling Death : Choose which you like
25% - Necrotic Edge* : Another insane WPS and got upgraded by gloves.
15% - Reaping Strike : Last 15% chance for good ACDtH and 120% weapon dmg(even it's only Main Hand).
Devotions [ul]
[li]Murmur, Mistress of Rumors : stackable RR[/li]
[li]Manticore : flat RR [/li]
[li]Chariot of the Death : some instant HP and a decent amount of DA. It is also passively increase our OA too.[/li]
[li]Abomination : Huge source of acid and poison[/li]
[li]Others for getting color path, fix resistance and get attack+cast speed[/li]
[/ul]
*Note : your acid conversion is applied to dot dmg too. So you'll make vit decay and some frostburn into poison too.
Videos
Fabius Fight 20 sec
If I have free time. I'd record some fight scenes in Ashes of Malmouth to help you picture how the build is.
I'm not recording Madqueen Rashalga fight because reaper don't have any advantage on her. I don't have very fast kill time on her(consider as <10 sec kill time). Need to kite her when she activate her vengeance aura.
Closing
Deathguard's appearance is AWESOME!. The set is well made as an exotic. It'll be better if it has more item pool support in reaper.
Attachment: Deathguard Reaper Sheet.jpg