Introduction
Spellbreaker is my first successful build so far since patch 1.0.0.6 and now the expansion released. I want to push it forward and rebuild it again with many new upgrade items. Testing with new powerful foes.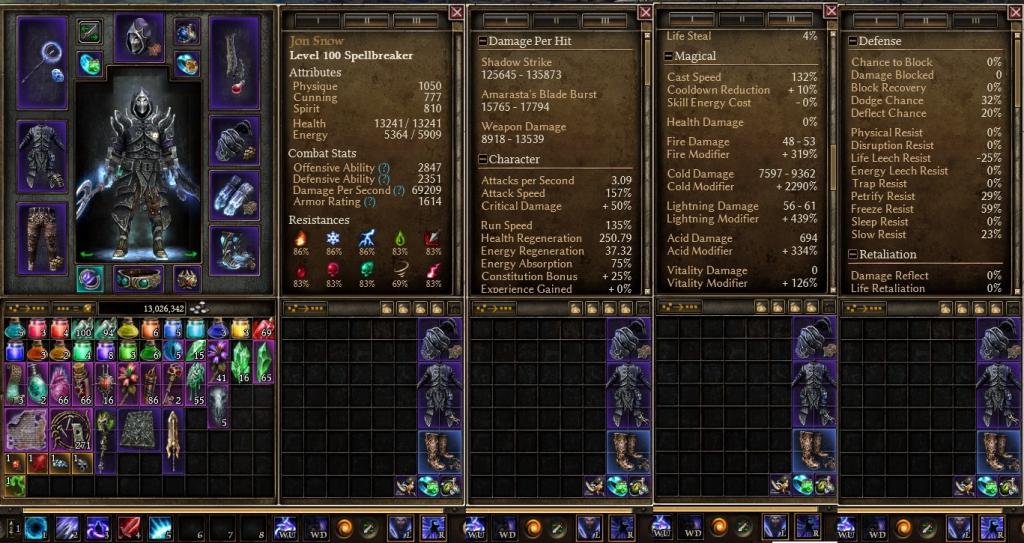 Grimtool Link
Current Defensive BiS setup : http://www.grimtools.com/calc/4VxA4wlZ
This is my current setup. You'll find it has more HP by sacrifice a little bit of DPS and 400 OA from my offensive. Better at survival and stable enough to beat new content.

Old Offensive Setup : http://www.grimtools.com/calc/eVLJvkMN
This setup can beat all endgame content except new nemesis and sometimes can get burst down. With cheaper gears and not require much RNG to get specific property. It could survive on 8k HP by many mechanics I use to diminish dmg and reduced probability to get hit.
*note : it is not necessary to get all mythical or lv94 variation as i said in closing that they're not get significant buff.
Survivability [ul]
[li] 1.6k armor with 98% armor absorption. Pretty solid to non-soldier base build.[/li]
[li] Probability of being hit by melee : 33% Fumble debuff + about 30% dodge + 2.3k of DA --> 0.66x0.7x0.9 = 42% chance to get melee hit.[/li]
[li] Overall 20% dmg absorption from Maiven's[/li]
[li] High Stun and Freeze resistance.[/li]
[li] CC with freeze and procs from pants. [/li]
[li] Many instant health procs, shield procs to prevent death. Huge ADCtH from skills and %weapon dmg mechanic.[/li]
[li] Good mobility with Shadow Strike[/li]
[li] 20% reduce enemy dmg from Oleron's Might[/li]
[li] reduce enemies' OA[/li]
[li] 2 emergency immortal skills (Blade Barrier and Mirror of Ereoctes) [/li]
[li] 1 circuit breaker from Mark of Divinity and 2 soft circuit breaker from Turtle Shell and Ghoulish Hunger[/ul][/li]
Offense [ul]
[li] 28 flat RR[/li]
[li] 23(Devotion:Murmur)+15(Weapon:Crescent Moon)+39(Aura Skill:Night's Chill) = 77 stackable RR[/li]
[li] 20% amp RR[/li]
[li] High crit dmg.[/li]
[li] High burst dmg from Oleron's Might and Shadow Strike [/ul][/li]
Alternative Gearing
The main problems in spellbreaker who use Deathmarked set and Alkamos' Rings are
low max HP : There is no support HP for the whole class and appropriate gears for this class give small amount
low Aether, Chaos resistance
lack of Bleeding and Poison&Acid resistance
So the rest gear in open slots(Pants, Boots, Belt, Medal and Amulet) should add these stats.
Amulet : Mythical Peerless Eyes of Beronath or Conduit of Night Whispers(prefer Acid&Poison Resistance or Bleeding Resistance and anything not Shadow Strike dmg conversion roll. BiS should be like in the grimtool) Mythical Night's Embrace is ok too.
Medal : Mythical Mark of Dark Dream
Weapon 1 : Mythical Deathmarked Decapitator
Belt : Mythical Blade Breaker Sash
Pants : Mythical Deathwhisper Leggings, Mythical Slithscales Legwraps, Spellstalker's Legwraps, Mythical Soiled Trousers, Empowered Swampdweller's Legguards(There's no Mythical version yet), Kubacabra's Chausses (with good affixes), Solael-Sect Legguards (with good affixes)
Boots : Boneshatter Treads, Mythical Serpentine Wraps, Fiendflesh Greaves. Any crafted boot with good double rare affixes
Skills [ul]
[li]Dual Wield : 1 point to get benefit from Nightblade Bonus and WPS[/li]
[li]ABB : 1 point for triggering only Lethal Assault, Max Lethal assault because it boost our dmg significantly into our atk. (Flat dmg from it will be worth a lot when combine with %weapon dmg mechanic) [/li]
[li]Ring of Steel : 1 for RoS to triggering CoS, 1 in Ring of Frost for applying freeze. 10/12 CoS because it give fumble to mobs at effective investment(33%). Reduce the chance you'll be hit by melee even bosses can be affect. No matter they can be freeze or not. [/li]
[li]Shadow Strike : Max it because it give a huge %weapon dmg in both and it's our main dmg skills. NJE 12/12 for minimize CD. Max Night Fall for getting full dmg potential[/li]
[li]Pneumatic Burst : 12/12 to get significant instant health and speed bonus. 1 point in shadow dance. max Elemental Awakening to get full buff and overcapped elemental resistance[/li]
[li]Veil of Shadow : 1 point of wonder, Max Night's Chill to get maximum -X% res (which is stackable debuff)[/li]
[li]Blade Barrier : 1 point of wonder. 2nd Panic button[/li]
[li]Phantasmal Armor : 1 point because the rings give us bonus. Reduce freezing time is very good to fight anyone who can freeze you w/o "Sailor's Guide" constellation.[/li]
[li]Anatomy of Murder : 1 point of wonder.[/li]
[li]Merciless Repertoire : 1 point of wonder.[/li]
[li]Blade Spirit : 1 point of wonder. An another dmg source + to fill my scrolling mouse slot[/li]
[li]IEE : 1 point and 12/12 to Elemental Balance to get max crit dmg.[/li]
[li]Mirror of Ereoctes : 1st Panic button[/li]
[li]Maiven's Sphere of Protection : 1 of the best auras in game, Max it. Conversion is to anyone who has low Disable Time Reduction. So max it if you don't wear Avatar of Mercy.[/li]
[li]Starpact : Max it to get max buff [/li]
[li]Inner Focus : to boost more OA and some stats.[/li]
[li]Arcane Will : 1 point of wonder.[/li]
[li]Nullification : 1 point of wonder. This purge skill is one of arcanist's best skills. Remove debuff on self and good buff/auras from enemies.[/li]
[/ul]
Devotions [ul]
[li]Quill : New constellation for first tier green and purple. 4 points worth 6.[/li]
[li]Murmur, Mistress of Rumors : New constellation which can give us more -% cold resistance debuff(stackable RR)[/li]
[li]Turtle and Behemoth : Work very well and perfect combination to any build. They're also very good as a defensive procs for low HP build. Turtle can hold time enough to make you press panic button in time. Behemoth help in most situation and also have high HP regen to slow down some DoT too.[/li]
[li]Ghoul : To get 4% ADCtH at the lowest cost. The proc is working 2nd priority to turtle and behemoth(when they're on CD). It help us can sustain much longer and turn the tide of battle when you're nearly died. Anyway you can skip the proc and invest in some 1 point of wonder constellation instead.[/li]
[li]Rowan's Crown or Manticore : To get the proc that reduce enemies' resistance(flat RR / unstackable). Manticore will gives you more HP and Poison&Acid resistance[/li]
[li]Viper : Amplier to our overall debuff on resistance reduction.[/li]
[/ul]
Other Suggestion for Constellation are
Vulture
Chariot of the Dead
Ulo the Keeper of the Waters
Revenant
Amatok the spirit of Winter
My hotkeys
Left Hand control
1 : Nullification
2 : Blade Barrier
3 : Ring of Steel
4 : Oleron's Might // Major Dmg (from "Oleron's Blood" Component)
5 : Mirror of Ereoctes
Right Hand control
scroll up (9): Blade Spirit
scroll down (0): Pneumatic Burst
RMB : Amarasta's Blade Burst // Essential procs
LMB : Shadow Strike // Major Dmg
*2nd skill bar is for all auras (switch skill bar with "Y")
***Beginner Advice : Default Shortcut for HP Potion = "R", Energy Potion = "E"
Videos
Grava'thul Fight 26 sec best time
Grava'thul Fight with kiting 42 sec
Madqueen Fight 14 sec
Fabius Fight 20 sec // a little bit longer than my expectation
Crucible Gladiator Solo floor 100-150 Extra spawn
Tips on Bosses and Nemesis
Madqueen, Rashalga : Be careful to her vengeance aura. When she activate pink aura, use Nullification to remove her aura. The rest is easy
Old nemesis : Our only problem is Zantarin. Don't aggressive at him and beware his shotgun projectiles. It could burst any melee char down no matter how durable it is. Just only that. The rest of them are easy.
New Unique Boss : Still don't have any problems to all purple name boss on new expansion yet.
Grava'thul : This build cannot 100% facetank on him yet. It is possible but it depends on your luck too. He has massive dmg, debuff on grounds and auras. Most annoying ground debuff is Fumble(about 47% you'll land miss attack) and Skill disruption(Our weakness. It's like getting silenced or prevent us using skills). Careful of his projectile while kiting. The projectile could kill you even though you use Mirror or Blade Barrier. So if he shoot his projectile. run away until it disappear. If you want to facetank him better and more secure, use "Aether Cluster" after engage for few secs.
Kubacabra : Remove Maiven's buff(it is useless for fighting with Kuba), then use only Mirror and Blade Barrier to stay alive. Careful on his breath and time properly to burst his HP down fastest you could. When on 2nd and 3rd stage. Kill the one with least HP first(I knew it is confusing).
Alek : Never seen him yet. Want to try but don't know his spawn spot.
Leveling Advice
If you have Crucible DLC, Play it with advice from This guide.

Normal/Veteran : You can use single mastery to complete it.
Mine is using pure arcanist with TSS+PRM (I just want to try them for first time). Have only 3 death. Mostly from reckless play.
If playing pure Nightblade I'd recommend playing range with PB, Blade Trap etc or combine with low arcanist mastery.

Elite : Stay on Elite until you're satisfy or above lv75. Try everything you don't know as a caster here. It's fun and it's so much different from after 75 that we went through this melee bursty build. Getting other feeling and experience here

Ultimate : Caster and range is recommend below lv75 or above if don't have full gear. Going melee with unprepare and half-baked gear would make the game so damn hard.
My personal comment on new items
I understand that SS spellbreaker is already strong since old patch before the expansion. So the gears and skill might not change much or getting more buff. But I think the meta has change and there're more builds coming. As far as I test it is still cannot wreck all nemesis easily or as easy as old patch is yet. May be they're too strong or design to be hard stuff like this. Anyway I want to give you feedback about items for you to buff or reworks something to create more variation of builds.

Mythical Deathmarked Set : Almost the same. Old was powerful, but now I'm not sure. It is pretty solid but 5 set bonus is rather weak now. 10% physical res is not help much. Deflect chance is also useless one. No ranged attack is fatal. But the projectile from skills that this mechanic don't affect is.
There should be something benefit in different scenario than or to be an alternative setup for 5 pieces or 4 pieces+Crescent Moon.
Mythical Crescent Moon : better to + overall skill points and don't need to cast -15% cold resistance. Also it is obviously better than DM's weapon
Mythical Chilling Grip of Hagarrad : Very insane Gloves for pierce to cold conversion
Mythical Mark of Dark Dream : the rework is very good and make this medal more interesting.
Conduit of Night Whispers : It skill modifier and properties are very good. It provides better and more creatives gameplay.
Galewind Treads : The procs skill is very insane. It could freeze very well and can make the perma-freeze combo on mobs with Night's Embrace. It is good at it state but still lack of some resistance.
Attachment: DM_spellbreaker_sheet.jpg