My thanks to the usual bunch, with a HUGE shoutout to:
(i) Korsar for coming up with the original darkblaze pyro (http://www.grimdawn.com/forums/showthread.php?t=63371)
(ii) Mad_lee whose Defiler's devotion pathing very much so inspired mine (http://www.grimdawn.com/forums/showthread.php?t=67620&highlight=saboteur)
Edited GT link using sensei Korsar's advice: https://www.grimtools.com/calc/lNkqkklV
Youtube video: https://www.youtube.com/watch?v=9MqtL_W4phY&feature=youtu.be
What changes did I make to make it a 170 crusher?
i. Getting slow resist over stun resist. This not only mitigates the DPS drop which comes with debuffs, but also enables you to kite a lot smoother.
ii. Getting 12/12 agonizing flames. My previous build didn't use it due to my inexperience.
Preface
This build holds a special place in my heart. It was my first everything in GD.

The first toon I ever built, the first toon I ever failed with, the first toon I ever beat the game with, and ironically - the last toon I ever completed 170 with.
Over the 2 or so years I've played GD, I've always found myself returning back to this toon to polish it a little here, and a little there; or to just leave a shiny new item in her private stash.
The items needed to make this toon shine are NOT easy to come by. I would not recommend this to new players who intend to play self-found.
For a more accessible variant of the pyromancer build, please refer to Korsar's very well done guide I've linked to above.
Questionable build decisions
i. Getting eldritch pact over korvaak's deception
It seems silly to NOT get a +1 to all demolitionist skills given how many more active nodes we have in that skilltree.
However, eldritch pact's chaos surge is just so amazing. The HP boost is very useful as well.
ii. Getting seal of the void instead of mark of solael
a. We have so much RR as it is. I'd argue that the constant casting which the component demands, and the resultant interruption to attack flow results in DPS lost.
b. 4% attack speed and the best chaos WPS in the game.
Devotion pathing
i. Chaos crossroad
ii. Wretch, ghoul, bat, hawk, solael's witchblade --> Spec out of chaos crossroad
iii. Order crossroad
iv. Panther, hound, eel, watchtower, lion
vi. Light of empyrion, Dying god.
Levelling tips:
Please refer to Korsar's guide!
Why take blood sigil of chthon over ulzuin's pyroclasm?
Here's why: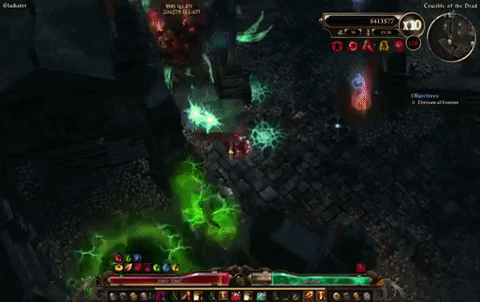 I personally think it's BiS. The added chaos damage aside, the 18% damage to humans is huge.
Hope ya'll enjoyed the guide!