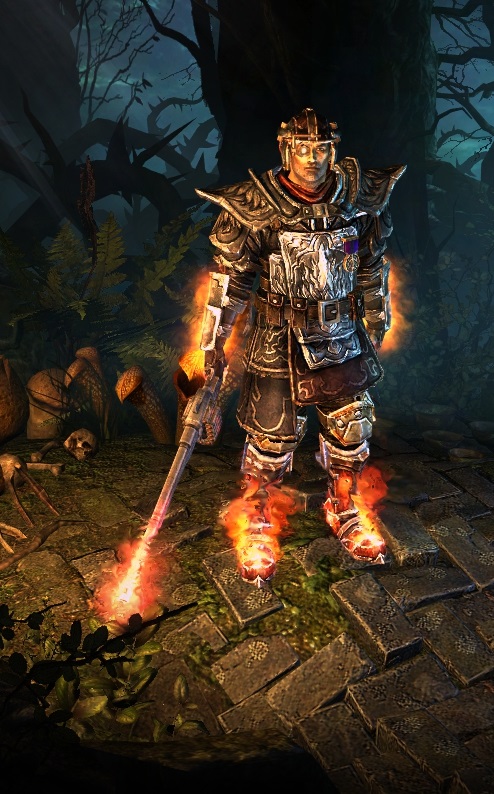 The Build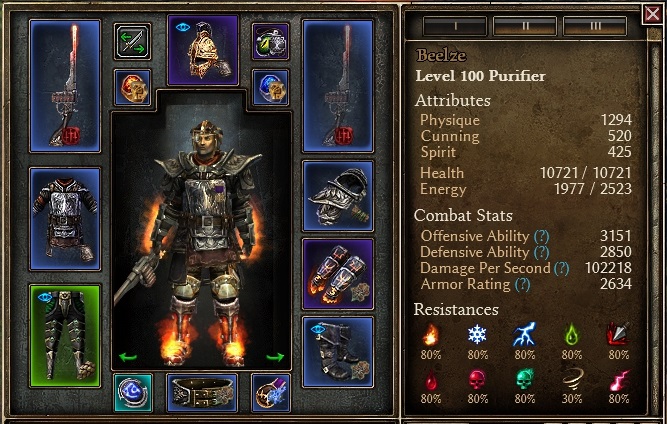 https://www.grimtools.com/calc/d2jqXvvN
with all permanent buff + Word of Renewal, Deadly Aim, and Standing on Inquisitor Seal.
DPS shown is Fire Strike.
Build Feature
Fire strike based, thus an auto-attack build that has excellent AoE
Using 8 blue item…
Not a simple build to play, mainly due to thermite mines and many button to press
Resistance is hard to be capped.
Build Overview
So I am quite late to the purifier party. Just leveled one and decided to try a blue set that no one is using: Keeper of the Blaze.
The set is weird as while it's completion bonus is giving a really good WPS, its individual pieces are also giving bonus to WoP, Grenado, and BWC. It is not giving any bonus to fire strike line at all

. Relevant bonus is only storm spread and aura of censure, also +2 to demolitionist and +1 to inquisitor. What I really like about this set beside the WPS is the shotgun. It has up to +48 % Attack Speed and 30% Casting speed. Crazy number, allowing us to achieve 200% AS easily without any buff. This is hard to achieve in a two-handed weapon build.
Then let's talk about the WPS included in the set. It acts similar to burning void (from seal of the void components). From the number though, it seems it's weaker. However, it doesn't have minimum target, means it can start a chain reaction among the group of enemies inflicting 128%*118%*115% = 174% WD to each of them with 4 m radius. Thus 4 enemies clustered together will receive almost 700% WD each. Also don't forget explosive strike and brimstone that will proc to all of them.
Alright, so Main damage dealer is fire strike powered up by 80% WPS chance. Bursting round is capped as much as we can and storm spread capped until we have 5 projectiles ;). Supplemental damage is done by the best fire devotion procs which is meteor shower and fissure.
For Defense: We have a good 2.6k armor (only 92% absorb though) due to all crafting bonus, also 18/12 inquisitor seal + 19/12 damage reduction from aura of censure, fumble & impaired aim from flashbang, ghoul procs, and decent seal of ancestry proc.
Equipment Choices
Craft all equipment at Arngrim and try to get +% armor as completion bonus.
Core Items:
Keeper of the Blaze Set
Rings: Elemental Balance Set. 32 flat fire damage, bonus to fire strike line, godly procs, craftable.
Gloves: Mythical gauntlets of Ignaffar. Just for converting pierce to fire which we have a lot :p.
Medal: Luminari Commendation. Converting pierce to elemental which we have a lot, also giving bonus to inquisitor seal tree.
Relic: Ignaffar's Combustion Just a perfect fit for this build, get +1 to aura of censure as completion bonus
Supporting Items:
Helm: Mythical Light's Defender Helm. Just a nice helm that gives +1 to purifier. Also giving massive +% armor bonus.
Amulet: Mythical Peerless Eye of Beronath. For massive OA bonus and +1 to all skills.
Pants: Aleksander's Chausses. Decent pants that giving bonus to defensive skills. Basically any pants with "stonehide" prefix will do .
Boots: Mythical Final March. Just a decent boots that give nice defensive stats and slow res.
Devotions
Offensive fire-based 2handed-range auto-attack build.
Eldritch Fire > to Flashbang
Elemental Storm > to Fire Strike
Fissure > to Storm Box of Elgoloth
Meteor Shower > to Inquisitor Seal
Ghoulish Hunger > to Whatever permanent buff
Gameplay
Keybind:
LMB: Fire Strike
RMB: Point to Move
Mouse scroll up: Storm Box of Elgoloth
Mouse scroll down: Thermite Mine
Keyboard 1: Flashbang
Keyboard 2: Inquisitor Seal
Keyboard 3: Word of Renewal
Standard procedure:
Press to activate Word of Renewal. Ensure it to always be active and/or save it for heal
Scroll up and down to activate SBoE and Thermite mine, triggering Fissure. Ensure the thermite mines are there when you want to start shooting your opponent. Also Ensure that SBoE always active in at least one enemy
Cast Inquisitor seal below you
Maul your enemies with Fire Strike
Round your enemy and Position yourself well so the WPS procs can shotgun them all at once.
Build Performance
For 170 Crucible, video with 4 buff:

8:20 Clear-times. See at wave 170 when double reaper are dead at the same time…

Still, reaper is the most dangerous. When there is 2 reaper and for some reason (usually due to mutator) you take more time in killing one, try to kite a bit for 1-2 seconds then drop seal again and finish them
Other dangerous nemesis is grava because of its fumble/impaired aim pool. Try to position yourself so other enemy cover you from him. If they are close to each other, grava will be killed due to the build collateral damage, otherwise dodge the pool and kill him.
UPDATE
Mercymaker was kindly enough to test this build in crucible with 3 buff + banner and it achieved 7:05 clear times (his fastest):

Here is the full 3x cruci run in a single set of 3 buff + banner, achieving 22:20 clear times, thus averaging at 7:13 minutes clear times (without the time to pick up the items):

Afterword
All in all, the build is very fun. I am happy that I just discovered a jewel in the mud :p. Also thanks to Mercymaker for validating this build.
Hope you guys can enjoy the build.