UPDATE1
: Added Mercy Run, No green version, and fix some typos
The Build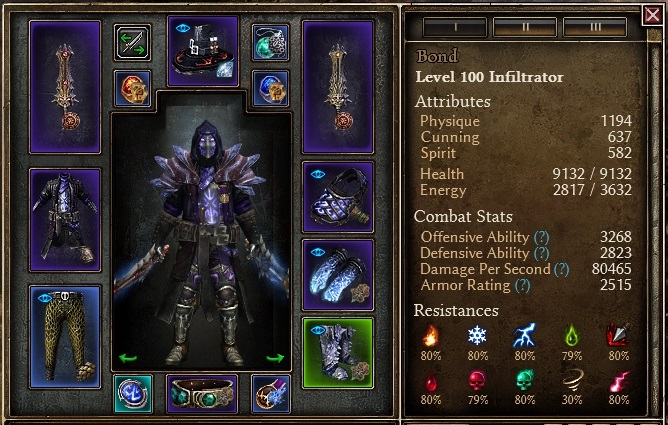 https://www.grimtools.com/calc/eVLEjEOZ
with all permanent buff + Word of Renewal, Pneumatic Burst, Lethal Assault, Deadly Aim, and standing on Inquisitor Seal.
DPS shown is Shadow Strike.
Update1, No green version:
https://www.grimtools.com/calc/wV16xxzZ
Untested, but it should be better defensively while sacrificing a bit of offense for using no green.
Build Feature
Ultimate Crucible Clear Speed
Contain Inquisitor
Doesn't contain Demolitionist
Fluid gameplay
Need crafted green boots to cover resistance
Build Overview
Now we explore the power of the new redesigned The Sacred Harmony Set. The answer is: Insane! The set has really good procs from each of its sword and completion bonus. The later is really insane because it allow us to skip elemental storm devo and provide better damage than cataclysm set. The build is then designed to focus on shadow strike supported by 80% Nightblade's WPS and 200% Attack Speed. Its new Acid > Fire and Cold conversion is really nice and allow us to use guardian's gaze effectively for supplemental damage and life leech sustain. Other supplemental damage is done by plethora of devotion procs and elemental harmony procs, ensuring good AoE.
PS: Current max damage by Shadow strike is 670k in Crucible (4 Buff no Banner). In Campaign should be 450k-ish.
Defense is good : Decent DA, Decent phys res, dodge, 2.5k armor, fumble, insane lifesteal, 17/12 inquisitor seal, 17% reduced damage from aura of censure, heal from Ortus proc, and ghoul proc.
Equipment Choices
Craft all equipment at Arngrim and try to get +% armor as completion bonus.
Core Items:
The Sacred Harmony Set. Put Nex as main hand
Elemental Harmony Set.
Supporting Items:
Head: Mythical Clairvoyant's Hat. I want that +all skills and CDR. Get 7% CDR if possible.
Chest and Shoulder: Two Piece of Runebinder. We need that +120% elemental damage completion bonus. Also those piece give us really good set of stats and flat energy regen
Gloves: Mythical Iceskorn Talons. Further overcapping Lethal Assault
Pants: Mythical Slithscale Legwraps. Perfect Fit, also +22% Damage to Kuba!
Boots: Stoneplate Greaves. To cover resistances, "of arcane winds" suffix is preferred for slow res
Belt: Mythical Spellbreaker Waistguard. One of the two +nightbade belt, supporting cold damage and gives aether resistance
Amulet: Empowered Essence of Beronath. Just a good + all skill amulet with +Attack Speed
Medal: Luminari Commendation. Supporting all elemental damage, also converting our plenty pierce damage to elemental damage, strengthening our auto-attack
Relic: Mogdrogen's Ardor. I want that +all skills, speed, and HP. Get +%DA as completion bonus
Alternative Relic: Belgothian's Carnage. Gives Flat 1 sec CDR every 4.5 sec. Yield similar performance as Mogdrogen's Ardor but defensively worse. Get plus to Lethal Assault as completion bonus
Devotions
Offensive Cold & Fire based devotions
Guardian's Gaze > to Storm box of Elgoloth
Blizzard > to Blade Spirit
Meteor Shower > to Shadow Strike
Rumor > to Amarasta's Blade Burst
Eldritch Fire > to Inquisitor Seal
Ghoulish Hunger > to Whatever permanent buff
Gameplay
Keybind:
LMB: Shadow Strike
RMB: Amarasta's Blade Burst
Mouse scroll up/down: Ring of Steel
Keyboard 1: Pneumatic Burst
Keyboard 2: Word of Renewal
Keyboard 3: Storm Box of Elgoloth
Keyboard 4: Inquisitor Seal
Standard procedure:
Summon 2 blade spirit before action.
Press to activate Pneumatic burst and Word of Renewal. Ensure it to always be active and/or save it for heal.
Shadow strike in.
Cast inquisitor seal below you.
Cast Storm box to a strong enemy, triggering multiple guardian's gaze
Scroll up/down to Ring of Steel, cast it in interval to ensure the enemy affected by fumble.
Hold Shadow strike button and press ABB button once every 3 second
Build Performance
For 170 Crucible, video with 4 buff without banner:

7:20 clear time!!! RoH level clear times with no clunky spell and no danger whatsoever. Nex and Ortus is insane. I think I just found my new favorite build.
Take note that this can potentially be faster as there are still some enemy stuck in their spawn point in that video.
There is no dangerous enemy. This build just kill them all with no care to the world.
UPDATE1
Mercymaker run with 3 buff + vanguard banner (6 minutes clear time):

Build used in his video contain no inquisitor seal:
https://www.grimtools.com/calc/dVbJGjkV
The build consistently clear cruci 6 minutes to 6:10 minutes. This is one of the most consistent build for fast clearing cruci in this patch

Afterword
My 2nd build of 2019 and my current favorite build (beside vileblade). Enjoy!