Preview

Demonslayer is pretty good set,adding superb damage to phantasmal blades and blade spirits.Usually since Nightblade don't have vitality RR,you need that class.There is option for WH,Reaper,Trickster and…Dervish.So here's my take on that class.Credits for Sir Spanksalot for creating his wonderful Demonslayer builds!
Build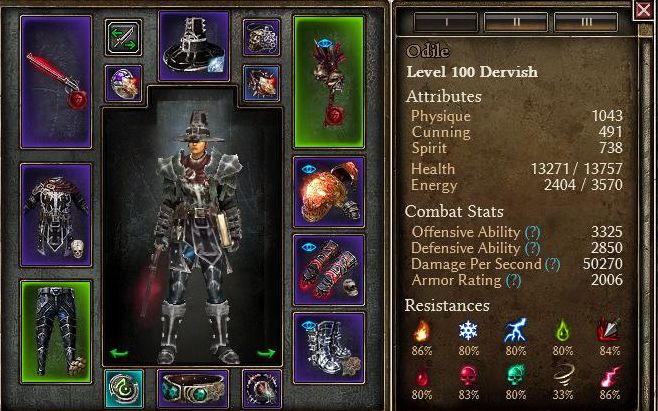 *pic with perma buffs and DG(basically permanent) DPS for PB one projectile,actual is 8x50k
GT link-https://www.grimtools.com/calc/a2dlEkJ2
My idea is to focus on PB damage and not blade spirits,point hungry build and a lot.Medal is perhaps questionable choice,but this is for safety.Off hand is groble MI.Rolls on it and pants are BiS,but is hard to cap resistances. So pros and cons of OK.
+automatic RR form Guardians
+energy regen from Virtue
+Mediation is good relic with high vitality damage
+vitality support of exclusive skill
+Ascension absorb and CC
-no skill for bounding
-point hungry
-no resistances at all
-no permanent DA
-lack of vitality damage,outside of POT
-exclusive skill is inferior to Possesion and HoS
Crucible

It's easy to do 3 runs in same buff duration.This build have potential to go for even better times,but not with me;).Still is relatively safe to play,but in some waves like 169 and 170 and especially against MQ you still need focus.Mad Queen is nightmare,because her aura reflect my projectiles and Kuba is slow for vitality builds.Also Korvaak is bad enemy.Hey Reaper,how do you do,please don't leave me so quick

Video from Cruci 7 minutes https://www.youtube.com/watch?v=RlRo4FQs63o&feature=youtu.be
Final

Add another Demonslayer to the family!So we can have full tag team Dervish,WH,Trickster and Reaper.