Update 1: Thanks to x1x2 for the suggestion, replace relic with eldritch pact for fucking crazy cruci performance!
The Build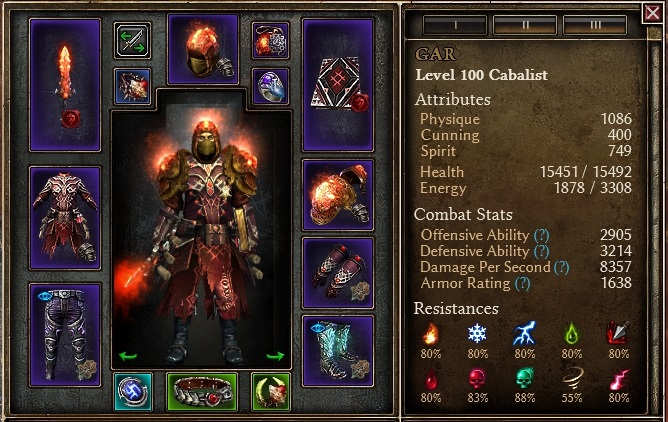 https://www.grimtools.com/calc/M2glkBOV
with all permanent buff + Blood of Dreeg, Soul Harvest, and Hungering Void.
DPS shown is not important.
Build Feature
Crazy lifesteal, super safe

Insane

Cruci clear speed
Super AoE
Not to worry for fumble or impaired aim debuff
Cabalist caster means energy pita. In main campaign, you want to use arcane spark component on medal.
Build Overview
Shout out to x1x1x1x2 for his vitality blightlord oppressor. Good reference for this build.
Finally make a new build for my old cabalist. At first I wanted to make a cabalist version for blightlord set. Aside from ravenous earth, I used sigil of consumption for additional damage sources and sustain. It was good, but feels like lacking something, mainly a massive leech I missed from using SoC.
adoomgod question on valguur set make me remember about the set. I have worked on this set as cabalist for couple of times in AoM. You can see in my posted builds. Then I tried to do some theorycrafting, it's a perfect fit! Current itemization convert all chaos to vitality from devo procs and destruction. It only convert up to 60% fire to vitality through the belt though.
Additional damage sources come from item procs (minor), relic procs, and devo procs. With optimal devo assignment, all devo procs deal quite good damage, even for raise the dead and rattosh. 2 other main damaging devo like flame torrent and twin fangs are as good as ever.
On to Defense: Super leech from Sigil of consumption, flame torrent, and twin fangs are obvious. Also we have 25% phys res, good res overcap except pierce and chaos, almost capped effective DA at 3.5k, 28% reduced enemy's damage from decay, quite massive 15k health, and Mark of Torment.
Equipment Choices
Craft equipment at Arngrim for +% armor or +% physique or kaylon for Freeze/stun res. Try to get as much fire>vit conversion as possible from Lunal'Valgoth's girdle. Also try to get full 100% conversion from blightlord's carver, mantle, and Valguur's Railment.
Core Items:
The Blightlord Set
The Valguur's Hunger Set except crown
Belt: Lunal'Valgoth's girdle. For converting up to 60% fire>vitality. Prefix/suffix doesn't matter. Use whatever you like.
Medal: Basilisk Crest. Flat CDR for Ravenous Earth. This is a must as blightlord set doesn't give any flat CDR or duration to RE. Prefix/suffix doesn't matter. Use whatever you like.
Supporting Items:
Pants: Mythical Legwraps of The Tranquil Mind. Massive plus to spirit, OA, good set of res, slow res.
Boots: Mythical Greaves of Ill Omens. Finally usable as crate has replace most of terrify effect in the game with Confuse! A good Vitality boots that give massive stun res.
Rings: Mythical Cursebearer & Mythical Signet of the Fallen. The ring slots are used for more RR.
Relic: Eldritch Pact. Occultist relic that give massive +% Vitality, good res, and massively damaging proc
Alternative Relic: Serenity. For more defensive setup. Good Aether+Chaos res. Get +%DA as completion bonus
Movement Rune: Use whatever you like. I use rune of displacement currently.
Devotions
Vitality devo setup with Flame torrent
Flame Torrent > to Ravenous Earth
Twin Fangs > to Sigil of Consumption
Will of Rattosh > to Bloody Pox
Raise the Dead > to Bone Harvest
Hungering Void > to Curse of Frailty
Ghoulish Hunger> to Whatever permanent buff
Gameplay
Keybind:
LMB: Point to Move
RMB: Bone Harvest
Mouse scroll up: Curse of Frailty
Mouse scroll down: Bloody Pox
Middle mouse button: Mark of Torment
Keyboard 1: Ravenous Earth
Keyboard 2: Sigil of Consumption
Keyboard 3: Blood of Dreeg
Keyboard 4: Movement Rune
Standard procedure:
Press to activate Blood of Dreeg. Ensure it to always be active and/or save it for heal
Scroll up and down to activate CoF and Bloody Pox; triggering multiple Will of Rattosh and hungering void
Cast Bone Harvest to trigger raise the dead, summoning multiple skeletons. Always cast this to summon more skeletons.
Cast Ravenous Earth into the center of the herd to trigger multiple flame torrent
Cast Sigil of Consumption for massive leeching and continuous twin fangs.
Stack SoC on top of each other and spread RE for better single target damage.
Keep close to the enemy you want to kill fast because of flame torrent.
MoT is used for facing enraged MadQueen. Otherwise you only need it if you are cocky and facetanking multiple dangerous bosses/nemeses.
Because of the nature of our spell/procs, you want the enemies to surround you from all side and cast RE/SoC below you. Don't do it in cruci wave 160/170 though.

Build Performance
Crucible:
For 170 Crucible, video with 4 buff without banner:

6:35 clear time.
Again, I repeat, this is
NO BANNER
run.
I definitely feel the power of Lightning Queen from this build, with a far safer concept and sustain.
Previous more defensive setup:

7:40 Clear-times.
Shattered Realms:
I just finished climbing 76 SR with this guy.
For shattered realms, you want to use arcane spark for better energy QoL. Also, don't spam bloody pox / CoF too much, just once to horde and done. For bosses, cast it every 4 sec.
In higher shards, You want to watch out for rashalga, facetank her when her aura is inactive, kite when its active.
In addition to zantarin shotgun and grava's nullification, all other enemies can be facetanked one on one.
Afterword
One of the most insane build I made. Enjoy…

Attachment: Blightlord Valguur.jpg
Attachment: Blightlord Valguur_R1_panecrop.jpg