Introduction
Welcome to the green build DW season.I am fan of Chillstrifes weapon,so I want to show another class with it.
My main idea is to try new devotion map with Yugol,Ultos and Amatok procs,also to try different medal, +3 to Night's chill,flat damage and attack speed.Also to try racial damage heavy build.
Build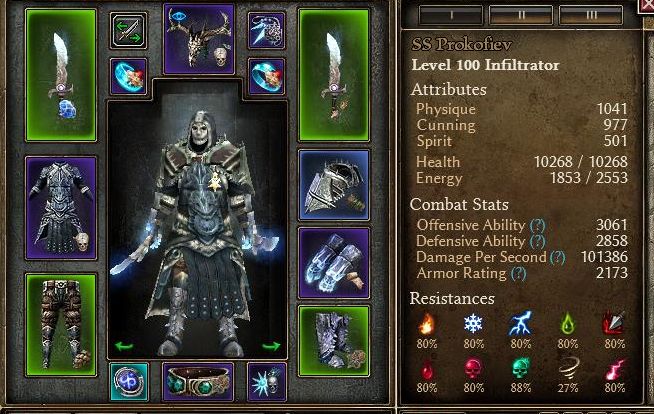 *Permanent buffs only
GRIM TOOLS- https://www.grimtools.com/calc/M2gGEjB2
Note,green items have "unrealistic" affixes.
I don't want to use Deathmarked pieces on purpose,so choose SS shoulders,Frostdread chest for crazy flat cold,Ravager helmet with AdctH bonus.Kuba legs to cap LA.Mageslayer is selected over Night's embrace for easy RR.
RR
40 % Night's chill
32 % Censure
20 % form Chillstrifes
8 % amulet
10 % Helmet skill
23% form Rumor
non stackable
25 flat from Revenant
20% Ultos
Performance
Crucible time vary a lot from 6 to 6.40,so it's hard for me to do 4 runs in same buff duration
Video from Crucible
https://www.youtube.com/watch?v=2wyXaFNzilQ
SR,actually try 3 times SR 75 and to my surprise finish two of them.Only died against Kuba and Grava combo.Ofc use consumables to hide my low health and aether cluster.Cluster+Ghoul combo is enough to clear few Nemesis.
Playing with tanks in SR mostly,but this one clears whole 75 wave in way less than 3 minutes
VIdeo from 75
https://www.youtube.com/watch?v=dLPfuNEERe8
Conclusion
If you want green freak Trickster provides more damage and is faster and funnier.Only Infiltrator pros are the automatic reduction from Censure and WoR line,but my vote is Trickster.
Update
Tested version with ideas by @ya1 and @mad_lee ,thanks guys for the feedback! I tried with double Runecaster, managed to do some good runs. Dual Frostborn is very consistent. Build is really squishy, though. I know, it's Infiltrator and is criminal to say it
,but Deathmarked is a lot better defensively.
GT
https://www.grimtools.com/calc/0V0B7zJN
YouTube
https://www.youtube.com/watch?v=jN0JMv6DvaA&feature=youtu.be