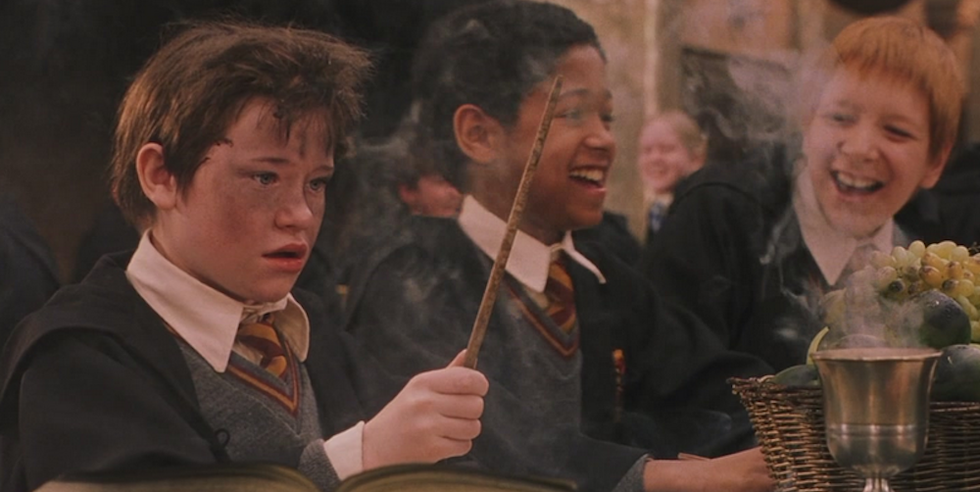 When all those elitist wizards were practicing their magic skills, my boy Bobby "The Broken Wand" McStriker was punching his bag in the corner waiting for DW masters to reign supreme once again. These times have not come just yet but Bobby is already not a pushover. Even the grim dwellers of Knockturn Alley crawl back into their holes when Bobby comes looking for healing potions.
The idea:
I thought it would be pretty funny to make a pure melee out of the class called Sorcerer. At first it had Arcblade but eventually i had to give in and make a DW because FS works much better with DW if you have equally strong weapon option.
I've been sitting on this build way too long. People are posting Sorcerers daily so i thought i'm obligated to add my ugly duckling to the family.
The build:

(FS dps with all permabuffs)
We go for maximum single target dps: kill things first before they stack debuffs. And it works. It actually boggled my mind: when i switched from the more tanky version with pretty accessible Obelisk of Menhir i got better consistency. This is life of melee right now, i guess. No armor and DA will save you, only dps will.
For that reason we need to convert all the chaos, fire and phys dmg into aether to complete our FS dps output.
Instead of sheer stats we rely on multiple circuit breakers with low cd and aether "immunity" to feel comfortable at 169.
I'd guess this is not the first time someone puts together Krieg set and Mindwarps. Amazing swords for phys -> aether conversion together with beefy flat from the complete set. But i hope i had some interesting findings to make the build at least somewhat unique.
Gearing and devotion path:
The gear is constrained by Krieg set, Mindwarps and the items required to convert all the flat. I've tested with one Edge of Sanity, but it's worse, -10% aether RR doesn't save it. There is a possibility to go Clairvoyant chest+shoulders and free up one ring slot for bonus -10% RR. But on paper it looks a bit worse, offensively and defensively.
Pants are chosen for a crafting slot (stun), and other stats are all handy. Funnily enough we don't care for the disrupt resist from it all that much. After all, we are a proud Sorcerer with no magic powers.
Components choice: we need dual skull to reliably kill the aether-resistant Reaper (+51% racial) before it summons the dudes. We also go for dual Seal of the Void. Surprisingly they perform similar to Wraithstone + Seal of Corruption and even a bit better when you group up bosses. SotV WPS with everything converted is nuts.
Devotion path can look weird but it's the only one i had consistent results with. Phoenix absorb is up most of the time when you need it. The only downside of it - we need a new skill to proc it. Thermite Mines can be bound to Phoenix Fire but they don't proc it (looks like a bug).
Gameplay:
You need to focus the scariest targets and let the relic and FS do the AoE work. Casting speed is capped so you need to get used to fast tapping the mines and Flashbang when you reposition.
In Crucible your biggest enemy is Korvaak. If he is carried over to 170 you can't be sure you'll survive facetanking 170. Unless you kill him last, then it's not too bad. Kaisan is always annoying with his celestial-level res. Grava and Reaper are countered by huge racial, but don't forget to kill them first. Alex is also pretty resilient even though we have +33% dmg against him.
In terms of defense you have to rely on your procs charged by Time Dilation and -8% CDR:
Ghoul
Blast Shield
Phoenix Fire
Mirror
Null (removes debuffs and sometimes lets you leech instantly)
In SR don't feel bad about dying, you'll be oneshotted a lot in deeper shards. But it doesn't matter cause you'll complete it within the timer anyway. The build can usually facetank two bosses but your goal is to kill them 1 by 1. Max the blast shield and you will have efectively 12 sec of immortality (BS+Ghoul+Mirror). It's enough to kill one weaker boss before dying (i've tested it, completed 75 with all bosses rushing at the same time, although it was tedious and i lost the timer).
If you feel uncomfortable with such low DA, move points from Flame Touched to Temper, their dmg bonus is the same.
Performance:
Sloppy 151-170 in 6.56:
I think, average time of a good pilot with good PC wont be less than 6.30 despite huge single target dmg and decent AoE for DW. Reason for that is simple - confusion, cancerous and bugged mechanic. Just to give an idea: if you remove Flashbang completely (-260 effective OA, -fumble, -impaired aim and -proc) the clearing speed is about the same. Your main AoE, from the relic, works in swirls, and confused enemies manage to escape.
Dummy 19 sec:
SR76 completed:

Conclusion:
The build is a blast to play. If you don't go for Phoenix Fire or bind it to WPS, you'll have only 3 active secondary skills with capped casting speed so they don't get in the way of the slaughter.
Feedback

I'd like to join the anti-confusion army. Enemies NEED to be able to restore their agro and not hide in the corners. It's not as awful as with terrify but it still happens way too often.

In my opinion Krieg set can use a small defense buff - maybe some DA or a little more phys res. For a 5-piece heavy armor it's a little too squishy. The whole set has whooping 32 DA (lol). Suggestion: change 3-piece bonus to +4% health, +4% OA, +4% DA.