Introduction
This is a physical Octavius Caster Paladin. It's not a new idea as @omnitrio has made a similar build, but I wanted to push the damage and conversion further. Bone Lance seems kind of odd, but the build needs a filler spell that doesn't convert our physical damage away so it's the best option. It has similar damage to Chain Lightning so it does its job.
Details
https://www.grimtools.com/calc/eZPOxzGV
Try to get as much conversion as possible on the shoulders. Affixes aren't super important, just try to get some needed resists. If you want to go greenless you can use Octavius shoulders. The build will still function but the damage will be noticably lower without the extra conversion.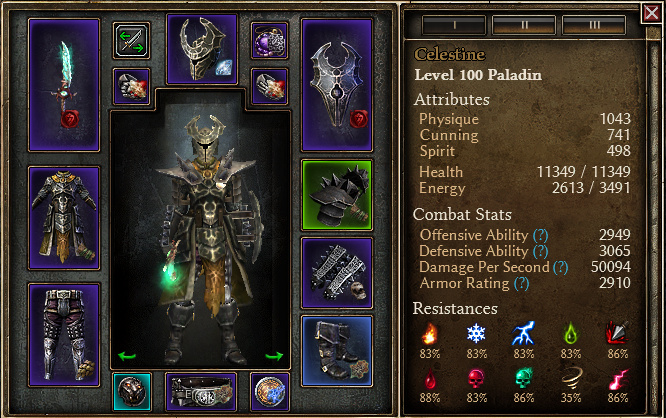 Character sheet with permanent buffs and Word of Renewal.
Performance
A fairly lucky 6:11 run. Average times are between 6:25 and 6:45. A bad run might be over 7 minutes.
Video of SR82. It can probably go further but I don't have that sort of patience.
Feedback
I think Bone Lance could use some sort of buff, even jumping through all the hoops I can to make it work it doesn't perform much better than Chain Lightning. I know @Zantai will be reluctant to buff a build that does sub 7 minutes but I think the ability could use some love. The pierce damage makes sense thematically, but it's kind of useless. It would be nice to convert it to physical or aether. For something more fitting, some adcth or maybe having the projectile explode into fragments on contact would be good.