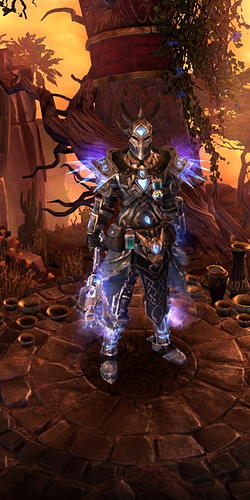 The Build


https://www.grimtools.com/calc/q2MngklV
Screenshot with all permanent buff + Word of Renewal, Deadly Aim, and Sitting on Inquisitor Seal.
DPS shown is Chillspikes.
Build Feature

Upside:

Fucking

Insane

cruci clear speed
Super Massive AoE
Should be even better with 1.1.5.0's global epic item buff

Downside:

Dunno…
Build Overview

Back to thejabrixone's thread with under utilized set. This time we are exploring the fucking stormserpent. This should be the first working stormserpent build in this forum.

Stormserpent is a peculiar set. The set is supporting savagery, stun jacks, and shadow strike. I think shadow strike is impossible to work on. Stun jacks phys>lightning conversion need helm slot or full set light's defender, thus stun jacks is also impossible to work. Savagery is possible, so I tried the set with Mythical Evoker of Elgoloth. Here is the GT. Looks decent on paper, DPS sheet is almost 200k, but non-FS ranged AA is lack on AoE. With all the trash mob carrying crazy debuff, the clear time is slow while also being unsafe.

So, I tried to emphasize the last unique features of the set, i.e. converting all of pierce to lightning and giving decent lightning/cold proc. The build is then build around lightning/electrocute caster with full blown storm totem, storm box of elgoloth, and wind devil. Chillspikes is chosen as a filler spam skill where its damage is almost fully converted to lightning. Itemization and devo is arranged to counter the inherent squishiness of the set.
Equipment Choices

Try to get as much Aether and Cold > Lightning conversion, get 100% pierce > lightning conversion. Craft all equipments for Slow Res.

Core Items:
The Stormserpent Set.
Main Hand: Mythical Spark of Ultos. [Converting up to 54% cold>lightning, %spirit, and fucking +400% lightning damage.]
Shoulder: Mythical Light's Defender Epaulets. [Relevant +skills, good stats, and for good 2 piece bonus]
Gloves: Mythical Light's Defender Gauntlets. [Relevant +skills, good stats, and for good 2 piece bonus]
Rings: 2xMythical Glyph of the Storm Witch [Converting up to 30% aether > Lightning, relevant skill bonus, decent stats.]

Supporting Items:
Off Hand: Farath's Cube. [Just a nice offhand with good stats, relevant skill bonus, and more lightning RR to storm box.]
Pants: Mythical Arcane Harmony Leggings. [+Spirit, disrupt res, craftable, really good stats and res]
Boots: Mythical Wyrmscale Footguards. [Relevant skill bonus, good CCres and stats.]
Amulet: Aetherbolt Pendant. [Craftable amulet, giving more RR to stormbox]
Medal: Mark of the Shadow Queen. [Just a good elemental Inquisitor's medal with a lot of OA and relevant Res]
Relic: Eye of the Storm. [Shaman lightning relic for more %lightning and cast speed. Completion bonus to raging tempest is the best, but I am just too lazy to craft another relic]
Movement Rune: Use whatever you like. I use Rune of Amatok's Breath currently.
Devotions

Lightning Focus Devo with twin fangs

Twin Fangs > to Storm Totem
Arcane Bomb > to Storm Box of Elgoloth
Hand of Ultos > to Wind Devil
Raise the Dead > to Chillspikes
Ghoulish Hunger > to whatever permanent buff
Spear of the Heavens > to whatever permanent buff
Gameplay

Keybind:
LMB: Chillspikes
RMB: Point to Move
Keyboard 1: Movement Rune
Keyboard 2: Storm Box of Elgoloth
Keyboard 3: Storm Totem
Keyboard 4: Inquisitor Seal
Keyboard 5: Wind Devil
Keyboard 6: Word of Renewal

Standard procedure:
Always have Word of renewal active
Try to have 3 wind devils most of the time
Summon Storm totem in the middle of enemy's horde. Try to have 3 always standing.
Summon Inquisitor Seal below you.
Hold Chillspikes button while giving storm box to all enemies.
You want to always be near your storm totem fort and lure enemies to there.
Build Performance

Crucible: Video with 4 buff without banner:

5:45 clear time. Yes, this is a non banner run…

This is current fastest run, slowest is 6:20, averaging at 6 minutes.
Cruci clear rate is 100%

Shattered Realm:
Haven't checked yet. Should be good though.
One of the most insane build I made. Enjoy…