You are standing alone, in your corner, oblivious, far away from the eyes of others and yet, you start to feel something. At first it's mildly bothersome but, it intensifies…Guilt…You've been Judged!!!
Judgment and Heart of Warth is a skill line I'm a bit obsessed with. I'm usually doing Shieldbreakers with it since it's my favorite class however, in this case Paladin is best for Judgment.
Long story short Censure+ Empyrion Helm + Judgment are perfect for each other. They both have the same range in that combo and clear half the screen consistently. It's a very comfortable build.
Video:https://www.youtube.com/watch?v=8DRB7Yk0ZiM&feature=youtu.be 6:25 I get slowed at the start but the build does not really care and I will not be wearing mage tights to tell myself i'm doing great after visiting the illusionist…also brain fart at 1:07 judgment was on CD and I had to return

Grimtools: https://www.grimtools.com/calc/r2Bnmvz2Slow res is 28% in game with smithing.
If this does not fly for you then use either of these to increase Slow res and move gear augments a bit:
Mythical Final march
Magelord Greaves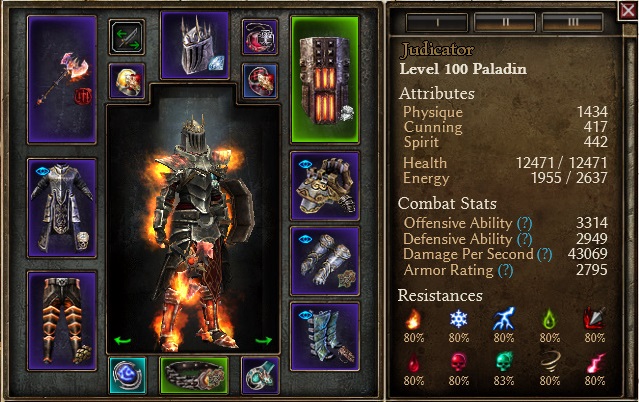 I took Hyrian devo because:
It's my favourite proc in the Devotion tree
It makes sense for this shield hybrid.
The proc has great reach and good %WD for extra lifesteal + good synergy with far reaching Censure and Judgment
Luckily due to this builds high mobility and huge AoE slow res really makes alomst no difference… I'd maybe get 10% CS more. Sigh…I absolutely refuse to wear tight pants or something to get slow res again. This res type has been bothering me for some time.
I would take this build at face value. A fun mob destroyer with ok kills vs single target. I'm not sure i'm gonna mess with it in SR, unless next patch changes something with gear. I really enjoyed this build and Crucible is where it shines.
Edit: Oh and. funny thing. I forgot to buy health pots in teh video. Kept one for 170 where I usually need it