Update for 1.1.5.1

Changes to this build from patches 1.1.5.0/1.1.5.1

Changed Ring -> Exchanged Gargabol's Ring for Cronley's Signet
Update for 1.1.4.2

Changes to this build from patches 1.1.4.2/1.1.4.1/1.1.4.0/1.1.3.1/1.1.3.0/1.1.2.X/1.1.1.X

Changed Gear -> Gutsmasher amongst other things
Forgotten Gods -> Devotion/Auguments
Changed Titel. Original was:
[1.0.4.1] Witchblade ARC - HAMMERTIME Big Numbers/Strong Defence/Loveley AoE - CruGlaReady
Update for 1.1.1.0

Changes to this build from patches 1.1.1.0/1.1.0.1/1.1.0.0/1.0.7.1/1.0.7.0

Reduced duration of Ghoulish Hunger to 5s
Increased weapon damage to 190% (+30% from Grasps)
Increased physical damage/reduced critical damage from Laceration
Reduced physical damage from Ligth of Empyrion to 6-8
Increased OA of augument Wrath Scream to 75
Slightly reduction of energy cost for Blade Arc
Slightly buff Bloodrager Set
In total a buff for this build.
Update for 1.0.6.1

This build has not experienced any relevant changes from the patches 1.0.6.1/1.0.6.0/1.0.5.0/1.0.5.0. Minor changes are:

Little DA-nerf through Runebound Topaz and Rylok Crest (going frim 3985 to 3879)
A bit more vitality damage (100% conversion to physical) through Tip the Scales
"An arched swing that slices through multiple enemies around you"
Salute!
It's HAMMERTIME. If you like big numbers, monstrous AOE-Attacks and strong defence … here is your build.
=[ CONCEPT ]===============
Take a big bad two-hander, max Blade Arc and do 13 in one go with 245% weapon damage / every single hit and 3,57 attacks per second. No charging. No waiting for WPS-procs. Simple hammering.

With all Procs/Passives/Actives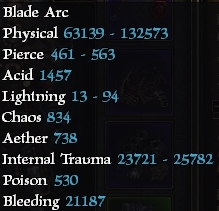 =[ OFFENCE ]===============
Up to 3.693 OA
Crit Damage +107%
Great AoE
106 RR -> 32 Assassin's Mark + 29 CoF + 35 Break Moral + 10 Venom of the Black Matriarch
Capped IAS (185% + 25% Bloodrager + 20% 2x Battle Cry)
=[ DEFENCE ]===============
Up to 3.128 DA
Up to 3.960 Armor with 100% Absorption
45% Physical Resistance
Resistances are at least overcapped by 25%
Ghouhlish Hunger
Menhir's Will
Inspiration
=[ GEAR EXPLANATION ]===============
Mandatory:
Head, Neck, Shoulder, Chest: Bloodrager's Endless Frenzy
Very strong set. Great support for this build concept.

Hand: Mythical Grasp of Unchained Might
Glamorous item. Has all we need and more. Flat damage for our main damage source, damage bonus to all of our damage types, IAS, resistance bonus, nice bonus to secondary resistance, precious skillpoint bonus, awesome skill modifier.

Weapon: Gutsmasher
This Weapon fits perfect since the last patch. I started with Mythical Leviathan switched to Relentless Gutcrush of Fervor but Gutsmasher is by far the best, now.

Leg: Mythical Chausses of Barbaros
Awesome chausses, in this build awesome².

Belt: Mythical Gladiator's Distinction
Passive bonus for two-handers, vitality to physical damage conversion, bonus to all of our damage types -> nothing more to say.

Ring 1: Mythical Ring of the black Matriarch
Maybe it is too much of the good to expect the ring is in a row with the above mentioned items. We need RR and this one fits better than Bladetwister Signet.

Ring 2: I choose Cronley's Signet for hardcapping Laceration and the opportunity to fix problems with prefix/suffix. ADCTH is one of the problems. To avoid Seal of Blades in favor of the better fitting Seal of Might i choose "Dread Lord's" prefix with flat damage and chaos res on top. Other intresting prefixes are "Soldiers" with bonus to Laceration/Oleron's Rage. Suffix can be either "of the Dranghoul" or "of Supremacy". Non MI-variants are Bladetwister Signet / Mythical Cursebearer or Mythical Menhiran.

Relic: Oleron's Wrath
Thx to mad_lee, this one fits better than Doom. Strongest boost all in all. We need "+1 to all Skills in Soldier" in this slot. Go for +1 Squad Tactics/+1 Break Morale.
Free:
Medal: My choice is Rylok Crest. Base stats support the build and prefix/suffix enable fine tuning. My plan to cap stun resistance is Scars of Battle + "of Kings" suffix with boots + "Stonefaced" prefix with medal and bonus damage/DA/armor on top. Prefix "of the Dranghoul" is in my opinion ideal. There are a lot of other strong prefixes/suffixes, combine them as you need it. Non MI-alternative is Mark of Consumtion (craftable).

Boots -> I choose Stoneplate Greaves (craftable). As mentioned above we need to cap stun resistance with "of Kings" suffix. For better physical resistance i recommend "Formidable" prefix, damage/physique bonus and elemental resistance on top.
Use prefix/suffix to finte tune your build. The mentioned ones are mostly interchangeable.
=[ DEVOTION ]===============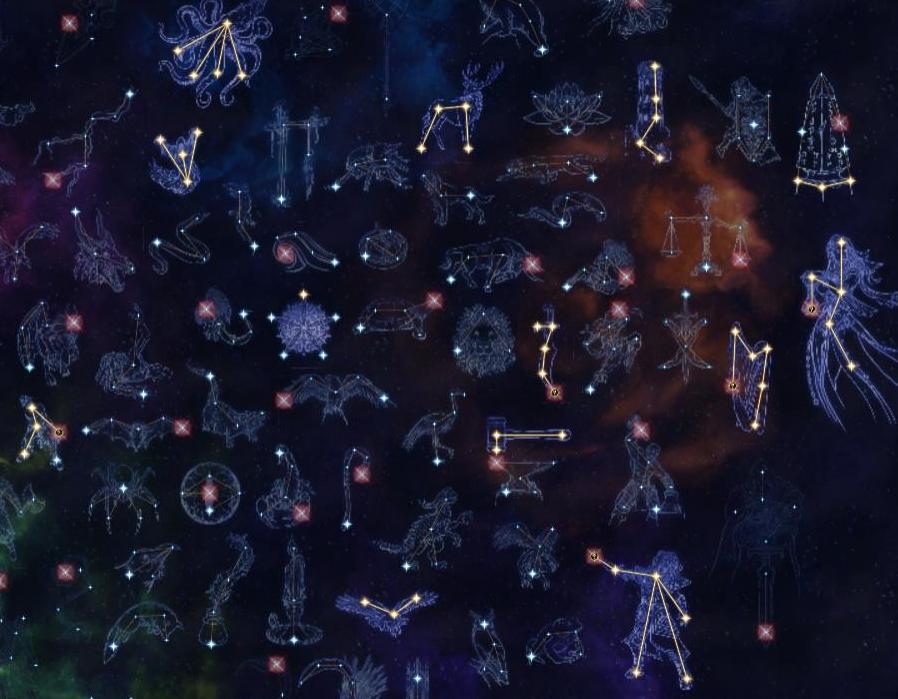 Mandatory:
Assassin's Blade -> bind Assassin's Mark to BladeArc
Azrakaa, the Eternal Sands -> bind Shifting Sands to CoF
Ulzaad, Herald of Korvak -> bind Ulzzad's Decree to War Cry
Kraken
Ghoul -> bind Ghoulish Hunger to Oleron' Rage/Solael's Witchfire/Field Command or Presence of Might
Recommended:
Bard's Harp -> bind Inspiration to something not used for Ghoulish Hunger
Helps a lot to get mana consumption under control. DA/OA bonus is nice. Slow/Trap resistance also.
Free:
Hammer
Efficient helper.
Hawk
Permanent guest in devotion setups.
Solemn Watcher
Efficient devotion.
Wraith
Enabler. After all some tiny stats.
Stag
Fits + efficient.
Obelisk of Menhir
These three points are mighty.
Offensive variant (Bull is for the -10% physique requirement to push cunning even more):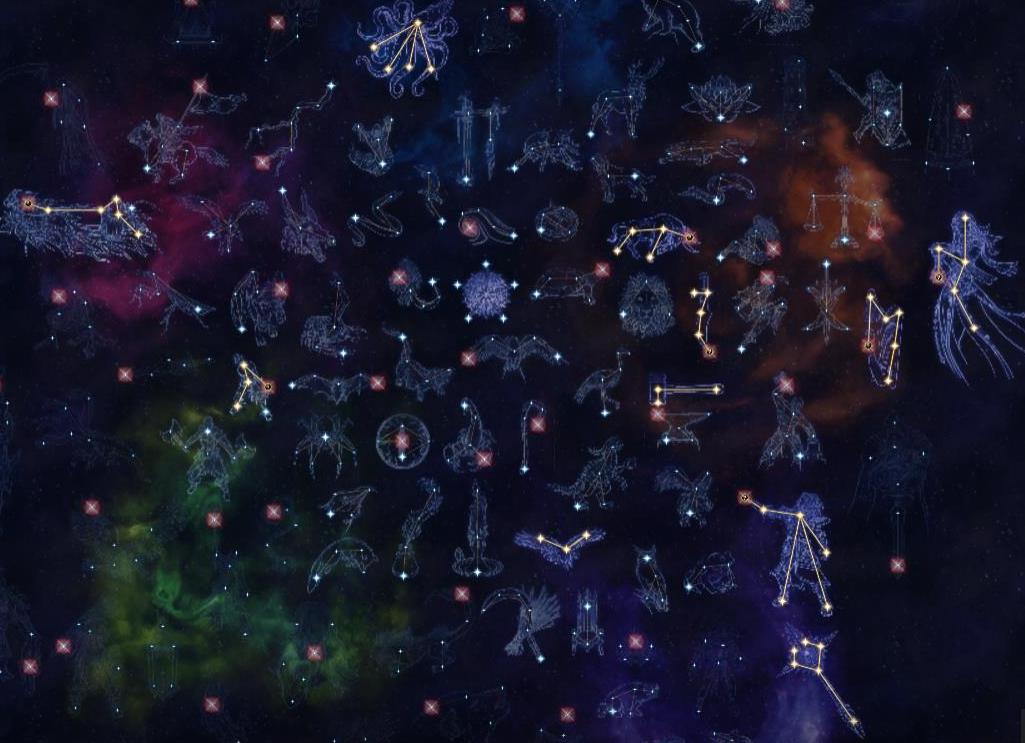 =[ CRUCIBLE / SHATTERED REALM ]===============
Farming Crucible is very comfortable with this build (3 Buffs / 1 Banner). Tank 4 Nemeses with ease. I played shard 50 for the skill-point-quest with no problem so far.
=[ LEVELING ]===============
Use Blade Arc.
=[ PLAYSTYLE ]===============
Blitz in and Balde Arc. Tougher enemies or groups get War Cry, CoF and Rylok Wings. Keep Blood of Dreeg up. Use Doomforce in big packs as aoe attack or for pushing internal trauma ticks vs single targets.
Easy to play ("q u a l i t y O F l i f e" by jajaja).
LMB: Blade Arc
RMB: Blitz
M4: Healpod
M5: Blood of Dreeg
1: War Cry
2: CoF
3: Doomforce
^: Rylok Wings
=[ VIDEOS ]===============
[1.0.4.1] Mad Queen (easy facetankable) old
[1.0.4.1] Grava'Thul (beware of his nullification) old
[1.1.1.0] Crucible Gladiator 131-150 in 7:26min with 3 Buffs/1 Banner old
[1.1.4.2] Crucible Gladiator 151-170 in 7:02min wit 3 Buffs/1 Banner a good pilot is certainly 30 seconds faster
[1.1.4.2] Mad Queen in 9s