Introduction
Bleeding build deserves the crimson color code for sure. So this is my first dabble into bleeding builds. It's Savagery Archon utilizing Feral Hunger for AoE damage and the nice Bloodrager set. I use Troll Bonecrusher weapon with dreamy green affixes but you know what trolls are green, can't beat that.
Credit for this build to @Rhylthar cause he got me into bleeding builds and also cause I kinda took his devotion map as little. Also to Zantai for buffing this weapon and also nice new ring is used.
Build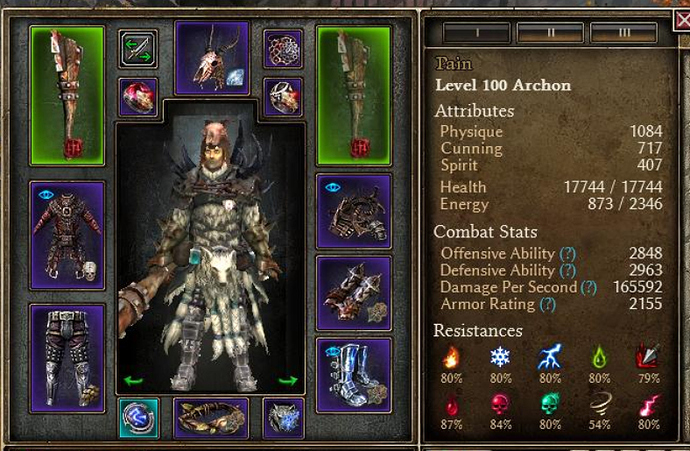 pic with permanent buffs and Bloodrager proc, DPS for Savagery
GRIM TOOLS

https://www.grimtools.com/calc/YZe6moXN
Gear:
Weapon+Set combo is must also most of the items are standard for bleeding builds like the great gloves, Barbaros pants and medal supports Bleeding Savagery. New ring is used combined with Belgo sigil, relic is Massacre, belt gives 2H bonus and +1 to both skills. Perhaps only strange choice is the boots slot, but Stormtitan gives me much needed type of resistances and have damage reduction proc, so I like them here.
Since slow resistance is low, need to craft pieces with slow resistance.
Offense:
Savagery is main attack skill, deals good amounts of single target damage but AoE is limited to WPS skills and proc, not Blade Arc build for sure. I decided to bind Rend to Savagery for reliable RR and OA debuff but that's not mandatory.
OA is little lower for my taste but on non Soldier builds you need to invest more points in physique.
Defense:
You can't life steal through DoT damage so you need much higher AdctH to life steal through direct damage(mostly physical). Also set procs gives nice sustain. And Ghoul as fail safe option.
Performance
In Crucible strangely or not the best setup is 4 buffs and 3x level beacons , times vary between 6:20 and 6:55 with my noob playing. Build can die but t\with little caution that will be rarity. Sadly I deleted my video accidentally
In SR build can farm somewhat reliable SR 75/76 and you can pull bosses 1vs1 or kite if you have to since damage dealt is DoT. Also big health pool helps not getting popped easily.
In SR I played with 12/12 Wendigo totem and leave blood pact at 1 point and also Smite can be removed. In Crucible Wendigo is less important cause build is on constant move.
Here 's video from full SR 76 shard, you can see the relaxed game play.