Introduction
Last time I made a TSS build it was a very strong pure cold glass cannon that pushed TSS further than it's ever been. This time I'm doing the same thing with the element people don't normally associate with TSS.
Thanks to @mad_lee for help polishing the build, and credit to @thejabrixone for the original Iskandra Sorc.
Details
https://www.grimtools.com/calc/pZrWq80N
@mad_lee's tankier version for deep shards: https://www.grimtools.com/calc/lNkRRgdZ
No greens this time, so it's attainable for everyone. You want to highroll the CDR to get up to 46% and you want to get 100% cold conversion and as close to 60% lightning conversion as you can.
Everything I said on my cold TSS applies here, it's glassy, but that can be remedied by putting more points into physique. 12/12 Mirror with high CDR and Eternity allows you to use it pretty liberally for the damage buff, just make sure you have it up when you need it. Try not to overlap Ghoul and Mirror if you're in trouble, you can have a lot of uptime with them on this build.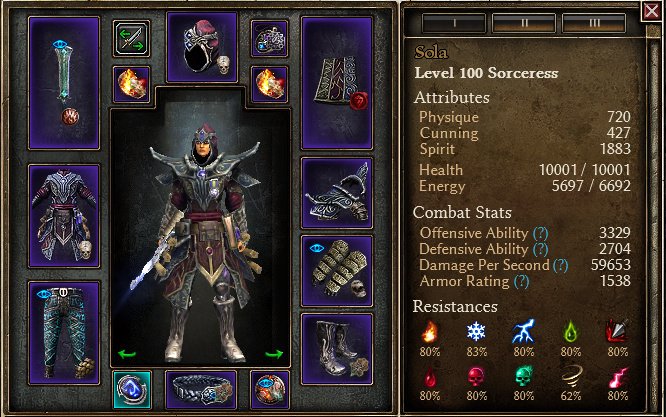 Character sheet with permanent buffs.
Devotions
The devotions on this build are incredibly flexible due to the conversion we have. There are fully functioning paths with Ultos+Phoenix+Ulzuin, Ulzuin+Phoenix+Watcher, and Seekers+Seru. They all perform pretty well but the devotion map in my GT performed the best for me. Chariot is an almost permanent buff with the high CDR, and seekers are almost fully converted to fire resulting in huge damage.
The devotion bindings are up for debate but the current setup worked best for me. You can swap thermite mines and TSS and it still feels comfortable. I think Stormfire on Seekers and BWC on Eldritch Fire is best though.
Performance

4:47 is my current best time with potential for about 4:40 I think. My average time is ~5:15 and I've never gone slower than 5:30.
@mad_lee's 5:00 run. He can attest to the build's power and surprising tankiness
@mad_lee's SR85 run with the tanky version.
Feedback
Pretty much the same feedback I had for cold TSS. There's no one thing here that's broken, just conversion working really well due to the rings which I would really hate to see nerfed. Iskandra's isn't OP, but I suppose BWC/mines might be too strong but that's not just limited to this build.
The build is a glass cannon (it's not all that glassy actually) and I imagine most people would struggle to get similar results. No nerf pls Z