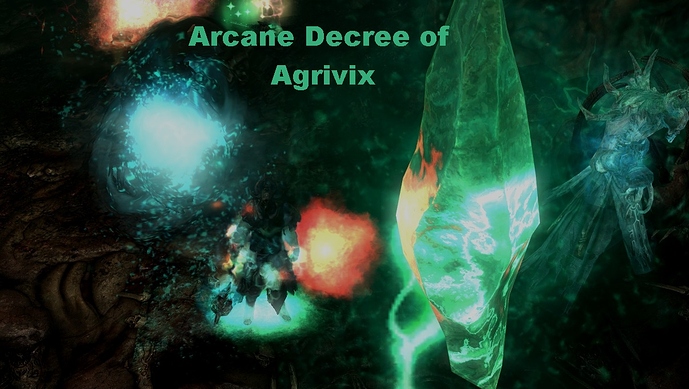 Introduction:
OLD
This will be even shorter than my last one. I rushed the polish phase, but I didn't have time to do more than one crucible run tonight. (died on 170 by being dumb vs grava and kaisan) Clears are around 7-8min with my pc/piloting(past runs)… so better can be achieved. Maybe on wednesday or thursaday night I will find some time to play some more. If not I would be curious to see how a good crucible pilot fairs with it.
Agrivix set + lots of elemental to aether conversion gives us full aether elemental seekers, arcane currents, phoenix fire, vindictive flame, and arcane wisps. You must kite; this isn't a face tank build. Thermite mines chunkiness is really felt in crucible on this one. DPS is very high once you have currents/wisps/seekers up.
I haven't tired far into SR, but cleared a 65 without too much trouble (no grava)
I will expand on this post some day as this build quite fun.
Build:
https://www.grimtools.com/calc/eVLa7n4Z
On paper this guy looks squishy, but in game he is a leech tank right up there with some of best vitality builds. craft for x2 physique bonus and x2 slow resist
OLD
v1 - https://www.grimtools.com/calc/w260eQpZ
v2 - https://www.grimtools.com/calc/0V0BKxEN
v3 - https://www.grimtools.com/calc/1NXWq4PZ
Videos:
OLD
Mad Queen - https://plays.tv/video/5d1187697af6c53545/-1-1-3-0-arcane-decree-agrivix-aether-caster-defiler-mq-kill
170 crucible 7mins - https://plays.tv/s/MHCxZiry4iec