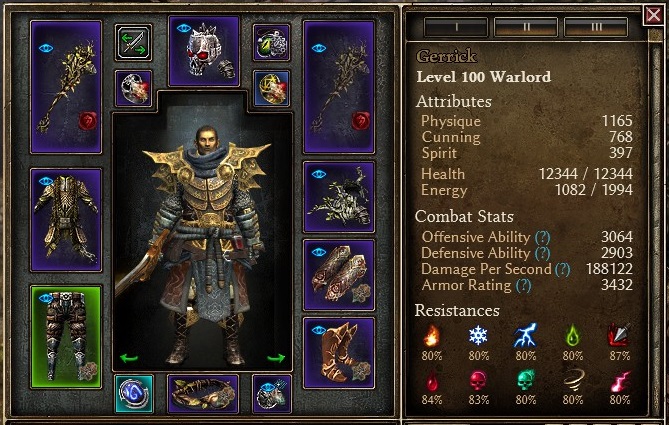 Stats shown are with passives, Deadly Momentum and Ascension active. Sheet DPS is Cadence.
Grimtools
I've forged my gear at Arngrim for % Armour/Physique.
Forge your gear with whatever bonus you'd like. Crit damage or Armour for more Offense or Defense would likely be my picks.
Acknowledgements
Special thanks to @Snowmanplayer123 for helping make improvements on early build sketches and to the rest of the Grim Dawn Discord community.
Big thanks to @romanN1 for trying it out and recording a run of Gladiator 150-170 at the bottom of the build post.
Build Concept
Stacking Trauma damage is the core concept for the character. We get a load of flat Trauma damage through Deadly Momentum, Presence of Virtue and Divine Mandate in our masteries to start off with and more from devotion/gear.
All of this flat Trauma is funnelled through Cadence's high weapon damage modifier of 468%. And as we can spam it, we are able to reapply it constantly to try for high range and crit rolls.
Zolhan's Technique, Doomforce, Forcewave, Blind Fury, Bull Rush and various procs act as secondary sources of Trauma, many of which are applied passively while auto-attacking.
For sustain, we are still capable of putting out large globs of Physical damage through Cadence and our buffed WPS to lifesteal off of. Nature's Avenger is not to be ignored either pushing us to 1k health regen/s.
Damage mitigation comes from War Cry, Ascension, Resilience, Menhir's Will and Nature's Avenger/Stonetreaders giving above average Physical resistance/Armour/Physical damage absorption.
In total, we have 86% Reflected damage reduction. Reflect DoTs can still be a mild threat on occasions in my experience, however a Titan Plating instead of the Chains of Oleron can push the value to 100% if desired.
Abilities
Cadence (Blind Fury): Main way of applying Physical and Trauma damage.
Forcewave (Assassin's Mark): Secondary source of Trauma damage and devotion bind. Also helps out with AoE a bit.
War Cry: Reduces all damage we take and increases damage we deal out in a wide area around us.
Ascension: Reduces residual chip damage such as DoT damage or from crowds of weaker enemies.
Summon Guardian of Empyrion (Bull Rush): Increases the damage we deal in an aura around the Guardian and acts as a source of Trauma through Bull Rush.
Doomforce: Wide AoE source of damage to compliment Cadence's lack of it.
Stormtitan's Charge: Personal preference on what movement skill you use. Stormtitan is another strong source of Trauma damage when converted.
(Optional) Pet Attack: Use it to focus your Guardians on specific enemies.
Field Command: Provides OA, DA and % Armour, all great stats.
Presence of Virtue: Provides OA, energy regen and more importantly, a ton of flat Trauma damage on 50% of our weapon attacks.
Divine Mandate: Provides some crit damage, flat Trauma damage and increased Trauma duration. Great things to have on a DoT build.
Presence of Might: Nice bump to Physical resistance and % Physical/Trauma damage.
Resist Reduction
Break Morale: Provides 34* reduced target's Physical resistance in a wide area centred on our character.
Assassin's Mark: Provides -32% Physical resistance to all enemies that are crit by Forcewave.
Celestial Presence: Provides -32% Physical resistance to all enemies in an area centred on both Guardians.
Ring of the Black Matriarch: Provides -10% Physical resistance to enemies effected by the Venom of the Black Matriarch debuff.
In total, this leaves us at -74% Physical resistance and 34 reduced target's Physical resistance. Effectively -108% Physical resistance, pretty good amount.
*Can be increased to 35 with a +1 Deadly Momentum / +1 Break Morale completion bonus on your relic if you have one.
Attributes
Enough in Spirit to equip our rings/amulet. Split investment between Cunning for adequate OA and Physique for adequate DA.
Playstyle
Keep War Cry's debuff up at all times. Use Forcewave and Doomforce when they come off cooldown, Forcewave first preferably because of Assassin's Mark. Ascension can be used for a damage bump or to defend against large amounts of DoTs (like multiple Kuba Bleed pools). While you're not using Doomforce, Forcewave or War Cry, use Cadence.
Kills and Achievements