Update 1.1.7.1

Gear: Exchanged "Moosilauke's Pauldrons" with "Mythical Bloodfury Spaulders"
Gear: Exchanged Relic "Meditation" for "Serenity"
Gear: Exchanged Medal "Solemn Mark" with "Lagoth'Ak's Bloodbinding"
Skills: Hardcapped Blade Spirit -> reduced Devouring Swarm 16/16 and Wendigo Totem 2/12
Skills: Took Primal Bond for Stormcaller's Pact
Old GT-Link is still there
Added new video's
Update 1.1.4.2

Gear: Changed Belt from Coven Vile Gridle to Lunal'Valgoth's Waistguard for Chaos to Vitality conversion
Gear: Changed Gloves from Embergurads to Valguur's Touch for more Chaos to Vitality conversion
Devotions: Dropped Revenant, Ghoul, Sailor's Guide, Lotus for Viper, Panther, Scales of Ucama, 2x Obelisk
Salve!
Here is my PB-Trickster. I've made a new Topic, the old one was from game version 1.0.3.1. Build is completly overhauled und can relaxed farm Crucible Gladiator 151-170 and SR75 in under 6 minutes.
Concept is Phantasmal Blades spam with full Demonslayer set. Play offensive to eliminate dangers before they come for you. Stay close to hard enemies for shotgun effect.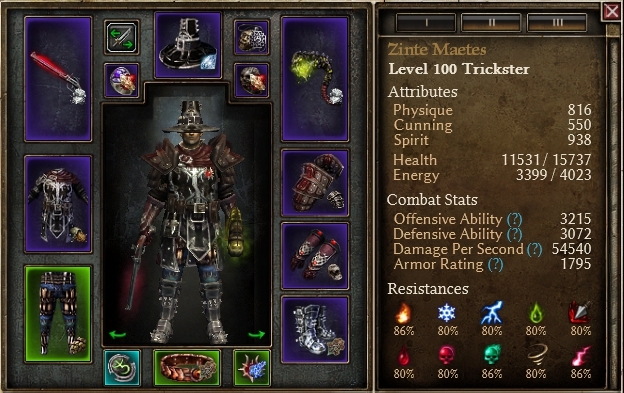 All active/passive buffs up (Armor is 2.056)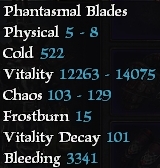 OFFENCE

54.540 Sheet-DPS x 8 Blades = 436.320 DPS
3.215 OA
135% RR
DEFENSE

Insane ADCTH (PB/Wendigo Totem/Twin Fang's)
3.072 DA
23% Dodge/Deflect
2.056 Armor
15.737 Health
Good resistance overcap
7% Physical Res is improvable but Demonslayer's Guard proc in at 45% + Serenity + Prismatic Rage
30% Fumble
1.1.4.2 GRIMTOOLS
1.1.7.1 GRIMTOOLS
GEAR

Mandatory:
Head, Amulet, Chest, MH: Mythical Demonslayer's
Ring 1: Mythical Signet of the Fallen
Gloves: Valguur's Touch
Pants: Reaper's Legguards
Waist: Lunal'Valgoth's Waistguard
Greaves: Mythical Boneshatter Treads

Free:
Ring 2: Mythical Deathlord's Band or Voidheart, Mythical Cursebearer
Off-hand: Mythical Contagion or Groble Death Effigy
Shoulder: Mythical Bloodfury Spaulders or Moosilauk'e Pauldrons
Relic: Serenity … Meditation
Medal: Lagoth'Ak's Bloodbinding or Mythical Solemn Mark or Mark of Consumption
VIDEOS
[1.1.7.1] Kra'vall in 7s
[1.1.7.1] Ravager of Souls in 1:25min
[1.1.7.1] Crucible Gladiator 151-171 in 5:24min
[1.1.4.0] Crucible Gladiator 151-170 in 5:56min
[1.1.4.0] SR75
[1.1.4.0] Dummy-Kill in 13s
[1.1.0.1] Lokarr in 10s
[1.0.7.1] Ultimate Mogdrogen in 3:50min
I would be grateful for your Feedback!