Ehh, nothing to say, actually. Never expected myself to make a build once more but suddenly thought I wanna some kind of a Spellbreaker build - and here it is.
1.1.9.0 UPDATE: changed pants and some minor stuff, also invested more points in spirit. Build is still cool and fun to play. Updated Crucible video, for SR everything is all the same.
1.1.9.0 GRIMTOOLS LINK - CLICK ME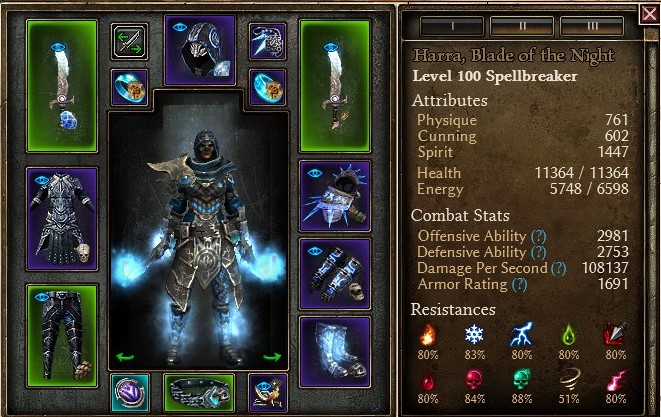 1.1.8.0 UPDATE: shuffled augments a bit. Better resists, damage and HP pool.
GEAR EXPLANATION
Armor - BiS, core of the build;
Weapons - two Chillstrifes are must-have but affixes are not that important. Sth like "Frostborn of Alacrity" would perform only slightly worse than double-rares;
Pants - chose these ones for a huge bunch of resists and + to LA;
Rings - actually, these are the best ones; Anubar+Haunt are also possible but worse
PROS AND CONS OF THE BUILD
PROS
High damage due to nice RR (sth like -140%) and good map control;
Can freeze almost everything;
CONS
Some enemies cannot be frozen by any means.
BUILD PERFORMANCE
LOKARR
CRUCIBLE
SHATTERED REALM
Special thanks to all Safarel Discord Community.